BY JAMILA MULINDWA
As environmentalists become more concerned about the destruction of Uganda's tree cover, an innovative Ugandan has come up with an alternative to charcoal. Godfrey Ssengozi a resident of Kiteezi,along Gayaza road, Wakiso district believes he has a solution.
He has come up with a new kind of charcoal made out of eggshells. "Burning charcoal is destroying our environment causing the climate change. This will help, reduce that and also solve the money issue."
Ssengozi says this type of charcoal cooks longer meaning the consumption is reduced. The process of making this charcoal requires certain ingredients.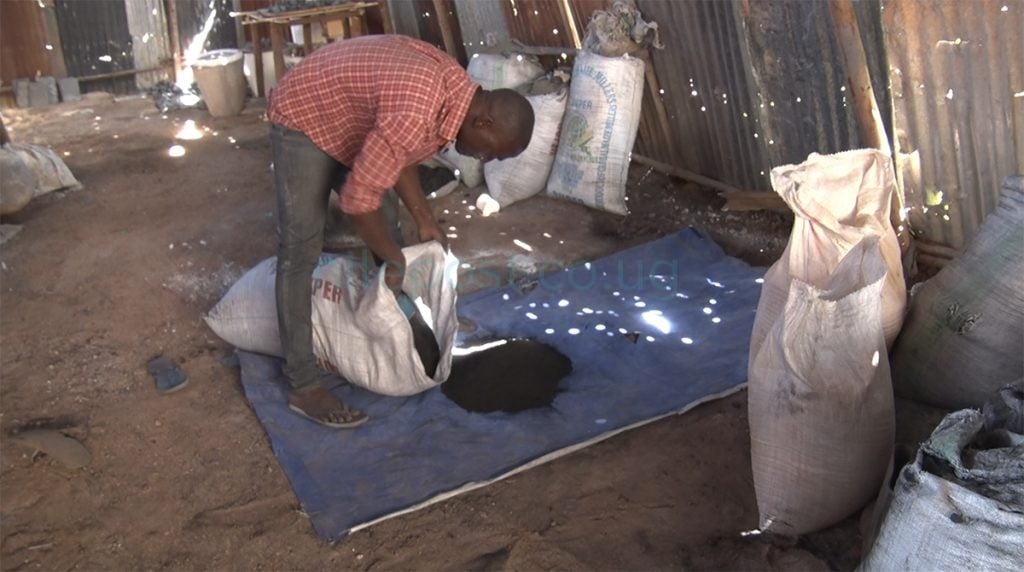 Reaching his yard, the first thing you notice is the charcoal dust put under the sun, on the right hand are sacks full of other materials far to the left is a heap of eggshells. "I have a standing order with hatcheries to supply me eggshells. Every week I get like twenty bags which I pay for fifty thousand shillings," explains Ssengozi. He adds,"For the charcoal dust I go to different places to collect it"
Ssengozi says the dust helps to keep the charcoal burning while, Tthe eggshells help to slow down the rate at which the charcoal is burning , hence cooking more things on less charcoal".
He measures out how much charcoal dust he needs per heap of egg shells and then mixes them in a binder.
Ssengozi says the mixing process goes on for a while until they are one. The next step is to add water and continue mixing. "We mix until it's a solid dough, after I separate it into smaller parts," he elaborates.
The parts are laid out on a flat surface and after twenty minutes are broken down more. In order to have a good product, the charcoal has to dry for some time.
This product has not hit the market yet because the supply is low. He says, "I can produce four sacks of charcoal a day which is not enough to suppy," However a few customers turn up at the workshop every now and again to buy.
But Ssengozi is ambitious, "I want by the beginning of next year to start producing fifty sacks, well packaged, and sell to whoever may want."
At the moment, he says, "I only have one employee and there is a lot of work. Money to buy materials is also a challenge".
With the ever increasing climate change which has created alot of natural disasters, such innovation will be a welcoming relieve to the environment.