The Minister for Security, Gen.Elly Tumwine, the ISO director general, Col.Kaka Bagyenda and other security operatives and investigators have rushed to the scene of the Rakai school fire in a bid to ascertain circumstances under which the dormitory burnt.
On Sunday night, tragedy befell St.Bernard Secondary School, Manya in Kifamba sub -county, Rakai district when a boys' dormitory was set ablaze by unknown people killing ten students instantly whereas more than 50 were admitted to Kitovu government hospital.
Police suspects that some of the students expelled from the school working with someone at the school could have been behind the attack and four of them and the warden have been arrested over the incident.
When the Nile Post visited the school hours after the inferno, it was a somber mood as students looked hopeless whereas a number of parents were seen wailing as they came to inquire about the fate of their children.
Meanwhile, the dormitory has been cordoned off by police as they carry out investigations into the incident.
In the compound are mattresses, books and other scholastic materials arguably thrown out during the scuffle to put out the fire.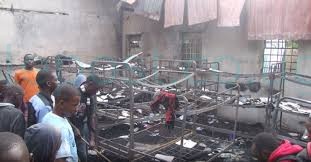 Inside the dormitory are congested triple decker beds whereas the entire facility is littered with jerricans, buckets and other items suspected to have been used to put out the fire.
Speaking to the media during his visit, Gen.Tumwine assured the public that security would get to the bottom of the matter.
"There are always people with bad hearts who always do bad things. We always learnt from such situations. We stand with parents,"Tumwine said.
Earlier a delegation of senior police officers including forensic teams arrived at the school as investigations into the fire kicked off.
According to police, the fire gutted the dormitory at around midnight but on arrival, officers from fire brigade found the facility locked with two padlocks, a thing that raises suspicion.
The investigation into the matter has since attracted sister security agencies to beef up police in finding out what could have happened.