The split of Kasese into additional three districts namely Bwera, Mubuku and Nyamugasani, has sparked off more divisions as over 25 councillors from Kasese District have petitioned speaker of parliament Rebecca Kadaga, over the October decision to split the district.
In a petition presented before Kadaga, the petitioners allege that the the decision which was passed during the council sitting was in bad faith without considering the wishes of the masses.
According to the petition, the council violated rule 23 of the procedures of the local government act which provides that, there shall be secret voting in the council in respect of; The election or removal of persons holding offices under the constitution or any other matter for the council to decide.
Petitioners now assert that all the 12th October resolutions for the split of Kasese were illegal and prejudiced.
They further claim that the Council speaker's decision to vote through secret ballot without allowing their voters to witness the proceedings was a move well calculated ahead of the council resolutions.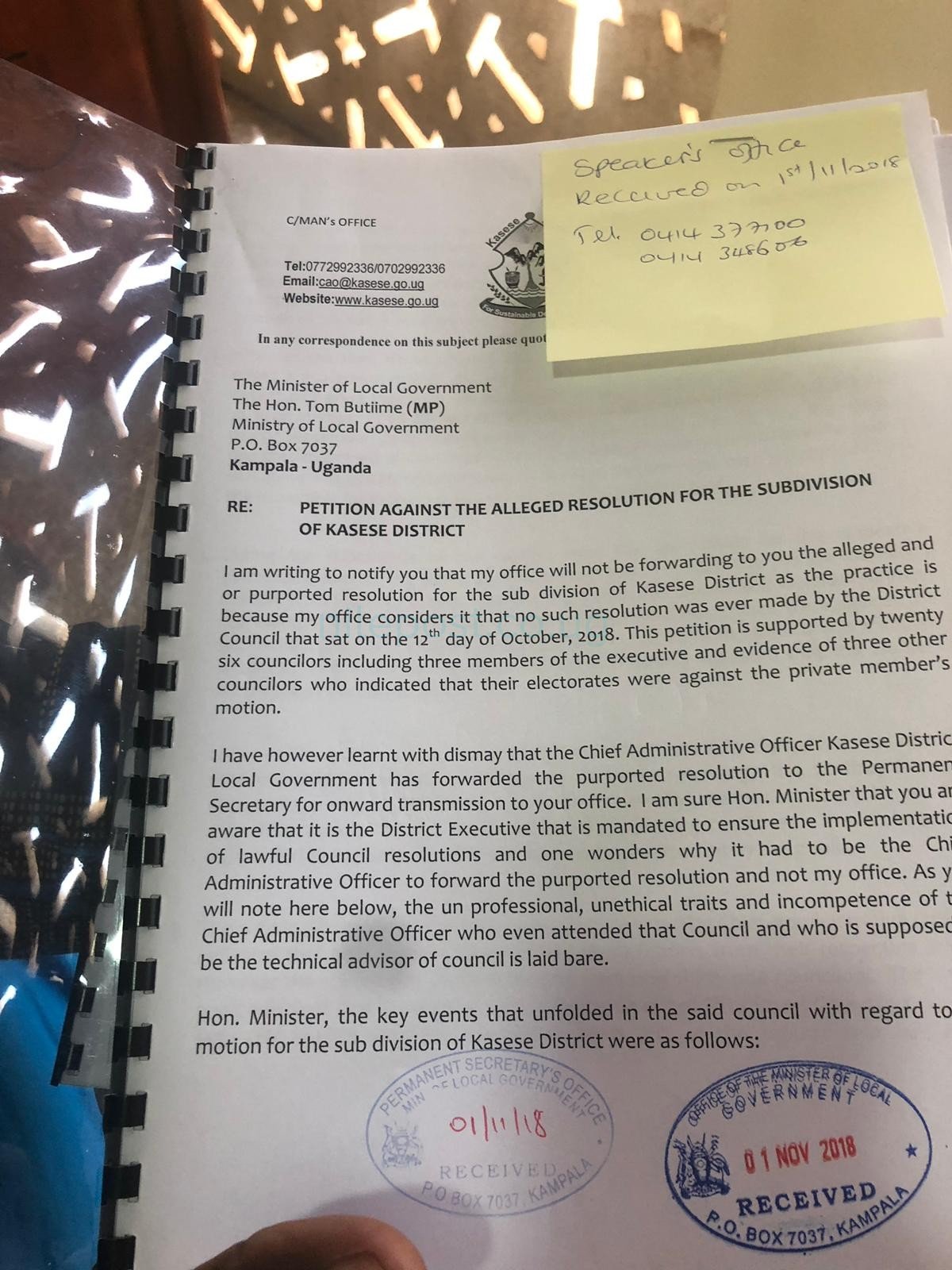 Its also alleged that during the voting, there was heavy deployment of security operatives which created a lot of tension within the council chambers to the extent that the speaker even issued directives earlier to bar anybody to watch the proceedings from the gallery.
The petition comes at a time when almost all members of parliament from Kasese region had challenged and vowed to oppose it while those in favor of the split feel that the division will bring employment to the youth.
Kasese Municipality Legislator Robert Centenary argues; post 2018 attack on Rwenzururu palace, the split is a recipe for more divisions
"We are not going to allow the split of Kasese, this is not the time. The split will only cause more divisions since there is not logical reason supporting it."
The MP's say governments argument to enhance service delivery is likely to backfire.
"The proponents of the split are just selfish and serving their own interests, not those of Kasese," Kasese Woman MP, Winnie Kiiza said.
The proposed districts comprise Hima that will cover Busongora North, Bwera district which is expected to comb Part of Bukonzo East and Bukonzo west.
The other district proposed is Katwe that will consume a share of Bukonzo East and Bukonzo west while Kasese municipality and Busongora North will remain as Kasese district.
However, on the sidelines there is also proposal by locals from Nyamugasani to curve a fifth district from Kasese.