President Museveni said he would rather the country be filled with several factories that small shops selling simple products that have minimal impact on the economy of the country and the people at large.
The president was yesterday commissioning the First-phase of the Uganda-China (Guangdong) Free Zone of International Industrial Cooperation in Tororo District.
The project reached a development consensus between Museveni Chinese President Xi Jinping at the Durban Golden Brick conference in March 2013. As a result, government provided about 1800 acres of land to house a 12 factory park under the Guangzhou Dongsong Energy Group based in China.
The industries in the park include; Mineral dressing, phosphate fertiliser plant, steel plant, Glass plant, Tin smelting and Shea processing factory among others.
Museveni praised the relationship between Uganda and China which he said is favoured by natural resources and labour which are key to industrialisation. "Uganda has natural resources and labour, we have capital and entrepreneurship but they are not enough, this is where the China partnership comes in," he said.
"Ever since I joined government and even when I was in those governments that would last for a few days, we knew there was a huge deposit of phosphates here, but couldn't get anyone with money and knowledge to invest in this project. Now Kuteesa (Sam) and a diplomat of Uganda to China went and mobilised a very dynamic man Dongsong to come to Uganda and start this wonderful project," he added.
When the Chinese led by Dongson came to Uganda, they assured government they will not only run the phosphates project which is to produce fertilisers but will also produce; Steel, glass and cosmetics.
According to Museveni, Uganda spent $59m importing fertilisers in 2013 and $403m on importing steel in 2014, but this will be solved with the new industrial park.
"All these imports will stop and instead we shall be exporting to the region. I am very grateful to the Chinese government for their cooperation. They don't only support these money making projects but also support infrastructure. Chinese have supported us in effort to produce electricity in Karuma and Isimba."
Warns on Corruption
President Museveni once again warned corrupt officials that they risk being locked up.
"You have heard that there are flies which hover wherever there is some little food. Those flies must be fumigated because they disturb our investors. As soon as they see an investor they become parasites on them. We are going to lock them up," Museveni said.
Museveni likened corrupt officials to pigs that do not appreciate value, warning that he will have them cleaned up easily as soon as he gets facts incriminating them.
Cities of factories
Museveni said once there is stability and clear policies, Africa can develop very fast. He called upon Ugandans to wake up.
"This area was for a small research station with 1600 acres, one laboratory and a few oxen which were being bitten by tsetse flies. I told them the research centre can go to small land because we need cities of factories not towns with small shops selling salt, threads, and paraffin, this is Kisanja Hakuna Mchezo," Museveni said.
The Project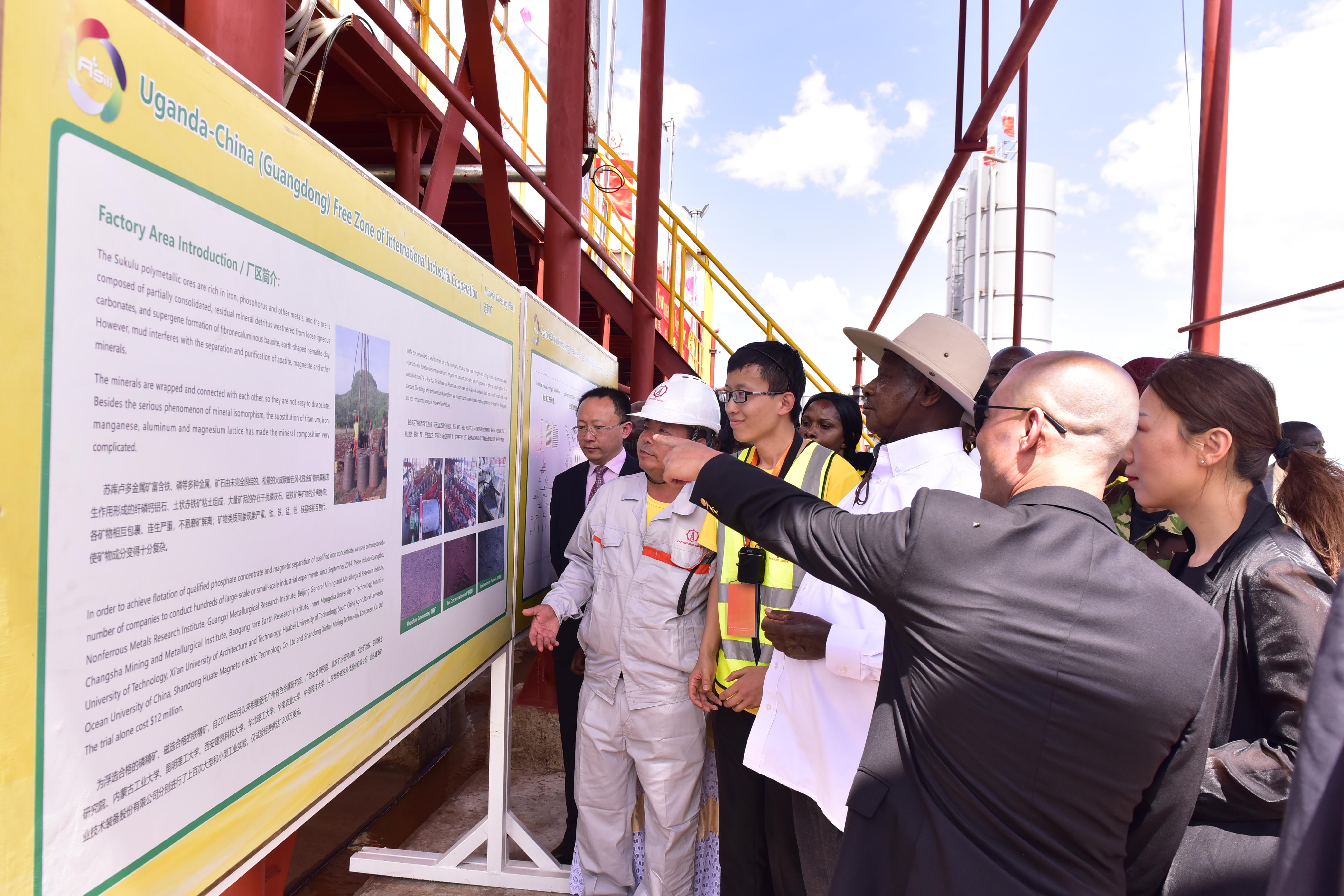 The Guangzhou Dongsong is a $630m dollars project that will employ over 3000 people and produce annual revenue of about $59m. It sits on 1800 acres and has 12 industries.
Electricity to supply the park will come from a new 220kv substation in Tororo district.
Industries in the project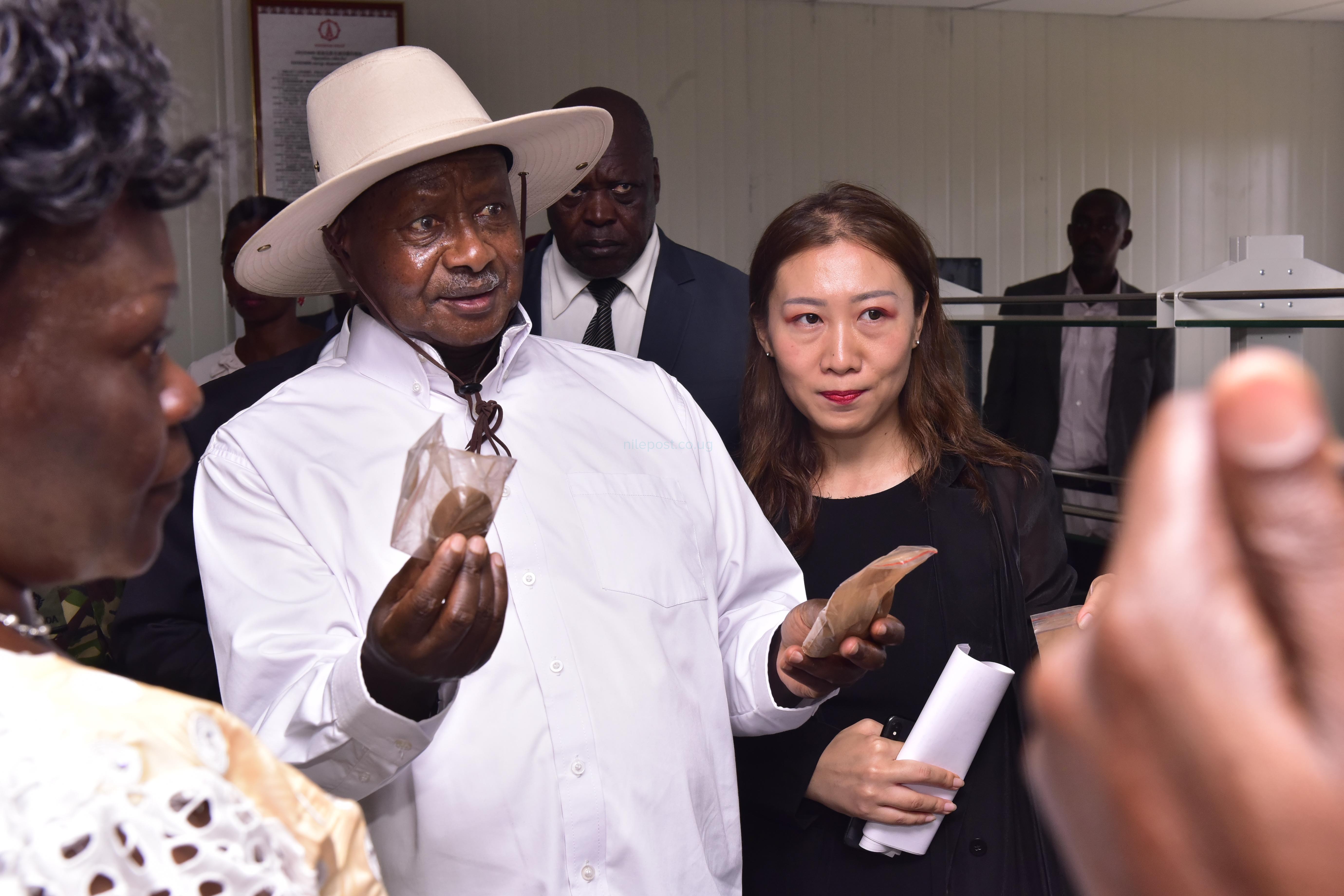 Mineral Dressing: Minerals will be wrapped with each other so they don't dissociate.
Phosphate Fertiliser Plant: This will produce among others: Inorganic compound fertilisers for; Rice, Tea, Maize, Sugarcane, banana, fruit and vegetable.
Unbaked block plant and Red Brick Plant: The steel plant will produce 180,000 tons of iron making slag while concentrator will produce 100,000 tons of fine mud tailings each year.
Steel Plant: This will produce among others; Rebar, Round Steel, Channel Steel. Square Tube, Rectangular Tube, Flat iron and Angle steel.
Glass Plant: There are no glass plants in Uganda and neighbouring countries. This glass plant will produce 200 tons of flat glass everyday. Among products include; Transparent glass, frosted glass, Mirror glass, and Printed glass.
Shea processing Factory: Will produce: Soap, moisture cream, hair care, hand cream , shower Gel and nursing oil among others.