Bank of Africa has said that it will take punitive action on their employee who last week leaked bank account details of Juma Kisaame, the managing director of DFCU. The bank did not reveal the identity of the employee.
In a statement released last evening, Bank of Africa apologised to Kisaame and stated: "The bank disassociates itself from the unprofessional and illegal actions of this staff and those who may have corruptly procured them to carry out this misdeed."
The statement said the bank had carried out extensive investigations and discovered that one of its employees had been compromised to access the details.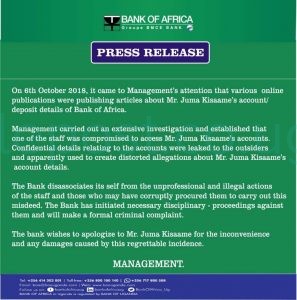 While the bank said Kisaame's details had been "distorted" it did not confirm nor deny that the leaked details were a true reflection of Kisaame's financial standing with it.
A leaked bank statement allegedly belonging to Kisaame, showed that the DFCU boss had $40 million (Shs 151 billion) on his Bank of Africa account.