Zip-lining, an activity that was well known to be a reserve of military training institutions in the 90's due its capacity to help people in overcoming fears is slowly eating up the urban thrill seekers.
The exhilarating activity in Mabira forest, gives one a thrill of a ride above the expansive natural forest on a network of lines that are suspended in about 2000 meters off the ground.
Though zip-lining is a common adventure in countries like the United States of America and South Africa, it is just a growing culture in Uganda despite being around for quite some time.
According to those that have done zip lining, the activity builds their mental sharpness and enables them to confront their fears which makes it thrilling.
Majegere Bisattu as commonly referred to, is a tour guide and marketing official at Smile Tours and Travel, he says that he has been organising Zip lining trips and taking part in the same for two years now.
" Zip lining trip is a thrilled adventure that takes the feel of sailing across the roof of Mabira Forest"
The activity in Mabira gives one a chance to zip across .. and glide under giant forest canopies while enjoying an adrenaline rush like no other.
Being a guide, Majegere went an extra step to get the rules of this game on his finger tips. This helps him to guide those that he takes to such trips.
" It is better to wear sunscreen and closed shoes, longer shorts and pants plus t shirts are better so you're comfortable. Listening to the tour guide is paramount."
Zip-lining helps in team building as you get to relate with a number of people, reduces blood pressure and burns calories. The cool breeze above the forest can't also go unnoticed.
Sylivia Katende says her first time to go was a difficult one. Looked at heights and imagined the distance and fear ran all over her body.
" My first time experience was awesome though fearful. Its an activity that exposed us to a number of monkey species in the jungle through the forest walk, bird watching was exciting. "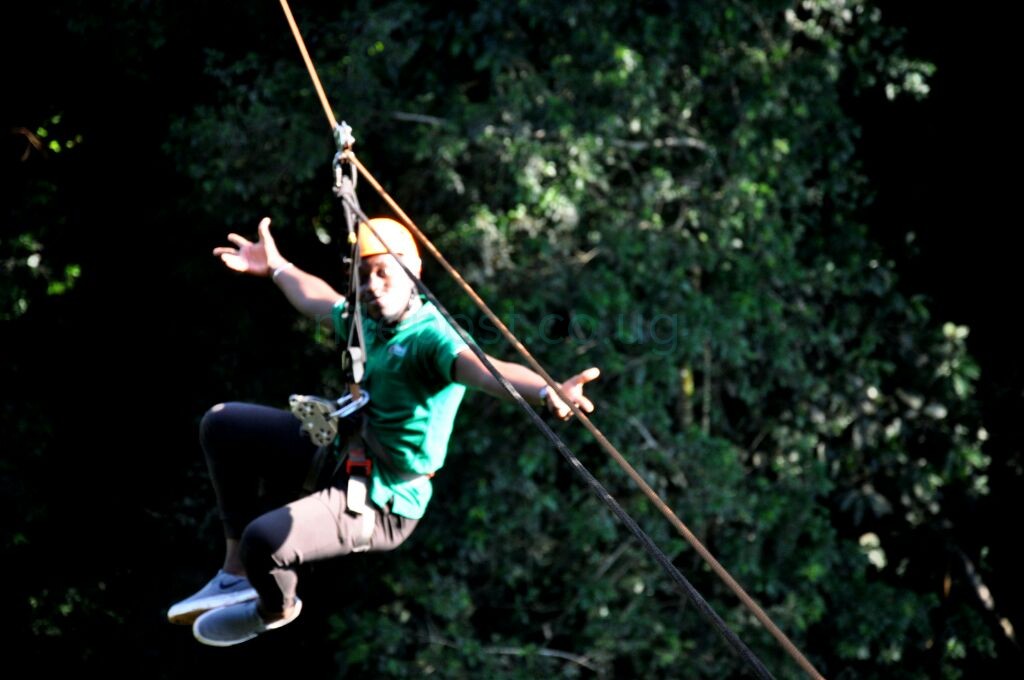 Before one starts zip-lining, there are rules to follow. Participants are taken through a safety precaution training that helps them gain confidence which they need while at it.
The Mabira zip-lining is built and operated to the international safety standards as per report.
Majegere says that this year alone, he has done up to three trips and they will have their last on 7th October 2018.
" We shall have our final trip on this years calendar next on 7th October 2018. The cover charge will be UGX 130, 000/= and this includes transport, all activities of zip-lining, picnic, forest experience, nature walk and crazy photography."
He says there will be a number of other activities such as bird watching and forest nature walks among others.
Phone numbers 0702 854959 and 0755013925 have availed to the public for those that may want to be part of this zip-lining trip in Mabira forest.