Sanyu FM Presenter James Onen (Fatboy) Facebook account has been suspended by the social media platform. Fatboy's account has been inaccessible since Wednesday, September 19, 2018.
James Onen says he has been unable to access his Facebook account since, "7pm." The vocal radio personality and debator says he did not receive any notification from Facebook. He, " Tried to access, couldn't get in."
Onen says he has, "No idea," why his account was taken down though, "I suspect false-flagging."
Hours before Onen's account was taken down, the contrarian presenter who is very active on Facebook had been engaged in a debate with supporters and detractors of Ugandan legislator Robert Kyagulanyi (Bobi Wine).
Onen expressed concern at the risks the legislators youthful supporters may face if they clashed with Uganda Police while trying to welcome Bobi Wine back home from Entebbe International Airport on Thursday, September 20.
Previously, Onen has also publicly disagreed with activist Dr Stella Nyanzi. The two intellectuals have traded barbs that have several times crossed the line into personal insults. Their disagrements have seen their supporters also ridicule each other on their various walls on the platform.
Onen has often argued that many Ugandans, including politicians, who claim to be supporters of free speech are unable to accept it when they find their views challenged.
Onen says he will return to Facebook as soon as he able to overcome the suspension of his account. In the meantime, he continues to use his Twitter account to engage in public debate.
This, however, may not be very soon as he has received communication from Facebook that he is, "Ineligible to use Facebook."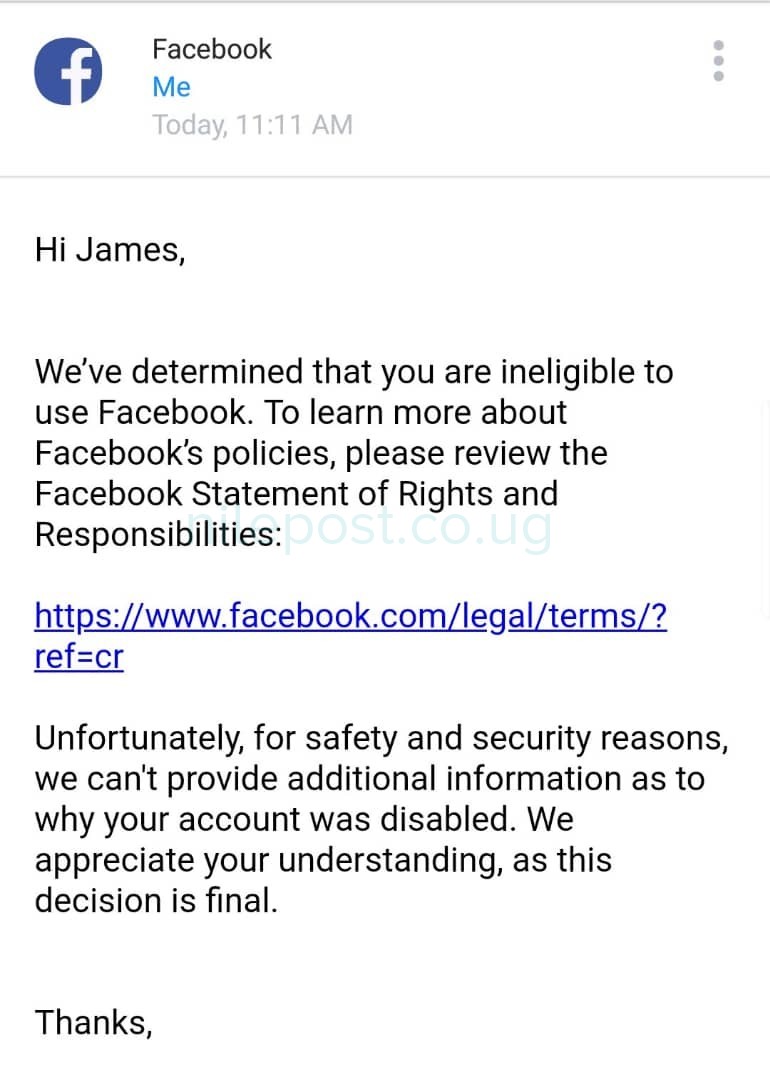 A Facebook account may be suspended for the following reasons.
Using a fake name
Posting on walls in rapid succession
You're sending too many friend requests
Posting offensive updates and pictures
Sending duplicate text as messages to multiple friends
You're poking rather too much
Your account is a potential risk to other Facebook users
You're liking too many fan pages
Suspicious payment information
Affiliation with a doubtful organization or page
Having more than one account
Facebook profiles are only for humans!
Using a fake date of birth
Posting copyrighted materials
Getting reported by rather too many people
Facebook has come under international scrutiny after it was revealed that certain groups were using it to influence public policy issues across the world. The most infamous example is the alleged Russian meddling in the 2016 USA presidential elections that saw Donald Trump elected.
Facebook has also been accused of providing a platform for groups that promote hate speech and not doing enough to expel them.
During an appearance before US senators, Facebook founder Mark Zuckerberg promised the platform would do more to ensure all users are comfortable on the platform.