President Museveni has said he should never be blamed for corrupt government officials because he is not directly responsible for their bad deeds which have cost government a lot of money.
Museveni made the remarks on Friday as he ended his two- day tour that saw him commission a number of common user facilities in Kampala and Wakiso districts as part of his efforts to fight poverty and offer skills to youths.
The president said that the country still grapples with high electricity prices because of the bad Bujagali concession that was not negotiated well by government officials because of their own benefit.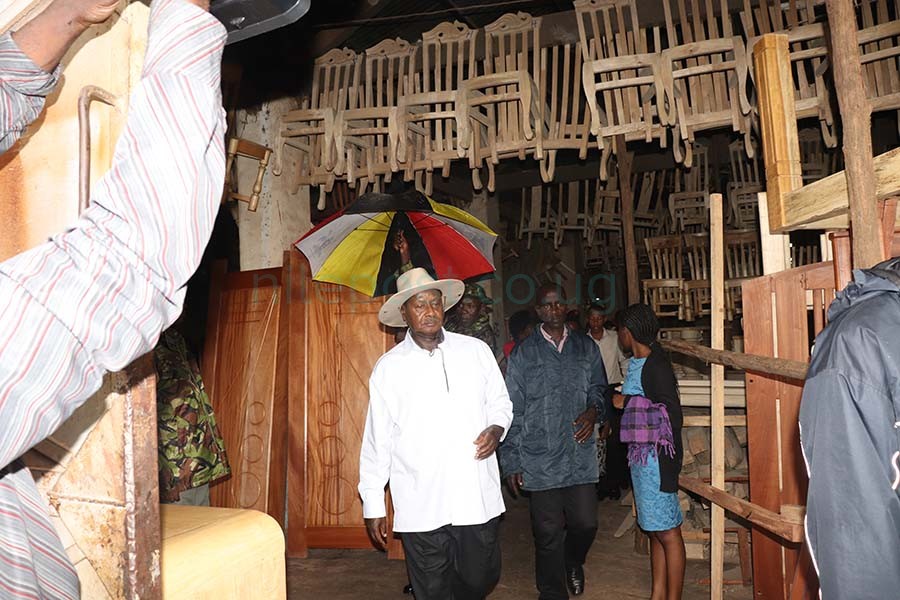 "I inherited thugs. These are your children that you put in the civil service and I found them there,"Museveni said in Kawempe on Friday afternoon.
"Don't blame me for corrupt civil servants. I inherited them from past governments. Since you have now disowned them, I can now sack them for being rebels inside my government."
Museveni however said that government is soon completing payment as part of the concession and tariffs for electricity will go down for Ugandans to enjoy including those involved in small scale businesses.
Invests in youths
Accompanied by the Security minister, Gen Elly Tumwine, youths minister Nakiwala Kiyingi, Kampala Minister, Beti Kamya, State Minister for Education, Rosemary Sseninde, State Minister for Cooperatives, Fredrick Ngobi Gume, State Minister for Microfinance, Haruna Kasolo and other government officials, Museveni toured various youth projects including welding and carpentry workshop in various parts of Kampla and Wakiso district.
Museveni urged youths to start small projects that he said would in turn become big and employ many people as well as helping them fight poverty.
"We should no longer be poor neither should we have unemployment but because Ugandans are sleeping, these are still challenges,"Museveni said.
"Why should we import shoes, clothes, furniture and many other items from China and Dubai yet we also produce them locally? By importing them, we are not only giving out money but also jobs."
Museveni being shown one of the locally made beds in Kanyanya.
He said he soon issuing a directive to all government institutions to stop importing furniture but buy from local producers like police and army do to their uniforms  as one of the ways to support them fight poverty and unemployment.
According to Museveni by assisting Savings and Credit Cooperative Societies (Saccos), he is trying to create employment and fight poverty among youths who form the biggest percentage of the population.
Indiscipline                 
The president warned youth against indiscipline and living their lives recklessly through drug abuse, alcohol and sex which he said would kill them at a tender age.
"I fought and deposed Amin, Obote and all other leaders because I was and I am still healthy. If I had spoilt my life with booze, drugs and being a tourist for women, I would not be able to fight those governments,"Museveni said.
"I am going to turn 74 years but if you bring chaos, I sort  you there and then without calling on anyone to assist me because I am fit and healthy."
Museveni however promised to collaborate with the health ministry to open up rehabilitation centres for the youth who are 'spoilt'.
Saccos
Museveni donated welding and carpentry equipment to over 15 Saccos in Kampala and Wakiso during the two day tour.
He also funded each of these projects in Katabi, Najjanankumbi, Namasuba, Kibuye, Busega, Ndeeba, Kanyanya, Kagoma, Kawempe, Nakawa and Kireka with shs.50 million.
Museveni told the youths that the equipment and capital should be used to liberate them from poverty and unemployment.
"But vote leaders who cooperate with me so they can be able to lobby for you other than those who oppose,"Museveni urged.
According to Lucy Nakyobe, the State House Comptroller, they spent Shs193m on each carpentry unit whereas shs490m was spent on each modern unit of metal fabrication and welding equipment donated by the president to the various youth groups.
"These Saccos were identified by the president himself and decided to assist them. We have started with Kampala and Wakiso but soon we shall be rolling out the program to other parts of the country,"Nakyobe said.