AGGREY NYONDWA
Justine Zawadi is a 29 year old foster mother of one. She is a Congolese refugee staying in Itambabiniga zone in Kyaka II refugee settlement in Western Uganda.
She fled conflict in Congo which claimed her husband and other relatives.
Before her husband's death, Zawadi  got pregnant but unfortunately the husband died before learning of this pending arrival of his first child.
Zawadi also learnt much later about 3 months after his death that she was pregnant. She then fled to Uganda to protect her pregnancy as it was the only gift left to hold on to from her late husband.
"We had a good home. We had just started staying together and the worst happened. I didn't know I was pregnant and neither did he. I felt hope return when I learnt that I was carrying his child after his death, this is why I couldn't risk staying in Congo. I had to do whatever it takes to keep this child. It's the only thing of his I can hold on to" she said.
On her way to Uganda, Zawadi came across a desperate young boy who was equally lost and miserable, she decided to help him and crossed to Uganda with him.
The young boy today is her foster child who she stays with in their small tarpaulin house in the settlement.
She says despite his young age, Andre, the young boy has kept her company since the day they arrived and has been of great help as she waits for her own.
Given Andre's tender age (6), Zawadi has no choice but to do everything at home.
Despite her delicate condition, she wakes up every morning at 7:00 am and walks about a kilometre downhill to go fetch water for cooking and drinking.
She fetches a total of 60 litre a day in the three rounds she carries.
This means fetching water in the morning, afternoon and in the evening.
After filling her jerry can which takes about five minutes, she covers the top of the jerrycan with a polythene and a small string.
She then uses a small piece of cloth to tie around the handle of the jerry can and puts it around her head as the 20 litre jerry can swings on her back. She then walks back, up hill to her home.
When she reaches home, the first thing she does is to add two pellets of Aqua tabs to purify the water. This makes it clean and safe for both drinking and cooking.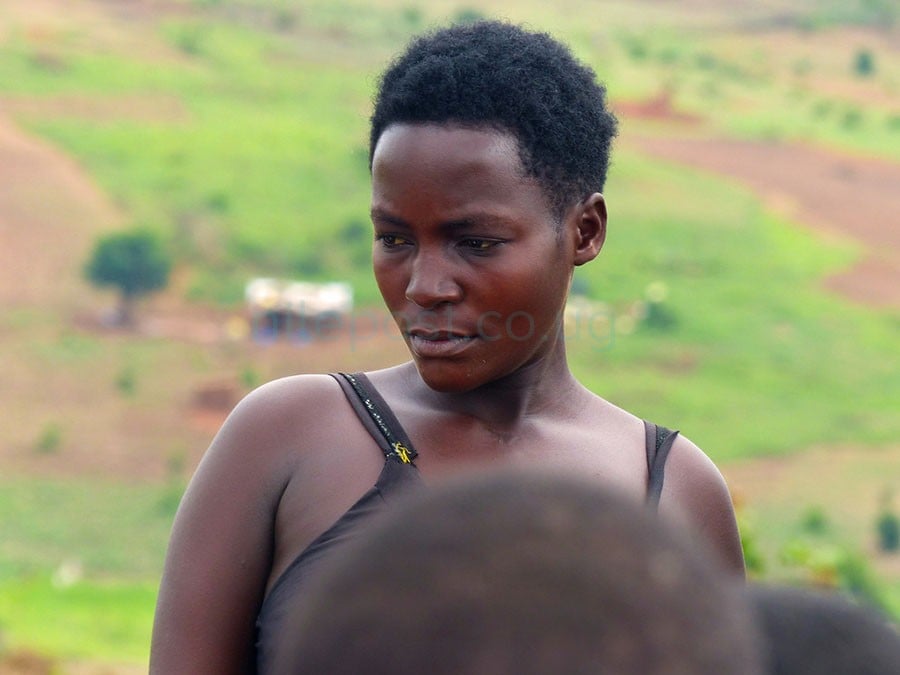 Much of the water in the camp is contaminated and this is why Uganda Red Cross with support from the Netherland Red Cross distributed these water purification tabs and also promoted other hygiene practices in the camp like hand washing, latrine construction among others.
"I fetch water three times a day in this 20 litre jerry can. My boy is still very young and I have no one else to help. This has become part of my antenatal exercise, even if I don't go to hospital, I believe I will be okay" said an assured Zawadi. "This water is fine. I haven't faced any problems with it because I ensure to purify it as I was educated by the Red Cross" she added.
Under normal circumstances, being nine months pregnant means one is due and might delivery anytime. Zawadi says she is ready and feels strong and ready to delivery from anywhere whenever labor pains come.
'Zawadi' in Swahili means a reward. She therefore believes that this pregnancy came as a reward from God for her to have a second chance. She is excited about the baby and can't wait to have it.
She however worries where she is going to get all the support she needs to raise the child.
"I don't have a proper house. I have to squat to enter this one. I have no proper clothes for myself and the baby when it comes. The food is also minimal and these are some of my biggest worries" she said.
Zawadi's home has no latrine as well and through the Uganda Red Cross WASH  project with support from the Netherlands Red Cross, there has been support to construct over 1,500 pit latrines in Kyaka II Refugee settlement , and other WASH facilities to ensure that vulnerable people like Zawadi are not exposed to sanitation related diseases.