David Lubuulwa went to the United States in 2014 to escape what he terms as a police with hunt in Uganda.
"I was hunted down for allegedly inciting violence using social media," he told The Nile Post.
Besides his political activities, Lubuulwa was also at the forefront of fighting the enactment of the anti-homosexuality bill, something that brought him into a collision course with the authorities.
Fours years later and with #FreeBobiWine protests sweeping across Kampala and some cities in Europe and USA, Lubuulwa  who has been an active participant in demonstrations in Boston, USA, still feels unsafe.
He cites the recent warning by police spokesperson, Emilian Kayima, to the effect that irrespective of where someone is, they can be charged under the Computer Misuse Act.
He fears that this could mean deportation and possible arraignment in court.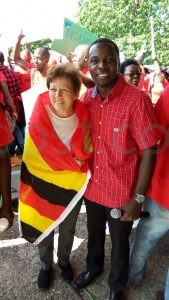 "Among us here there are so many suspicious Ugandans. They befriend you when their major intention is to get information about you. They work with intelligence agencies in Uganda," Lubuulwa told us through email.
Yet David is just among a few youths who live in fear of being arrested for engaging in political activities.
There is Samuel Kanyike, another Ugandan who lives in Washington DC and who was at the forefront of organising the #FreeBobiWine protests there.
"We might be far-away from Uganda but we still remain in fear. You never know what can happen," Kanyike said.