Tributes are pouring in for American senator John McCain after he passed away at age 81 after a battle with an aggressive brain cancer.
The grim news was confirmed in a statement from his office.
"Senator John Sidney McCain III died at 4:28pm  (Arizona time) on August 25, 2018. With the Senator when he passed were his wife Cindy and their family. At his death, he had served the United States of America faithfully for sixty years," the statement read.
The long-time Republican was diagnosed with an aggressive form of brain cancer called glioblastoma in July, 2017.
He had previously been treated for skin and prostate cancers.
McCain's family recently announced that he had decided to stop his cancer treatment.
In a statement, they said: "Last summer, Senator John McCain shared with Americans the news our family already knew: he had been diagnosed with an aggressive glioblastoma, and the prognosis was serious. In the year since, John has surpassed expectations for his survival. But the progress of disease and the inexorable advance of age render their verdict. With his usual strength of will, he has now chosen to discontinue medical treatment."
The statement went on to say: "Our family is immensely grateful for the support and kindness of all his caregivers over the last year, and for the continuing outpouring of concern and affection from John's many friends and associates, and the many thousands of people who are keeping him in their prayers. God bless and thank you all."
Tributes from around the world have begun to pour in for the former American senator, particularly in the US where his political career flourished.
Former US President Barack Obama issued a statement in which he expressed his respect for McCain's values.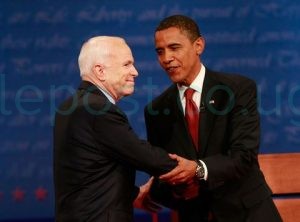 "We shared, for all our differences, a fidelity to something higher – the ideals for which generations of Americans and immigrants alike have fought, marched, and sacrificed," Mr Obama said.
Even before he passed away, Speaker of the House Paul Ryan and Senate Majority Leader Mitch McConnell praised McCain and offered prayers for his family, as did Mitt Romney, the GOP's 2012 presidential nominee.
The Army also thanked him as it opened a new modernisation headquarters in Texas.
General Mark Milley, the Army's chief of staff, called McCain an American hero while activating its new Future Command in downtown Austin, Texas.