President Museveni has said the country's main problem is not poverty but rather wiseacres whom he said want to offer alternatives to everything.
Museveni made the remarks on Friday evening during a function to graduate over 4000 students under the Presidential Initiative on skilling the girl child at Kololo ceremonial grounds.
Museveni said that many Ugandans cry of poverty but noted he has since 1996 provided solutions to the problem but many have never heeded to them.
"I am a specialist in alleviating poverty and I have been advising Ugandans on how to do it but the problem is that there are many wiseacres who mislead people. They always offer alternatives to people despite being advised against it,"Museveni said.
"When I tell them (people) that do this, they(wiseacres) tell them that what I am telling them is wrong."
The president explained that Uganda is highly endowed but insisted that many Ugandans ignore advice given to them and continue cursing government for failure to move them out of poverty.
Bobi Wine narrates day of arrest, alleged torture: 'I was rolled in blanket and clobbered'
Museveni said that on realizing that Ugandans have failed to use the advice he gives them, he decided to set up demonstration farms for a few who can learn from the farms and apply the knowledge.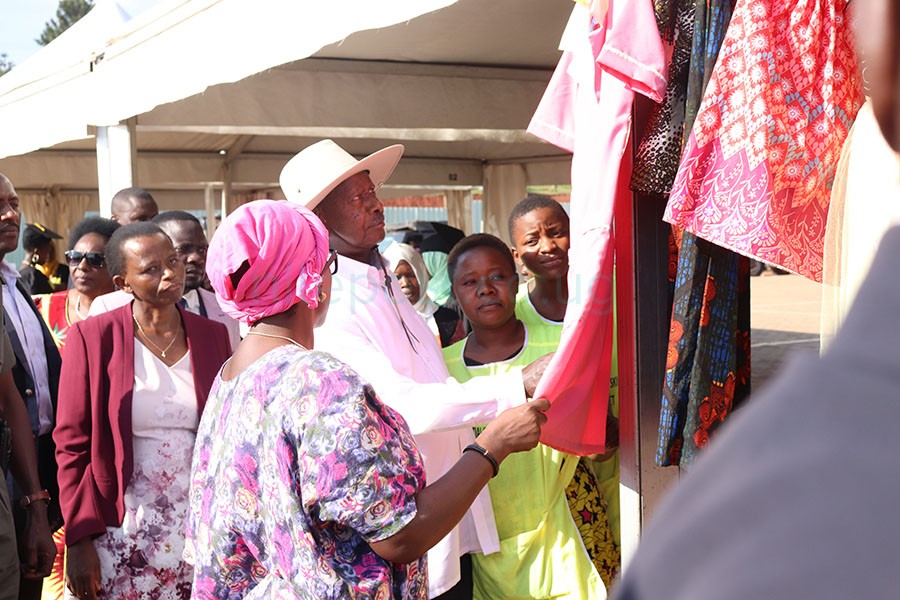 "I have been telling you(people) since 1996 that one can get shs100 million a year from a four acre piece of land but most of you have not heeded to this advice. I therefore went and started demonstration farms in villages and many laughed at me."
Museveni added, "I named the farms 'baali baseka(they were laughing) because many laughed at me while starting them(farms) but got jealousy when they realized it was real."
He urged people in ghettos to heed to the advice he gives them if they are to develop because he too has ever lived in a ghetto.
According to the president, Uganda loses a lot of money imports including cooking oil, shoes, clothes, wheat, posho, and many others yet the same can be manufactured locally.
He urged Ugandans to focus on food processing because there is a big market for food locally and internationally.
A total of 4414 girls got skills in shoe making, embroidery, knitting, bakery , hairdressing and tailoring after a six month training under the stewardship of State House.
The girls are got from the five divisions that make up Kampala including Central Division, Kawempe, Lubaga,Makindye, and Nakawa.
Museveni said with time, the girls would have a multiplier effect to the entire country so as to ensure they get out o poverty.
NRM Secretary General Justine Kasule Lumumba applauded Museveni for spearheading the initiative she said would help market the ruling NRM government countrywide.