This year's last Summer holiday weekend in the USA(Labor Day Weekend), UNAA Causes will hold the Uganda Festival dubbed Summer's ultimate event.
The event scheduled for August 30th to September 3rd at the Gaylord National Resort Hotel in Washington DC will also have a Sunday evening feature East African beauty queens, Ugandan fashionistas and models, at UNAA Causes formerly Fashion and Culture program now rebranded Fashion weekend.
Key among the people to grace the Fashion weekend include; Fashionistas Aisha Nakaziba, Anita Beryl, Arapapa founder Santa Anzo and model scout and trainer Joram Muzira Job.
Also present at the same event are; NTV style project presenter Betinah Nassali alias Betinah Tianah, Fashion presenter Sheilla Gashumba, Miss Uganda 2011/12 Sylvia Namutebi, Kampala's hot models in Natasha Sinayobye, Brendah Mutara and Elizabeth Kabahenda.
Also present are all East African beauty queens led by the newly crowned Miss Uganda 2018; Miss Quinn Abenakyo, Miss Rwanda (2018) Liliane Iradukunda, Miss World Kenya (2016), Evelyn Njambi and Miss Tanzania Universe(2016)
Njambi, in 2016 represented Kenya in the Miss World competition held in the USA capital Washington District of Columbia, where she was crowned fourth out of 130 plus models, in a contest won by Stephanie Del Valle from Puerto Rico.
While she may not have won the Miss World crown, Evelyn stands as the new Miss World Africa – a beauty, a force to reckon with, a penetratingly sharp and eloquent woman.
We caught up with her in a one on one interview regarding the impact the crown has had on her life and her plans now and in the future;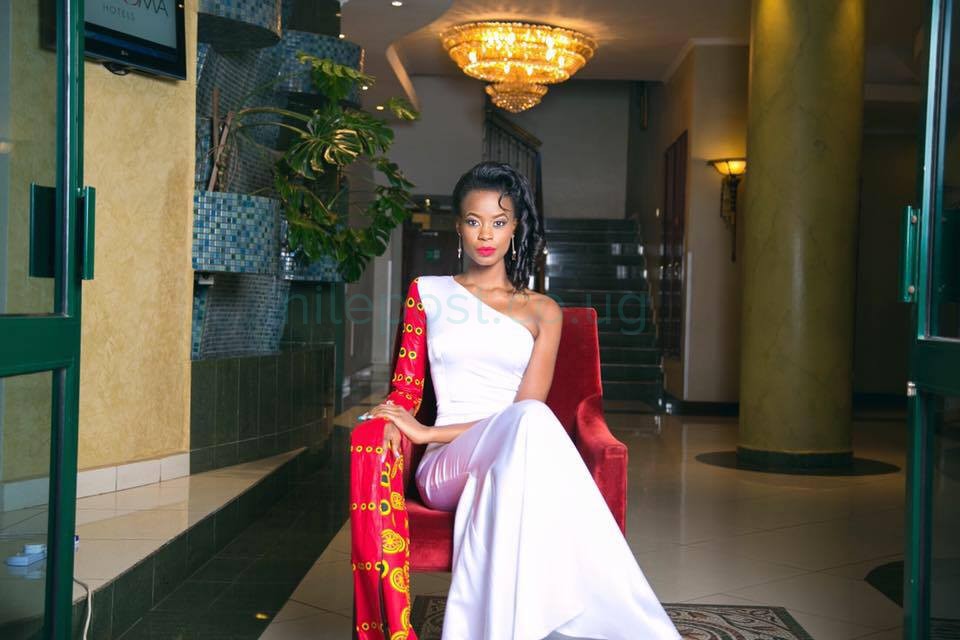 Who is Evelyn Njambi, and what is she up to today?
I am an ambitious, assertive, outgoing, fun and dedicated young woman, who is extremely passionate about girl child education and health.
I'm an End-FGM (Female Genital Mutilation) champion in my country, while reigning as Miss World Kenya 2016.
Take us through your journey to Miss World Africa?
I first auditioned at the county level – Miss Kiambu County, a county located in the central region of Kenya. And in a beautiful event, I was crowned Miss World Kenya- Kiambu County.
From there came time to meet and compete with other county queens from around the country. It was in a very special and unbelievable journey that I was crowned Miss World Kenya and had the privilege to represent my country in an international competition.
You were top finalist for Miss World, what did you feel and how did this impact your life?
I was super excited and of course very emotional. It was unbelievable! I am truly and deeply grateful to my country for all her support during the competition.
By virtue of being on a global stage where I had a chance to share with the rest of the world about FGM, I'd say that critically defined the role I'd dedicate myself to play for young girls in my country and Africa at risk of undergoing FGM.
What has been your life before and after obtaining these titles? Do you see yourself different now? How?
There's not been much difference really. However, after the very first title, I adopted a clearly defined purpose as to how I'd make a difference in the lives of others. It was after being crowned Miss World Kenya in 2016 that I decided to run with projects and campaigns which were geared towards eradicating FGM!
I don't see myself different either. I still have the same friends and what mattered to me then, socially speaking, still does if not more!
You have been invited to Fashion Weekend in Washington DC? what do you think of your invite and what will be your contribution?
Yes I have. I am really excited to have been invited to this incredibly important event. It's very admirable how the beautiful people of Uganda have set resources and time aside to be able to bring the East African Community together annually to celebrate Fashion and pride in their rich cultures and heritage.
Final message to those who will be at the event in DC?
I can't wait to meet all of you as we convene to celebrate the diversity and beauty of the amazing people of Uganda 🇺🇬 !! And even as we aim to do so, let us also yearn to learn from each other in matters design, fashion, business etc in order to grow ourselves, our economies, our towns in the different capacities we will be exposed to during the event.
What are your interests/ What do you pride in?
One of my greatest loves is Interior Design! I'm actually about to complete my bachelor's degree on the same.
The idea of being able to create a beautiful space and just seeing a client happy, excited and satisfied, warms my heart.
The amazing thing about where I study from, is that Interior Design students get to learn and be equipped with diverse skills. With units ranging from CAD softwares such as Archicad, to understanding Entrepreneurship, to walking down memory lane to learn about the history of African Art among many other exciting courses, the knowledge one acquires forms a very solid foundation for the young interior designer.
I recently finished my attachment at Keith Interiors (K) Ltd and the experience was wonderful. The greatest takeaway was the feel and understanding of how the business of Interior Design works.
You talk much about interior design, what are your aspirations in the field you studied?
I look forward to owning and running an Interior Design firm soon. One that incorporates our heritage and gives a space or design that African-cultural touch.
I believe that it is time we tapped into the richness of our roots and gave the world a taste of Africa in how we design and create interior spaces.
You talk quite much about this place you study, our readers would want to know where it is and what you exactly do?
Name of college is Maseno University where I am currently pursuing a degree in Interior Design with IT. I hope to graduate from here in December.