The Inspector General of Police, Martin Okoth Ochola has transferred Arua District Police Commander, only hours to the Arua municipality by-election.
On Monday evening, one Yasin Kawuma, a driver for Kyadondo East Member of Parliament, Robert Kyagulanyi was shot dead by security forces during chaos that erupted when Kassiano Wadri's supporters allegedly pelted stones at President Museveni's convoy.
However, in a mini- reshuffle involving only three officers and communicated by AIGP Moses Balimwoyo, the police director in charge of human resource, the Arua DPC, Superintendent of Police Abas Ssenyonjo has been transferred to Masaka.
Ssenyonjo has been replaced by Superintendent of Police Henry Kintu who has been in Masaka whereas Assistant Superintendent of Police Andrew Okalabaya has been transferred from Buikwe to Mpigi as the Officer in Charge of Traffic at Buwama.
Chaos in Arua
On Monday evening chaos erupted when Kassiano Wadri's supporters tried to block the presidential motorcade as President Museveni left Arua Boma grounds prompting security forces to fire teargas and bullets in the air to 'calm' the situation.
The president was being chauffeured to Pokea Primary School to board his chopper after campaigning for Nusura Tiperu, the NRM candidate in the Arua Municipality by-elections.
"One of the president's cars was attacked and smashed by the hooligans that were donning colours of one of the contestants in the election, Kassiano Wadri,"Kayima told journalists on Tuesday.
"At this point, security intervened by firing live bullets in the air and teargas to calm the situation."
He added that earlier, the same group had tried to block the convoy using a grader.
It is alleged that one of the vehicles in the presidential convoy was vandalised during the scuffle as Wadri's supporters pelted stones on the convoy.
"President Museveni's car that was hit by opposition supporters this evening in Arua town. The police will issue a statement on this incident shortly," the senior presidential press secretary Don Wanyama, the senior presidential press secretary posted on his twitter account on Monday night.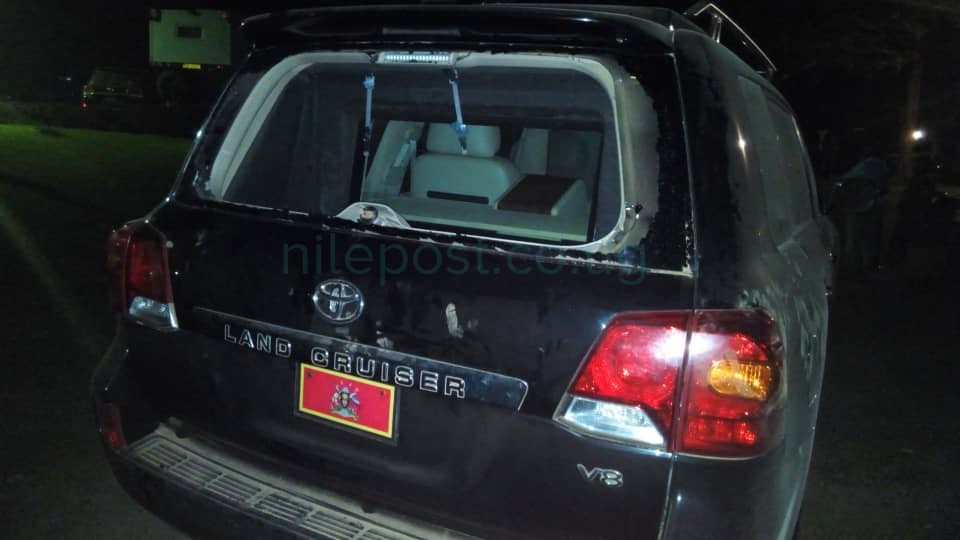 The police spokesperson told journalists that by the time the convoy was pelted with stones, President Museveni was inside.
Kayima added a number of people including Members of Parliament have since the two incidents been arrested to help in police investigations.
Those arrested include candidate Kassiano Wadri, MPs Paul Mwiru, Gerald Karuhanga, Robert Kyagulanyi Ssentamu and former MP Michael Mabikke among others
Police say both Bobi Wine's Tundra vehicle and the grader have since been impounded to help in investigations into the incident.