The Uganda People's Defense Forces (UPDF) has dismissed allegations on social media that three of its soldiers serving under the African Union Mission in Somalia (AMISOM) have died following an attack by the Al-Shabaab in the Somali capital, Mogadishu.
UPDF spokesperson Brig. Richard Karemire confirmed this morning that all soldiers on the mission are in good condition and messages making rounds are mere propaganda.
These are some of the messages that came in late last night indicating that 5 soldiers were injured in Somalia by Al-Shabaab, and 3 of these soldiers were from the Uganda People's Defense Forces. UPDF spokesperson Brig. Richard Karemire has dismissed these reports calling them propaganda.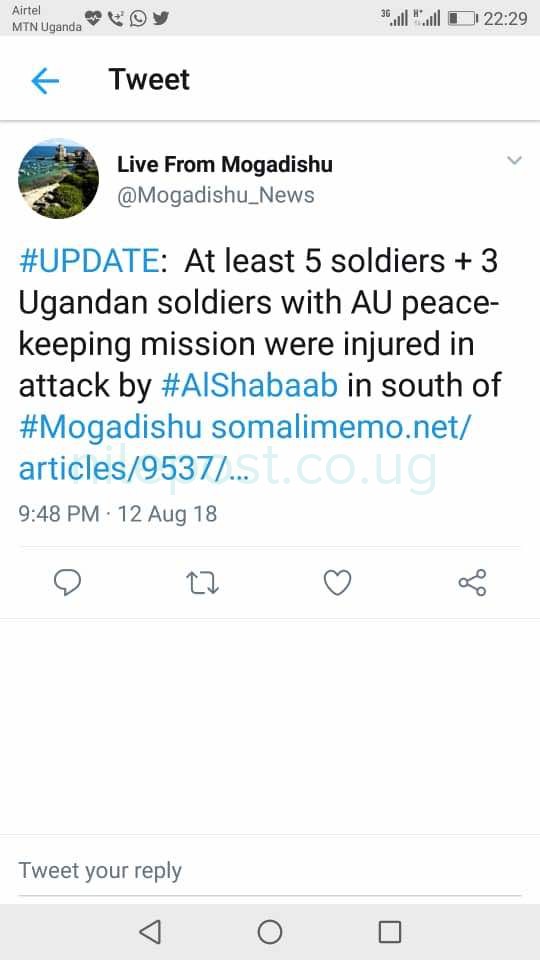 The Uganda people's Defense Forces has been in Somalia as part of the African Union Mission AMISOM for the past 11 years
Late last year there were suggestions by the UN Security Council to have a drawdown of the mission in the area.
The UN Security Council layer in July delayed the plan for draw down after finding out that Somali Security Forces were not sufficiently trained to take over the existing forces.
There will be no draw down.
UPDF deploys over 6000 soldiers for the AMISOM mission in Somalia.