President Museveni has said he does not fear death but noted that dying would leave him with many tasks not accomplished.
Museveni made the remarks on Friday during the requiem mass for Yona Namawa, son to the late James Francis Wapakhabulo, the former minister for foreign affairs at All Saints Cathedral in Nakasero.
Namawa died suddenly on August 6. It is suspected he died of a cardiac arrest.
Museveni said death is an obligation everyone has to heed to but noted that it saddens him for people to die at a tender age yet they have a lot of tasks to accomplish.
"I don't fear God's calling and even if he wants to call me, I have no problem but I want him(God) to do it an organised manner,"Museveni said.
Citing the book of Genesis in the Bible, Museveni said God created man and put him into the world so that he could multiply to fill the earth and also establish dominion over nature but noted in many cases this does not happen.
He insisted that calamities like diseases and floods which claim lives of people is an indicator that man has failed to establish dominion over nature.
"I don't feel happy when people die at a tender age.A good example is Yona (Namawa) who was only 46 years old when he died. People should go up to 96 years so we can get maximum value out of them."
Museveni wondered whether at 46, God was short of company in order to call him [Namawa] at that age.
He said: "If my father had died at an early stage I would not have got a lot from him. But because he died at 96 years, I get maximum value from him because most of the words I put in the Runyankore were got from him(Museveni's father).If he had died at the age of 70, I wouldn't get any chance to get all that from him."
The Vicar of All Saints Cathedral, Rev.Canon. Jeffrey Byarugaba told the congregation that man was created to live forever in the world but because of sin, he had to die.
"We were created to have dominion over nature but because of the choice of our ancestors (Adam and Eve),the consequences of their sin have lived with us this far,"Rev.Canon Byarugaba said.
"The consequences of sin including death are with us and we can't run away from it."
He however urged the congregation to always live fruitful lives as this would also be reflected when they die.
Health
Museveni urged the members of the public to always be careful with the way they live their life or else it has a life on their health.
He cited an example of the deceased whom he said died of a simple illness that was only neglected.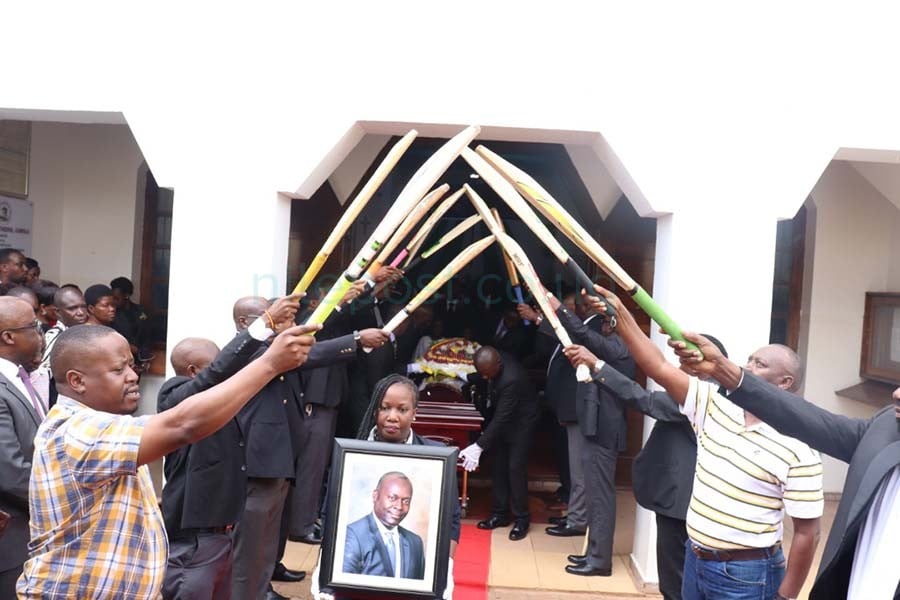 "I was told he died because of not being cautious about his health. The heart attack came from a simple problem when he had a toothache and got involved in self -medication instead of looking for proper treatment,"Museveni noted.
The president warned the public to always seek medication other than self -medication which he said could cost their lives.
Eulogies
Dorothy Nasozi, the wife to the deceased applauded him for being an exceptional man in their marriage that they enjoyed for the past 10 years they have been together.
"With all the education and things he had, this didn't stop him from loving and living in God," the deceased's wife told mourners.
The deceased's son, Myles Mukisa Wapakhabulo described his late dad as both a friend and boss who was always there for everyone when they needed him.
Biography
Yona Namawa was born on January 8,1972 to James Francis Waphakabulo and Ambassador Angelina Wapakhabulo.
He attended Arusha school, Boroko East Primary School, Port Moresby High School, Kings College Buddo ,Makerere College School and Viterbo University.
By the time of his death, Yona Namawa Wapakhabulo was a managing partner at WMC Africa, a Public Relations firm .
He will be laid to rest on Saturday at Mafudu in Sironko distirict.