On Tuesday at about 2:00pm (that is 1400hours in aviation language), Narendra Modi landed at Entebbe airport making history as the first Indian Prime Minister to be hosted on Ugandan Soil in over a decade.
The huge Boeing 777-300ER series, remained engine running for some minutes as protocol and media teams took positions before the Air India One's door was flung open for viewers to catch a very obscure glimpse of what could be inside the prodigious aircraft- forget the "unwanted" A330neo.
The Air India one crew could be seen moving from the cockpit side to the door and back while delivering instructions to whomever the- about 242 feet double decker craft was carrying.
https://www.facebook.com/nilepostnews/videos/855085018212692/
By the way, the craft is operated by a special crew attached to Air India including at least eight very experienced pilots. Anyway, about 30 minutes after 2:00pm, Narendra Modi peeked out and then stood at the entrance (now exit) holding both his hands together in prayer pose for about 10 seconds- which has been his trademark, he then slopped to meet Uganda's foreign affairs minister, Sam Kutesa who was entrusted with welcoming the guests.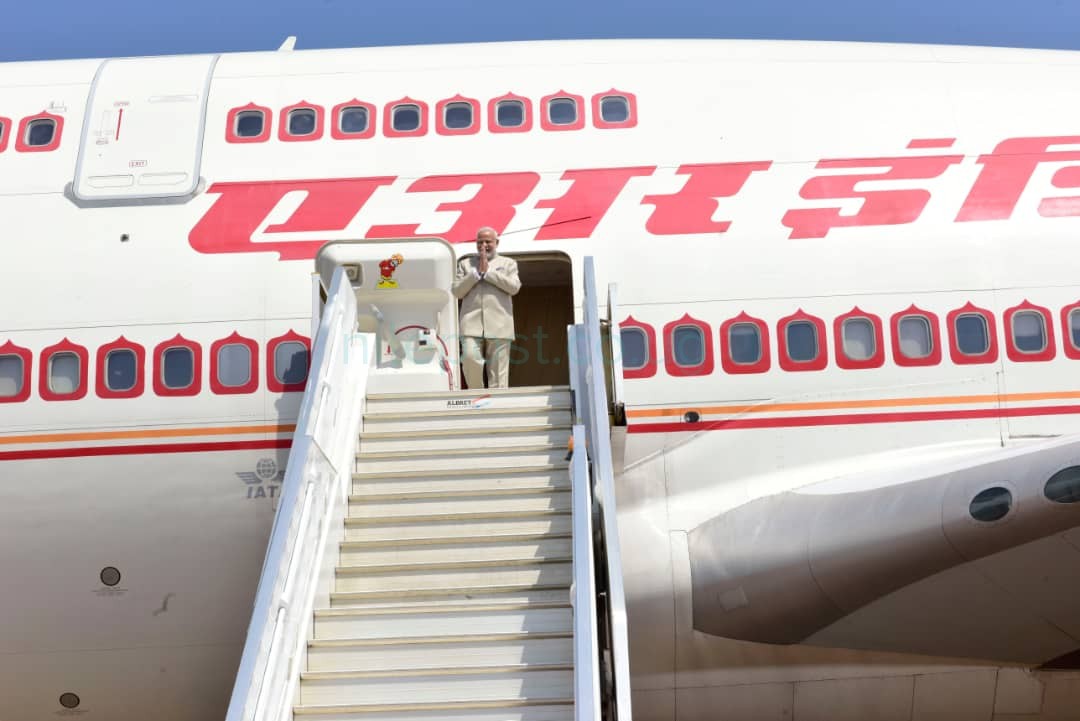 But for those that had been following Modi's visit from Rwanda, something quite significant had changed, he was putting on a completely differently outfit. Did he change it during the 40 minutes the plane was parked at the airside or did he actually change it during the 1hour flight from Kigali?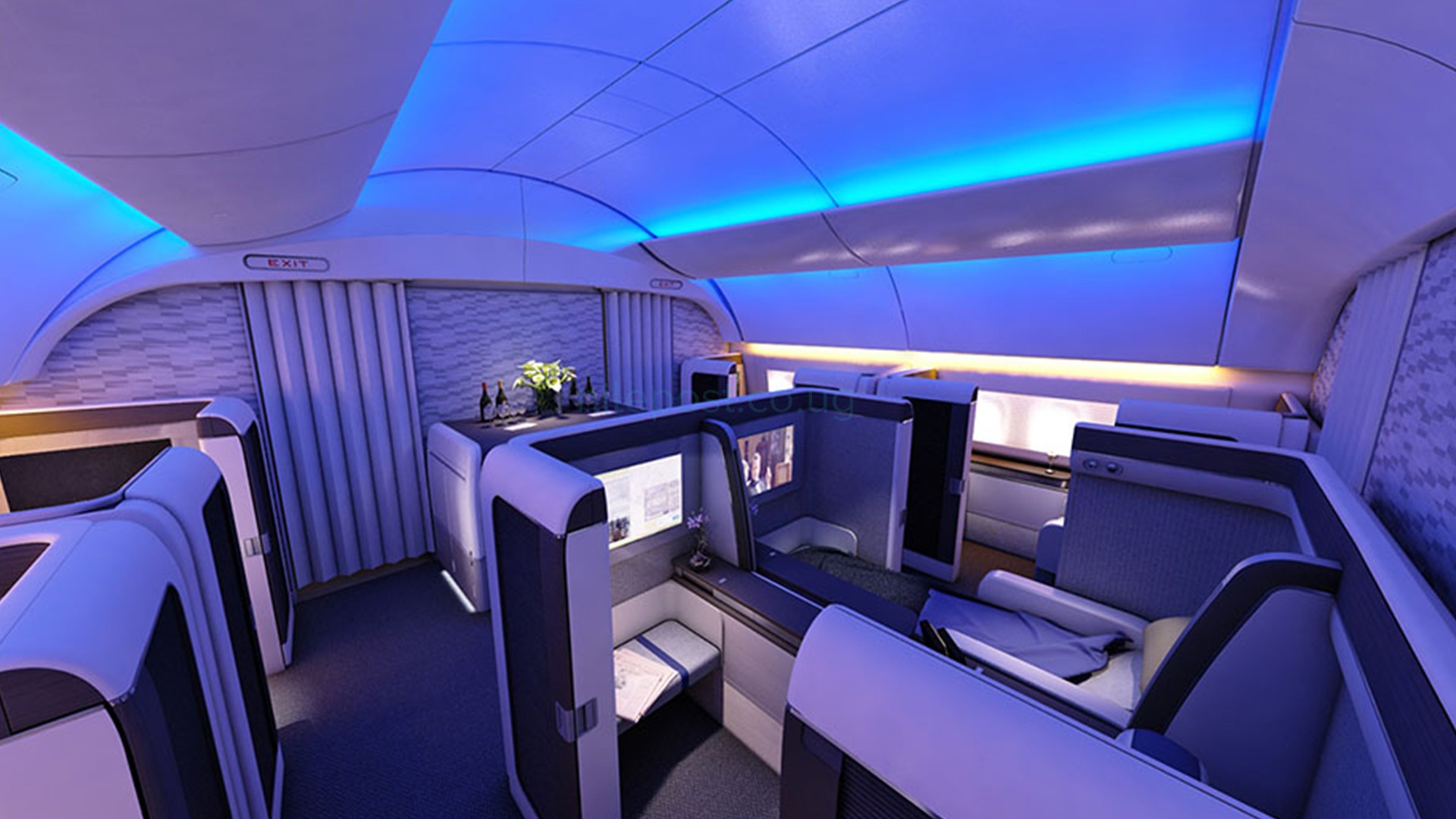 Modi left Rwanda dressed in his signature short sleeve Khadi Kurta (white), and landed in Uganda in a well suited Khaki outfit. One of the gentlemen at the airport (not official ones) immediately started engaging the rest in a debate; "You see, this man was dressed differently just a few minutes ago, and now he has a different cloth, I hope we are not dealing with his double, when the real India President has gone to South Africa."
Well his submission seemed to have excited those who cared to listen to him and soon, the rumour was all over the airport as Modi was chauffeured out of the VVIP wing to meet President Museveni a few kilometres away at State House Entebbe.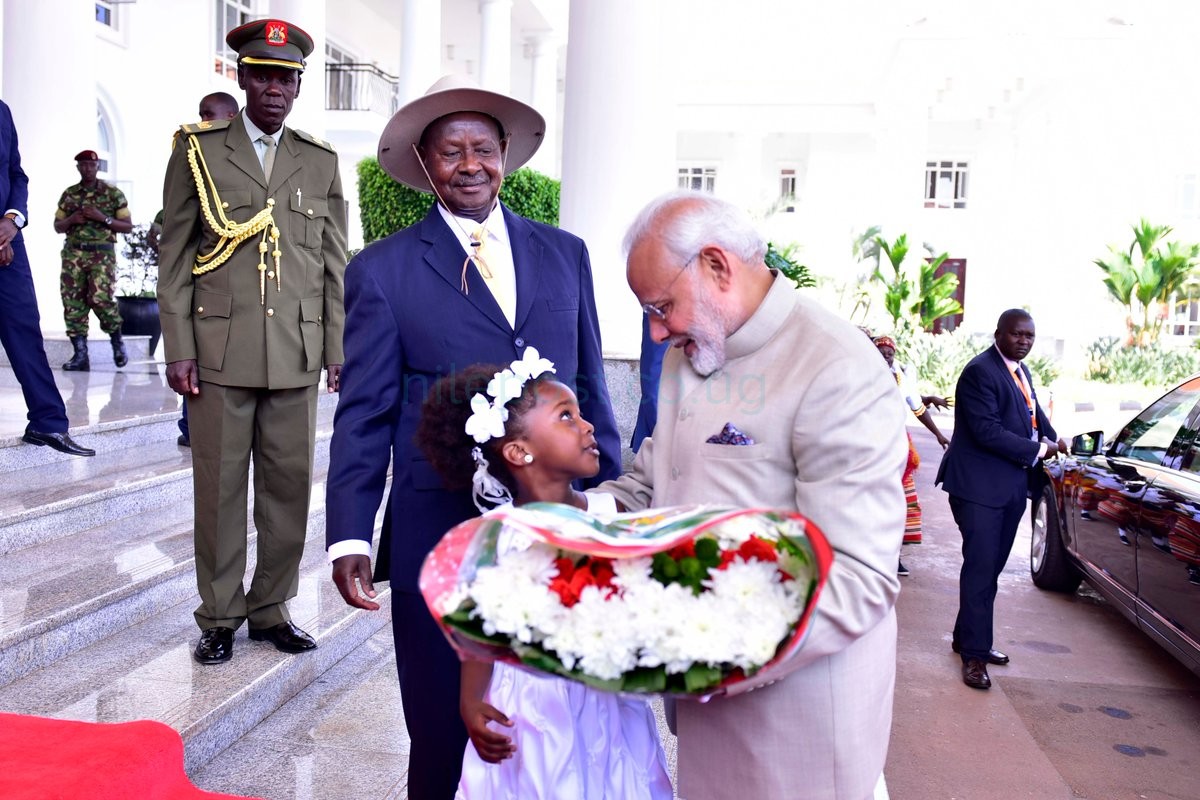 Meanwhile the humongous Air India One remained on ground for everyone to gaze and may be effortlessly answer the unanswered questions. For one glaring one we had was the fact that Modi changed his outfit right inside the craft.
The craft is fitted with an entire luxury bedroom that allows the Prime Minister enough time for siesta or nap, refreshing, and of course wardrobe changes.
The craft is also equipped with a huge conference room where Modi meets members of his delegation and key aides. The conference room is located in the VVIP wing close to the bedroom.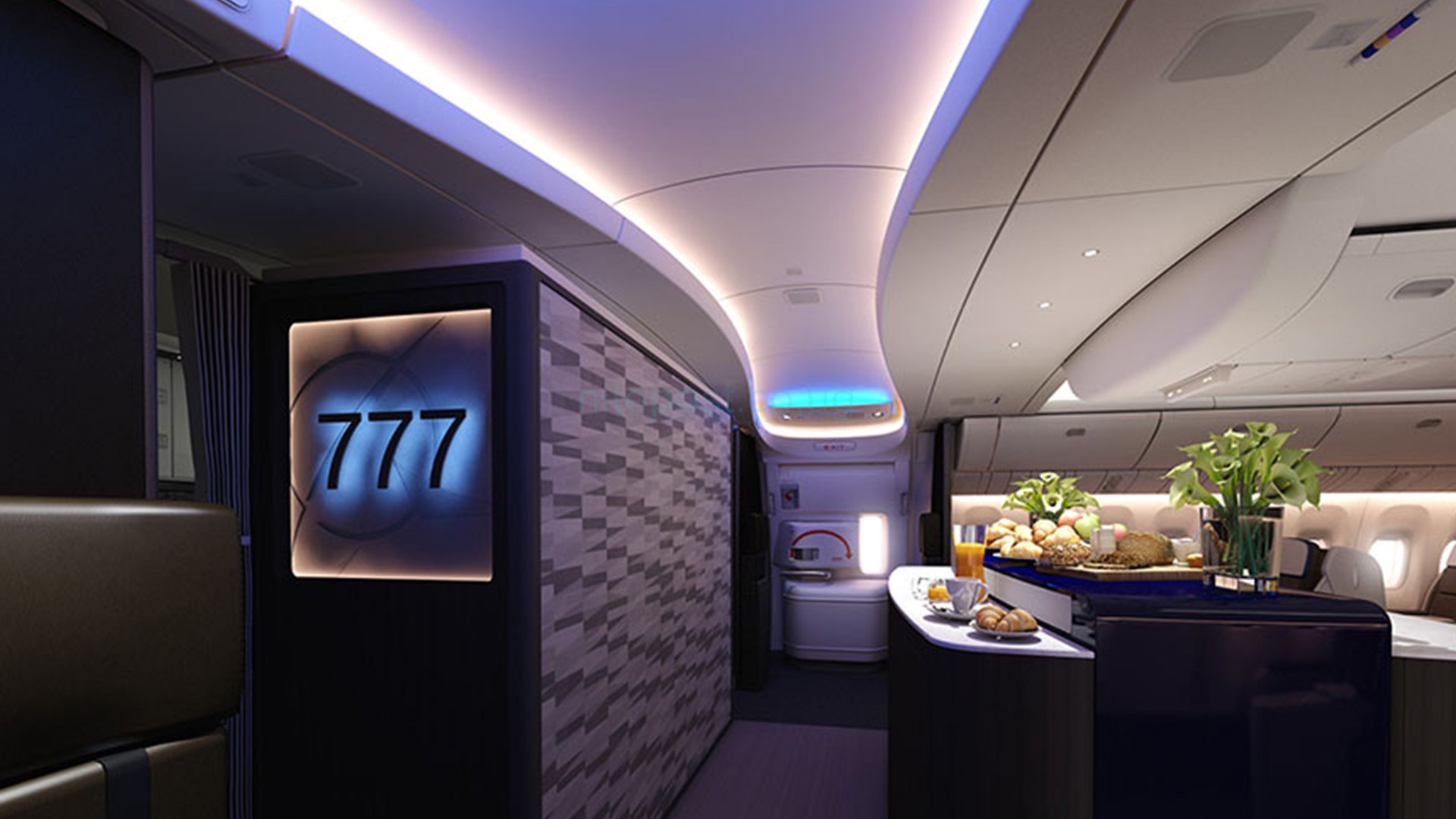 Also on board specifically in Modi's wing is a satellite phone and full speed internet to allow the Prime Minister be able to at least send out a tweet to his millions of followers. Modi also has an office on the same craft for his work while in air.
Meanwhile the VVIP delegation of the Prime Minister sit in the upper deck on the craft while the rest find comfort in the lower deck of this huge winged craft.
The lower deck also hosts a sizeable reading and sitting area and a doctor's chambers for quick first aid and emergencies.
A security source also (we don't know if he was joking) said that the craft is equipped with robust defense systems like 'radar warning receivers' and 'missile-approach warning systems'. "They can jam radars and shoot metal chaffs or flares at the approaching missiles.
"It is also equipped with a system that can detect intruders both on board and out of the plane. This is not limited to general hacking into it's network while in flight mode," the source added.
On further search via the internet, we also discovered that the craft is wired to a direct emergency centre in New Delhi that is operated by India Air Force.
Meanwhile though not necessary here, the craft is capable of doing on air refuelling and to further avoid lax in security, an emergency aircraft is always in the vicinity to take the Prime Minister to the next destination should the Air India One develop complications midway.
For instance, in April 2015 while in Berlin, the Air India One developed an engine problem, and another of the same type was sent to take him to Canada.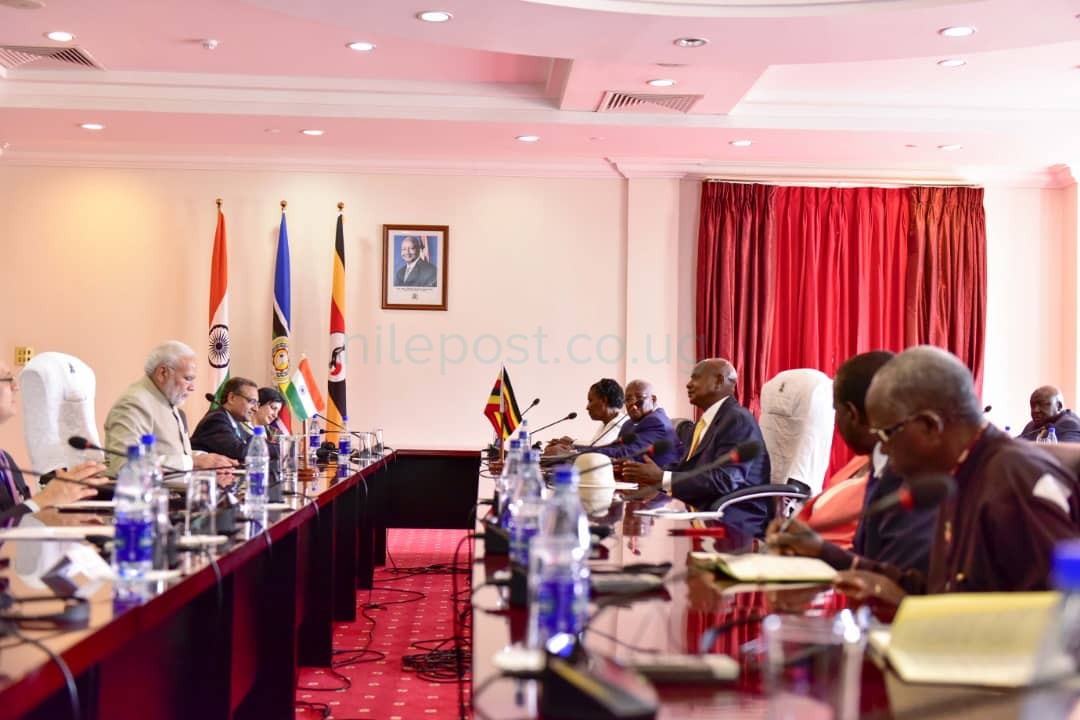 With this huge aircraft, Modi came to Uganda with a loan to the country for electricity to the tune of Shs523b, a VISA waiver for Ugandans to India, Shs230b for agricultural development and several deals in ICT, defence and culture.
https://www.facebook.com/nbstelevision/videos/1855127097911580/
Now Modi will be leaving the country for South Africa where he and President Museveni will again meet for the BRICS (Brazil, Russia, India, China and South Africa) and their counterparts Togo, Rwanda, Uganda, Zambia, Gabon, Senegal, Angola and Ethiopia will hold talks.
So in case you see Modi again in different outfit, know the magic on his craft.