Over the years, a number of Indians have made their mark on Uganda's business landscape. They have established industries, banks, hotels, insurance firms, agro-processing plants that have provided employment and tax revenue to the government.
As India's Prime Minister Nerandra Modi embarks on a two-day state visit to Uganda, The Nile Post looks at some of the prominent Ugandans of Indian origin who continue to make a mark economically.
Amirali Karmali (Mukwano)
Amirali Karmali is a businessman, entrepreneur and industrialist.
He is the founder of Mukwano Industries Uganda Limited, a member company of the Mukwano Group.
He also serves as a non-executive director of Exim Bank (Uganda), a commercial bank in which the Mukwano Group maintains 36.5 percent shareholding.
The group was established in 1986, although it did not start operations until 1989.
As of October 2016, the group is involved in six main areas of business: manufacturing, real estate investments, bulk storage and shipment, cargo clearing and forwarding, agriculture and financial services.
Mukwano Group is one of the most active investment groups in Uganda. The group won the coveted Annual Presidential Award of Best Exporter of the Year for 2004. In 2009, its beverages division attained ISO Certification.
Madhvani 
The Madhvani Group is one of the largest diversified private-sector groups in East Africa, employing over 10,000 people.
Starting in Uganda in 1914, the Group has developed into a widely-diversified conglomerate with a geographical spread into various African countries, the Middle East, India and North America. The Group's current turnover in Uganda exceeds $500 million.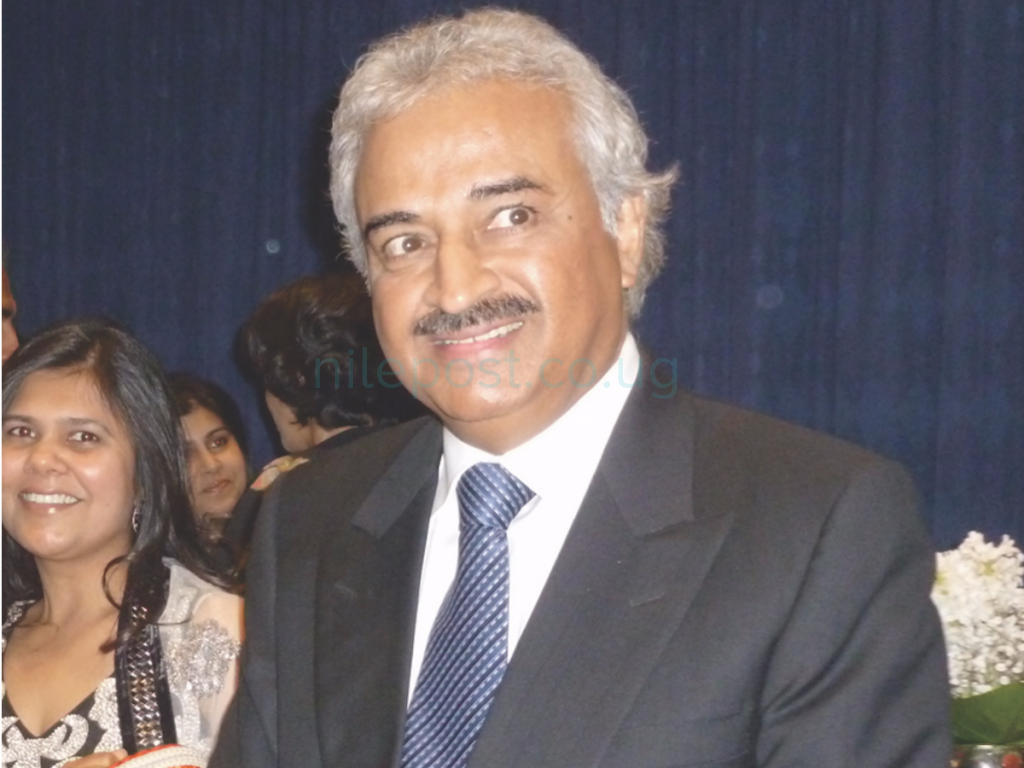 The group's assets in Uganda are valued in excess of $ 1 billion, with several units undergoing major expansion.
The group is the largest private-sector investor in industry in Uganda, with a substantial presence in the following: agriculture and agro-processing, sugar-cane, tea, floriculture.
The flagship of the group is Kakira Sugar Works, which was formed in 1985 to take over the old assets of Madhvani Sugar Works Ltd in Eastern Uganda.- a factory that was no longer operational and a nucleus estate that had reverted to bush.
Mehta Group
The group owes its foundation to Nanji Kalidas Mehta  (1887–1969). He was born in India in the late 19th Century. In 1900, at the age of 13 years, he migrated to Uganda and started a series of businesses that included a tea plantation, a cotton ginnery, a sugarcane plantation and a sugar factory.
During the 1930s, having established himself in Uganda, Mehta began operations in India. He set up a textile mill and ginning factory in Porbandar, Gujarat, and a trading company in Bombay. Later, a cement plant (Saurashtra Cement Limited) was established in 1956.
In 1972, Idi Amin, then leader of Uganda, expelled all Asians from the country; all of the group's Ugandan possession were surrendered, many to the government-controlled Uganda Development Corporation.
The group concentrated on their non-African businesses; setting up a consultancy in India and a plastics plant in Canada becoming a truly International conglomerate during the 1970s.
In 1979, Amin was removed from power and the group was invited back into Uganda to repossess their assets. They own a string businesses.
Sudhir Ruparelia
Sudhir Ruparelia is a business magnate and investor. He is the chairman and majority shareholder in the companies of the Ruparelia Group.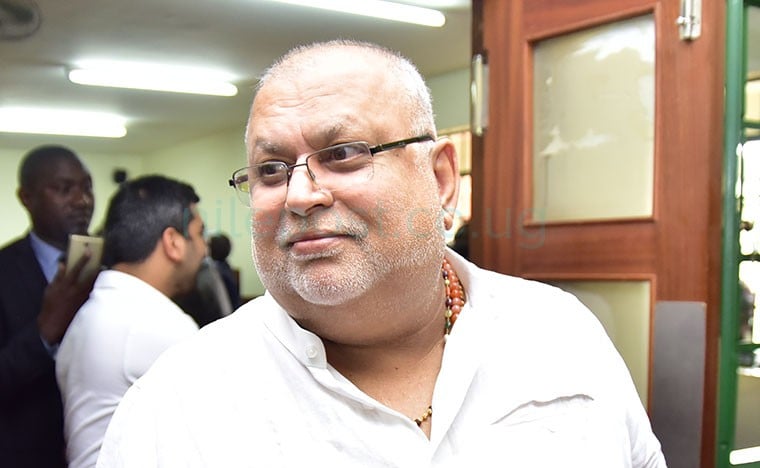 His investments are mainly in the areas of insurance, education, broadcasting, real estate, floriculture, hotels, and resorts.
According to Forbes in 2015, he was the 27th wealthiest individual in Africa, with an estimated net worth of $800 million.
Ruparelia was born in Kasese to an upper middle class family. His great-grandfather reached Mombasa-Kenya in 1897 from India and set up a trading store there before coming to Uganda in 1903.
He moved to the United Kingdom with his parents in 1972 at the age of 16, when Idi Amin expelled Asians from Uganda. He returned to Uganda in 1985, with $25,000 earned from several casual jobs including working in supermarkets, factories, and butcheries.
Ruparelia started selling beer and spirits imported from Kenya. Later he established himself as a prominent businessman.
Karim Hirji
Karim Hirji is a businessman, hotel owner, and entrepreneur in Uganda. He is reported to be one of the wealthiest individuals in that country, with an estimated net worth of approximately $100 million.
During the 1960s and 1970s, Hirji was a national rally champion. During the late 1980s and early 1990s, he began trading in textiles and alcoholic beverages from a shop on Luwum Street.
His first company, Dembe Enterprises, has since expanded into the Dembe Group of Companies that include an automobile dealership, a finance and insurance business, an amusement park, and a chain of hotels under the Imperial Hotels Group.