South Sudanese artists are using art as a powerful tool to influence perceptions and bring peace and reconciliation among their communities torn apart by the ongoing conflict.
James Aguer Garang, 40, is one of South Sudan's talented artists who has been drawing for about three decades since having spent some time outside his country as a refugee, first in Ethiopia and then in Kenya's refugee camp where he honed his art skills.
"I stayed in Kakuma refugee camp where I started training myself in art until I was employed as an artist in 1999-2003 then in 2007 I went to study art in Nairobi and then came back to South Sudan in 2010," he told Xinhua in a recent interview in Juba at the end of South Sudan's maiden art exhibition where his art work stood out.
Garang disclosed that he uses his art drawing skills to influence change among communities either torn apart by conflict or informing his country of their rich cultural diversity.
"Art is one form of vision communication and art is so powerful it brings divided communities together and through art the generation to come understand well how we lived," Garang said.
South Sudan has been embroiled in the ongoing more than four years conflict that has killed thousands and displaced 4 million people internally and externally leaving some communities torn-apart due to ethnic related killings.
"Through art we can store information for the generation to come. That's why we artists need to do art every day to inform, change our communities from the way of thinking because of what you saw sometimes sticks to your mind you don't forget it than what you read," he added.
Garang, who is employed at the Whitaker Foundation and partly teaches fine art in Juba, said he looks at art being a powerful tool of change him and other colleagues are using to positively impact society and also keeping record for future generations of South Sudanese.
"My art now days is based on two themes: one is how our beautiful culture was before the war and how war affected our way of living and the change to come," he said, pointing at one of his pieces of art on display showing the current turmoil in his country and reflecting a prosperous and peaceful South Sudan.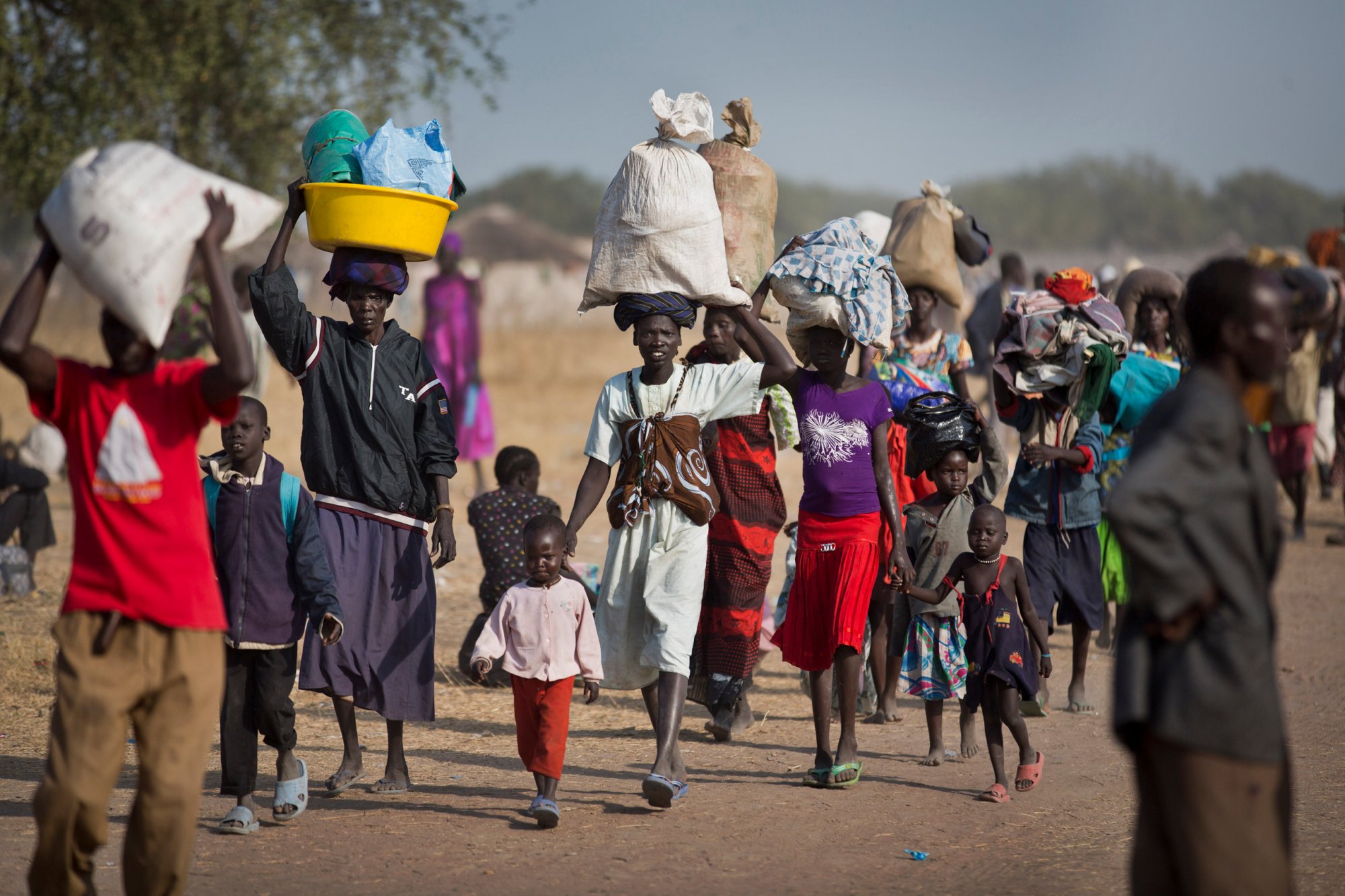 Sarah Juma, 32, a budding female artist in Juba, said she uses art to advocate for the right and empowerment of women in South Sudan's largely patriarchal society.
"Women can bring unity and peace because without peace there is no life. Talking about peace is not only a preserve for politicians. We have to send peace messages to the people like we shall make peace through our power of drawing and painting," she said.
Juma, who now runs an art gallery with three of her colleagues, disclosed that she prioritizes the color in her art works to portray peace like in one of her several paintings that displays light skinned and dark skinned women with the light color in the back ground.
She said this dispels the stereotypes among several communities in South Sudan who discriminate their fellow South Sudanese of light skin because of the popular belief that all South Sudanese are dark skinned.
Meanwhile, Suzy Francis Hissein, 30, a practicing nurse and also artist, says her art work reflects the struggles of South Sudanese women and further goes on to highlight their role in society.
"My art is hyper realism and abstract I like abstract because I can express myself more. I like to use pencil or coil to draw like the woman there that breastfeeds her baby I did it because as women we face a lot of challenges, problems that we cannot express outside," she said.
She added that she confronts the patriarchal society in South Sudan in her attempt to put women on the front foot.
"I am a nurse working in Alexandria, but art is a major part of my life. I don't do it just for money. I just close myself inside and draw," Hissein said.
Adopted from Xinhua