Starting today, The Nile Post shall run special stories in commemoration of the 25th coronation anniversary for Kabaka Ronald Muwenda Mutebi .
In this first piece, we examine what sets apart the Kabaka of Buganda from other leaders.
Every aspect that has value attached to it always comes with uniqueness and its value identifiers ranging from goods, services, and even personalities.
This is no different with culture and kingdoms because even with them, there is hierarchy of responsibility with the king topping the hierarchical tree.
Where as there are many kingdoms in Uganda, the king stands out with various identifiers. Busoga for example refers to their king as Kyabazinga, Banyoro, Batooro call him Omukama, Baganda refer to him as Kabaka to mention but a few. A king in Buganda stands above the rest of the subjects with an identity only unique to himself. This is the reason the baganda have defined their king under different names and titles.
However in Buganda, the King's differentiation does not only come through his title but various aspects and way of life.
Whereas the traditional vestment of a Muganda is "kanzu" locally known asmuteganswera and is completed with a jacket on top, the Kings Kanzu is accompanied by a special royal robe reserved to be worn by him with unique completed by cap that bears the Buganda emblem that contains a lion, shield and spears.
The other vestment only unique to the king is a kanzu with a backcloth wrap on top plus a leopard skin. This is a special dress code for coronation activities.
Olubugo (bark cloth) though often invokes fear of death in many circles because int was originally used in ATS as a wrapper for the dead before introduction of coffins represents original Africa and symbolises the continent's granary of creativity and resourcefulness.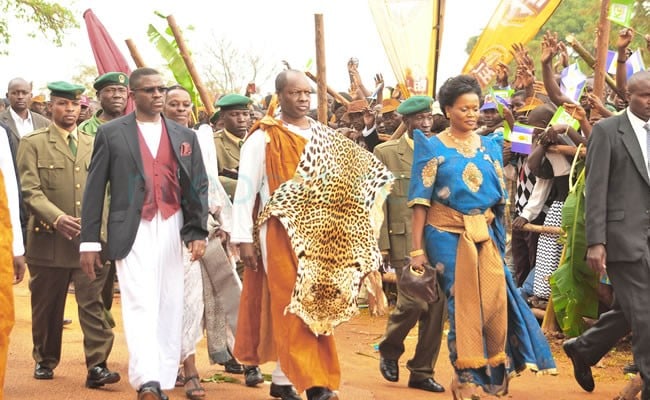 Whereas there are various arches used for specific functions, the King's arch is a special one. It is created as a passage for the king to show superiority and power.
This is normally done if the king intends to visit any place within his territory or Kingdom. The Arch also known asekiyitirirwa in Luganda is in most cases made out of backcloth, reed or any other materials but most often of cultural value.
The story of a special kings pathway does not only end with the Arch.
Nantawetwa is another significant symbol special only to the king.
This is a passage in between the Lukiiko (Buganda parliament) and palace along the royal mile known as Nantawetwa one of the various kings names loosely translated as the king never goes around and most especially within the precincts of his palace.
Another path is the road which the crown prince uses only once before he becomes king and never again.
This is locally known asNebalamye Mayanjaalong present day Entebbe Road.
On any function where the king / Kabaka is in attendance, its only him that is prostrated before and not any other person. This sign is locally known as Okweyala mumaaso ga Kabaka or prostrating before the king as a sign of respect and confirming that he is above any other.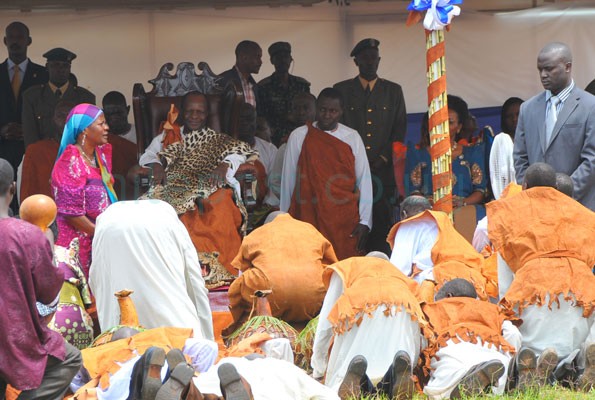 Also at same such functions, any one privileged to greet the king never leaves his presence facing their destination but walks backward out of his presence regardless of social class or position.
It is from this that the kings other name is derived Atakubwa Mugongo locally. Although this has been seen to be disrespected, it is mostly done by non subjects who probably do not understand the Buganda culture.
The drum Mujaguzoalso represents his superiority of the power among the Buganda people.
Mujaguzo with has its origins in the Ganda dialect kujaguza, meaning "anniversary".
This is only sounded mostly when the king appears before his subjects which causes a lot of celebration and excitement because whenever the king appears, in the Luganda dialect it is said "Kabaka Asiimye".
In character, culturally the king was never expected or further still expected not to laugh or cry in public. This is the reason the king was and is still barred from attending burial ceremonies.
The king's tears are considered a bad omen to the kingdom.
However this norm has been broken before by the reigning king Kabaka Ronald Muwenda Mutebi II who cried in public at the sight of the ashes of the burnt Kasubi tomb, a place that houses remains of his great grand fathers.
The king has also on several occasions has danced and laughed in public on various occasions and parties which to many have gotten him the description of a modern king.