Two suspects in custody of the Internal Security has alleged that incarcerated former Inspector General of Police, Gen.Kale Kayihura and Forum for Democratic Change (FDC) iron lady Ingrid Turinawe, were in one way or the other involved in the recent spate of panga attacks around the country.
A number of people were at the end of last year and the beginning of this year were killed whereas other sustained serious injuries due to attacks by panga wielding assailants in various parts of the country.
On Monday, ISO paraded two people including; Peter Mwanje, a boda boda rider and Moses Bakwanya accused of having been involved in the recent spate of attacks.
Speaking to journalists, Mwanje said he joined FDC in 2000 adding that after the 2016 general elections, he was part of a group called 'Uganda Yaffe' loosely translated as Uganda belongs to us which was mandated to reclaim 'victory' of the opposition party.
He claimed the group was being led by Turinawe.
"We were being mobilized and asked to mobilise other people so as to overthrow government through all means,"Mwanje said.
"We were part of the group cutting people with pangas in various areas in the country as well as throwing threatening leaflets in various parts."
Another suspect, Bakwanya claimed he joined FDC in 2016 and was the vice chairperson of the Uganda Yaffe group that used to hold meetings at the party headquarters in Najjanankumbi to brainstorm on how to carry out their activities.
He alleged that the FDC iron lady was in charge of facilitating the group that had a series of activities there were doing, all in the name of reclaiming the party victory.
"In our meetings we talked of planning to cut members of the public,"Bakwanya said.
He however claimed he was not supporting the idea of cutting innocent people, a thing he said forced his other group members to sideline him in their activities.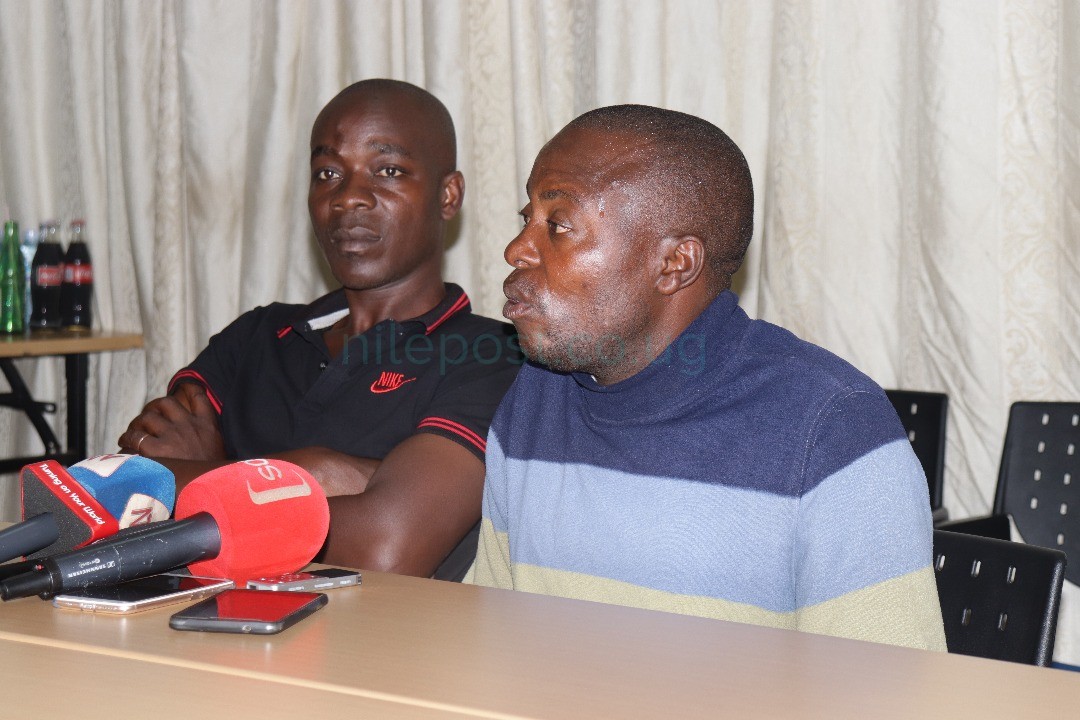 Kayihura
The two suspects also accused the former Inspector General of Police of having knowledge of the panga attacks against members of the public.
Mwanje claimed he was in charge of transporting logistics including pangas and leaflets that were being printed at Nasser road in Kampala.
"I realized this was wrong and I reported the matter to police who later took me to Gen.Kayihura.I later took them to some of the suspects who were arrested red handed with pangas stained with blood,"Mwanje said.
"I was surprised when the IGP took me to Kigo( police marine base) where I found the other suspects who were later released."
The suspect said when he reported the same matter to the police Professional Standards, nothing was done.
When put to task explain the allegations, Mwanje insisted he had evidence and was ready to pin the above mentioned people in courts of law.
Cause mayhem
Meanwhile, another group of four people who claimed to be from Busia told journalists that they had been asked to burn car tyres in the middle of roads, pour sand to block roads, burn houses of prominent politicians and pour slipper liquids as one of the ways to reclaim the people's government victory.
"I was contacted to start mobilizing other FDC members in Busia so we could reclaim the people's government victory through a number of activities," said John Kasera, who claimed to be a primary teacher in Busia.
However when quizzed, some of the members admitted they did not know what their colleagues were talking about.
"I am a grown up and I can't tell lies. I have never been told to block roads or burn houses," said 50 year old Ogoti Wilberforce.
ISO comments
Internal Security Organization Director General, Col.Kaka Bagyenda said there are many opposition politicians who were using groups like Kifeesi for their own agendas.
"The opposition should apologise to Ugandans for creating Kifeesi and inventing a new breed of politics of late which includes sectarianism,"Col.Kaka said.
He insisted that the confessions were not a creation of ISO but the reality.
"The climax of all this was supposed to be conducted or timed with the forthcoming LC one elections and cause mayhem all over the country but were able to stop it," he added.
"I want to assure the public that they are safe and we are on top of the game."
He said all people mentioned in the statements by the suspects would be interrogated to find out the truth in the matter.
"They will be interrogated to find out if they are true or they(suspect) are liars but there is a saying that there is no smoke without fire."
Ingrid responds
When contacted, Ingrid Turinawe laughed said there were allegations meant to divert her from her duties, adding that nothing will stop her from fighting for her rights.
"If ISO is looking for me, it is okay because it is not the first or last time .They have looked for me and also arrested me several times .I am not bothered and will not be diverted,"Turinawe told the Nile Post.
"Iam continuing with my work. Whoever wants to concoct anything about me will do it as they have always done and I don't care. Iam now very busy with by elections in Rukungiri, Sheema, and town councils in western region."
She said she joined the struggle 15 years ago adding that she will never turn back on her agenda.