With myths and misconceptions surrounding albinism, many persons living with this condition either have to live in isolation or struggle to fit into Ugandan society.
Isaac Kyazze, an intern doctor from Mengo Hospital, has chosen to fight for his right to live a normal life despite suffering from Albinism.
The fourth child in a family of six born 1993 in Kanjuki, Mukono, Isaac's parents Reverend George William Kityo and Betty Kityo immediately noticed he was different from their other babies. Luckily for Isaac, his parents had more than layman knowledge of this skin condition and never regarded him as a curse on the family.
His family's support enabled Isaac to put up with the ridicule and harassment from the community he was growing up in.
Years later, he still remembers with pain in his voice how he was an outcast in their village but he refused to let this treatment dispirit him.
The unfair treatment made Isaac determined to achieve more than ever. He decided he would accomplish the near impossible: become a qualified medical doctor.
Isaac shone in the sciences and in his senior six at Kanjuki Senior Secondary School, he pursued Biology, Chemistry and Mathematics. This is one of the toughest subject combinations to choose but Isaac scored aggregate 20 in his Uganda Advanced Certificate of Education examination results.
Makerere University offered him a chance to purse a degree in medicine.
Although Isaac enrolled at medical school with three other students from Kanjuki Secondary School, once at university, many coursemates distanced themselves from him.
He was posted to Bugiri for community service before he was given a placement at Mengo hospital for his internship. In the children's ward at Nassolo, Isaac is a vastly popular doctor.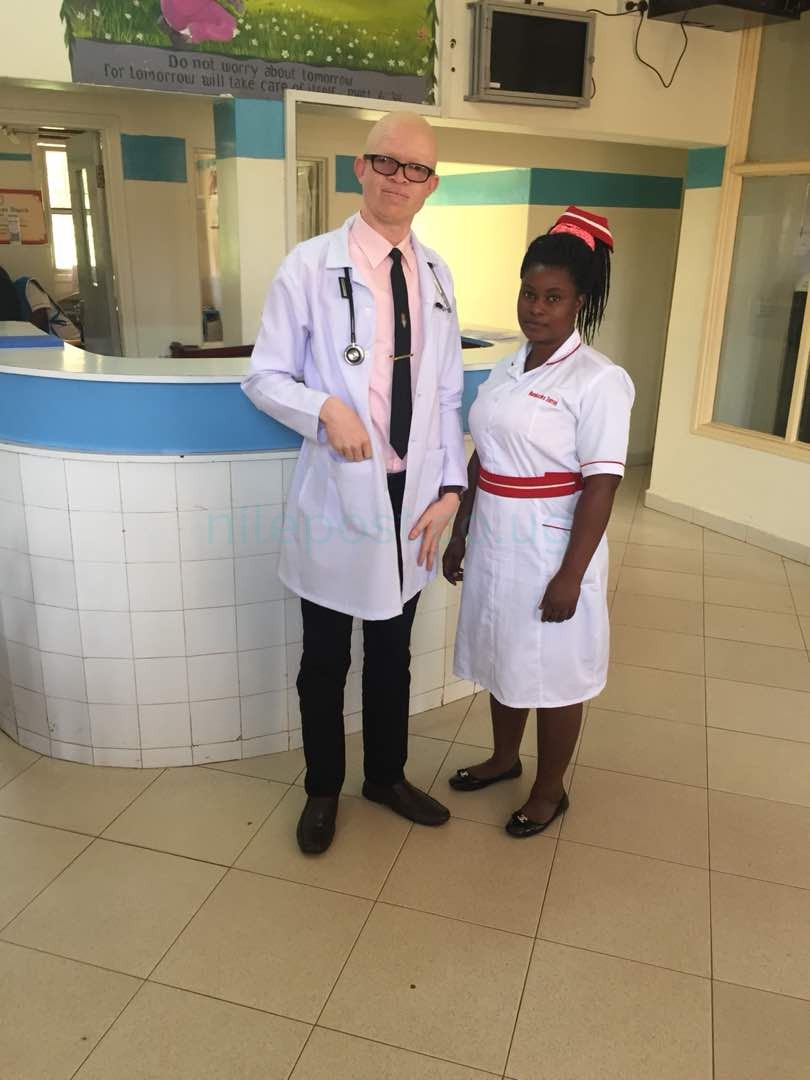 Children and their parents do not hide their excitement when Isaac turns up to tend to them. Some of his young patients even offer Isaac all they have on themselves like a young boy who insisted the doctor take the 200 shillings he had for treating him so well.
https://www.youtube.com/watch?v=L0odtSVkAC0
These tokens of appreciation move Isaac and increase his determination to give his all when caring for his patients.
Isaac reveals that working at Mengo Hospital has given him some of the happiest moments of his life. He says working among medics, he feels he is working with peers who are only interested in the level of his medical skill.
Although a few patients do bark at the medics, he says in the end all they want is treatment that improves their health and it does not matter if he suffers from Albinism or not. When the medicine works, the patients are as grateful to him as they are with any other doctor.
Isaac intends to study further and pursue cardiology when he is done with his internship.
Isaac Kyazze is looking forward to becoming Uganda's first known doctor living with albinism.