The Standard Gauge Railway (SGR) has made the journey from Kenya's Capital Nairobi to the port city of Mombasa easier.
The tugging of the locomotive engine cutting across the Tsavo wilderness and descend towards the Indian Ocean, is a thing of beauty. The coaches are almost always spotless, with smiling staff welcoming you aboard.
To an outsider, the Chinese crew on board cuts the image of humble servants, ready to serve. They will hardly say a word whenever top government officials convene press conferences in their presence to celebrate another of their milestones.
But beneath this shiny veneer is a tale of pain, anguish and broken dreams for a multitude of Kenyans who feel trapped on the train that ably fits the moniker Orient Express.
On it, Chinese nationals have created a small kingdom in which they run roughshod over Kenyan workers who say they are experiencing neo-colonialism, racism and blatant discrimination as the taxpayer foots the Sh30 million a day bill for the train, which loosely translates to Sh1 billion at the end of every month.
Investigations by the Sunday Standard have found a huge contrast between what happens when in public glare and what really goes on beneath the shiny surface when the Chinese — masters of the SGR — retire to their apartments and restaurant.
Interviews with many of those working within the trains reveal an unwritten rule on the things that Kenyans can share with their Chinese masters.
For a start, they do not share tables at their staff restaurant. Though, it is not printed in black and white, Chinese staff would never sit on the same table with Kenyans and Kenyans are not expected to join their tables either.
An assistant locomotive driver says this divide runs to the staff vans as well where even if only one Chinese is on board, Kenyans will not use them when time for drop-offs come.
"You cannot board a van that drops us in the evening even if there's only one Chinese on board. You will have to wait," he says.
More excesses are allowed on the freight trains where there is little visibility. Chinese staff are allowed excesses such as smoking while in the locomotive and use of mobile phones, crimes that will get their Kenyan counterparts fired.
"We do not have washrooms in the driver's cab, so some relieve themselves on the track lines," he said.
We have seen images of one of the drivers, who could not wait to go to the washrooms, literally going for a long call next to the train in the open.
But what is likely to alarm conservationists and wildlife activists is the number of wildlife that are being run over by the train as it snakes its way from Mombasa and back.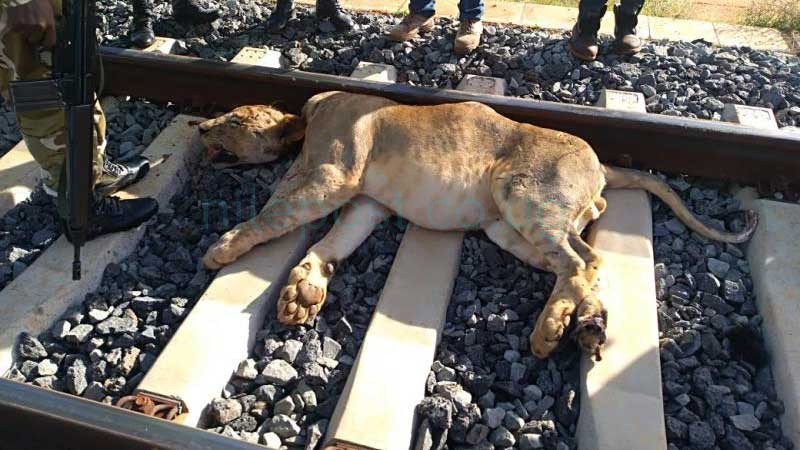 Menial jobs
The promise that measures had been put in place to secure wildlife appears to have been used to pacify conservationists and activists.
Evidence in our possession shows that at least two lions and five buffaloes have been killed. We have seen images of these dead lions and buffaloes, some below the tracks after they were hit and others as they are lifted off the path using cranes.
When the Conservation Alliance of Kenya (CAK) protested the plan to build the railway through the national park, they said their calls were brushed off as a nuisance to the project.
CAK, which represents more than 50 NGOs that have invested in biodiversity conservation, scientific research and community development in Kenya, said its previous engagement with the government during SGR I through Tsavo National Park fell on deaf ears.
"Our letters went unanswered but we got verbal assurances that the routes through the park were off the table and they would be making alternative considerations and that we would be fully involved in the process," Ms Lucy Waruingi, the CAK secretary said in a statement.
Conservationists said follow up letters written in April 2016 granted them a meeting with the Kenya Railways boss, Atanas Maina, who re-assured them that they would be engaged before the route was determined.
However, when they were invited to the Ministry of Environment offices they were shocked that the route had long been determined. "They merely wanted the alliance to endorse the decision," Waruingi said.
Their fears now appear to be coming to pass as more wildlife are felled by the freight trains.
Our two week attempts to get a response on these allegations from Chinese contractors were futile.
We shared the shocking images of the Chinese staff helping themselves at the track side, the gruesome images of lions and buffaloes killed, the pictures of Chinese nationals doing menial jobs that can easily be done by Kenyans, local engineers forced to do lowly jobs among other unprintable images seeking their explanation.
We escalated them through Kenya Railways, which supervises them. But when we eventually got them to comment on the matter through Kenya Railways, they declined.
The contractor's head of communication said he was not authorised to give official response on the issues raised.
He said he would call back on Friday evening as soon as he got clearance from the new chairman and management to make a comment. He never did.
The Standard