Once the leading policeman and described by President Yoweri Museveni as a loyal NRM cadre, former Inspector General of Police Kale Kayihura stands in the dock accused of various crimes. The reversal of fortunes is stunning.
Security chiefs, Museveni meet over Kayihura; sources say he could face court martial
Until a year ago, Kayihura's tenure at the top of the Uganda Police Force seemed unassailable. The appointing authority President Museveni and Parliament had renewed his contract. Kayihura had successfully superintended over perhaps the most "peaceful" national general election in years in 2016.
Then it all fell apart. To understand how a much decorated General ends up in the dock fighting for his freedom, we need to understand where General Kale Kayihura came from.
Everything 'Unusual' as Kayihura hands over as Inspector General of Police
General Edward Kalekezi Kayihura Muhwezi was born December 26, 1955 in Kisoro District, Western Uganda.  Unsurprisingly for the career he chose, Kayihura's father John Komuluyange Kalekezi  was a famous freedom fighter.  In fact Kayihura senior would die in a suspicious plane accident in 1960 when his son was five years old. Kalekezi was agitating for Uganda's independence.
Kayihura would then be raised almost singlehandedly his widow mother Catherine Mukarwamo
He went to Gasiza Primary School in Kisoro District. He later transferred to Buhinga Primary School in Kabarole District. A child of devout parents, the younger Kayihura looked headed for a religious calling in the Catholic Church.
His sterling performance in secondary school at Mutolere Secondary School, in Kisoro District for O' Level changed all that. Kayihura was reportedly the best student in his school after sitting the East African Ordinary Certificate of Education (EACE) examinations in 1973.
His good grades saw Kayihura continue a proud family tradition: he was admitted to study in St. Mary's College Kisubi for his Advanced Level education, his father John Kale's alma mater. He studied Drama, History, English Literature and Economics.
At this point in his scholastic career, his ambitions had switched and he applied to study the law at Makerere University. He graduated in 1978 and proceeded to the London School of Economics from where he graduated with the degree of Master of Laws (LLM).
Makerere University in the 1970s was a hotbed of intellectual and political thought. Like in universities all over the world, idealistic students at Makerere University were debating the merits and demerits of the two competing ruling systems: capitalism and socialism. Kayihura imbibed the socialist agenda more.
At the same time, Uganda was in turmoil with strongman leader President Idi Amin fighting off subversive activists opposed to human rights abuses by his regime. In these deeply troubled times, the idea of rebellion, sacrificing his life for the good of the nation and his people appealed to Kayihura.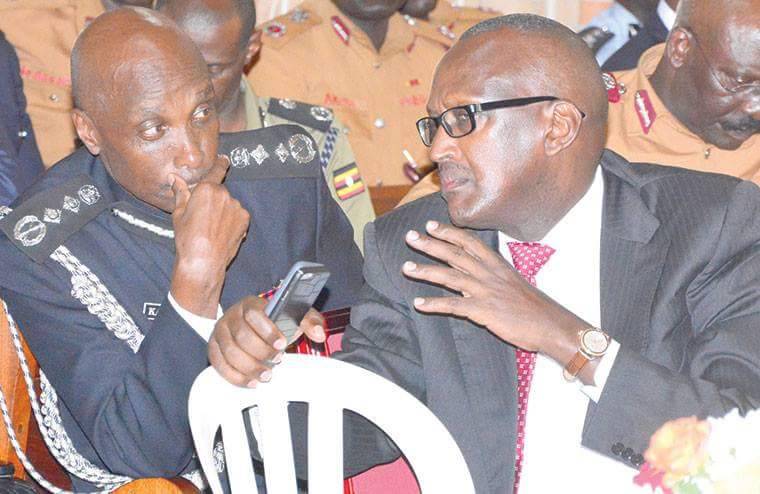 Instead of pursuing a doctorate, Kayihura joined Yoweri Museveni's National Resistance Army (NRA) rebels who had started what would be a five year Bush War to oust then President Milton Obote's second government.
In the war, Kayihura would serve as the aide of NRA's second most respected commander General Salim Saleh. Before induction into the rag tag but deeply committed rebel force, Kayihura was one of select group of educated young rebels who were airlifted to Libya for military training.
With NRA in power from 1986, Kayihura's star continued to rise. He was handpicked for various special assignments by President Yoweri Museveni on recommendation of his brother General Saleh. His most noteworthy nod was to head the Special Revenue Police Service, an anti-smuggling unit and coordinating the fight against the Uganda National Rescue Front II (UNRF II) rebels in Sudan.
Kayihura was instrumental in the resettlement of UNRF II rebels in Uganda in 2002.
At this point, Kayihura was Military Assistant to President Museveni. He had risen from the rank of Junior Officer Class II to Lt. Colonel.
After coordinating the fight against the Lord's Resistance Army (LRA) in South Sudan, Kayihura was appointed Inspector General of Police in 2005 replacing Lt. General Katumba Wamala. Kayihura was a Major General at this point.
The ascension of Kayihura to the helm of the Uganda Police Force confirmed President Museveni's confidence in him.
His 12-year tenure at the helm of the Uganda Police Force was marred with controversies especially police brutality and human rights violations.
The Uganda Human Rights Commission has in its reports over the years implicated police as the leading human rights violator.
Kayihura's brutality was mostly faced by opposition politicians in quelling their gatherings and demonstrations, the peak of this excessive force being in 2011 during the opposition's walk to work protests.
Kayihura took the brutality of the force a notch higher when he turned Nalufenya police station into a torture centre to which many Ugandans became victims.
He also re-introduced preventive arrest in the police system which was first introduced by the then Justice Minister Grace Ibingira on whom it was later used.
Apart from using his office to serve his master's interests, Kayihura also used for his personal interests.
Many innocent people were arrested for crimes they did not commit. Muslims were the biggest victims. For example tens were arrested for the murders of the Sheiks and former AIGP Andrew Felix Kaweesi, some tortured and later released for lack of evidence.
In 2013 when the late businessman Juvenal Nsenga's widow was charged with his murder, Kayihura thought to shelter the accused who is his relative from prosecution to the extent that one of his officers and deputy director of Criminal Investigations Department (CID) Geoffrey Musana testified against the state.
The case was helped by the fact that former Director of Public Prosecution Richard Buteera, who is said to have been a relative of the deceased stuck to his guns. Jacquline Nsenga was subsequently convicted of murder and sentenced to 20 years in prison.
Some Ugandans attempted to have Kayihura answer for these actions by dragging him to court in 2016. A magistrate at Makindye court summoned him and a gang claiming to be defending him invaded the court on the appointed day and held the magistrate and lawyers captive for hours. The magistrate died months later.
When the case was frustrated, another citizen, a one Ali Kabanda sought recourse from the International Criminal Court by petitioning the Court's prosecutor to have Kayihura charged for kidnap and illegal repatriation of Rwandese and Southern Sudan refugees among others.
On the flip side, Kayihura found the police budget at less than 100 billion and left when it had increased more than five times to over 500 billion.
Kayihura took the concept of community policing beyond what it was originally envisaged for to create a vigilante group of volunteers to fight crime he called crime preventers.
On March 4 2018, Kayihura's 12 year run at the helm of the Force came to an end when President Museveni sacked him and replaced him with his hitherto deputy John Martins Okoth-Ochola.