Opposition politicians have agreed to read from different scripts in thr forthcoming Bugiri Municipality elections set for July 10.
Forum for Democratic Change's Eunice Namatende and Asuman Basalirwa( JEEMA) were early this week nominated for the Bugiri municipality MP seat causing concern over opposition supporters on who to rally behind.
Addressing journalists at Fairway hotel in Kampala on Thursday,Mukono Municipality MP Betty Nambooze said both groups had convened a series of meetings in a bid to harmonise their position but noted they had failed to come up with a single opposition candidate.
"We had quiet engagements in regards to the Bugiri election but unfortunately,by Tuesday we realised we had failed to come up with a single candidate,"Nambooze said.
Former Makindye West legislator and JEEMA's Hussein Kyanjo revealed a number of options including holding of a joint rally for both candidates for the public to decide but noted all efforts for a single candidate failed.
"I put up a publoc apology for failure to come to a consensus because I was among the team that went for negotiations,"Kyanjo noted.
Different scripts
Mukono Municipality MP, Nambooze however admitted that through the meetings they agreed that each of them should stick to their respective candidates and canvass votes for them.
"The struggle we are engaged in is not about political parties but for Ugandans,"Nambooze said.
"Our prayer is that at the end of the election, a candidate from the opposition is elected because these are positions of deployment and service and nothing else."
JEEMA's Kyanjo on the other side also sounded the same message of ensuring that the opposition wins the hotly contester Bugiri Municipality MP seat.
"We might fail to agree but we should never fail to be together because our enemy will be the happiest over this."
The former legislator however warned the various candidates against preaching against each other but the cause for change.
"Let us conduct civil campaigns and should not discuss each other's candidate but the cause."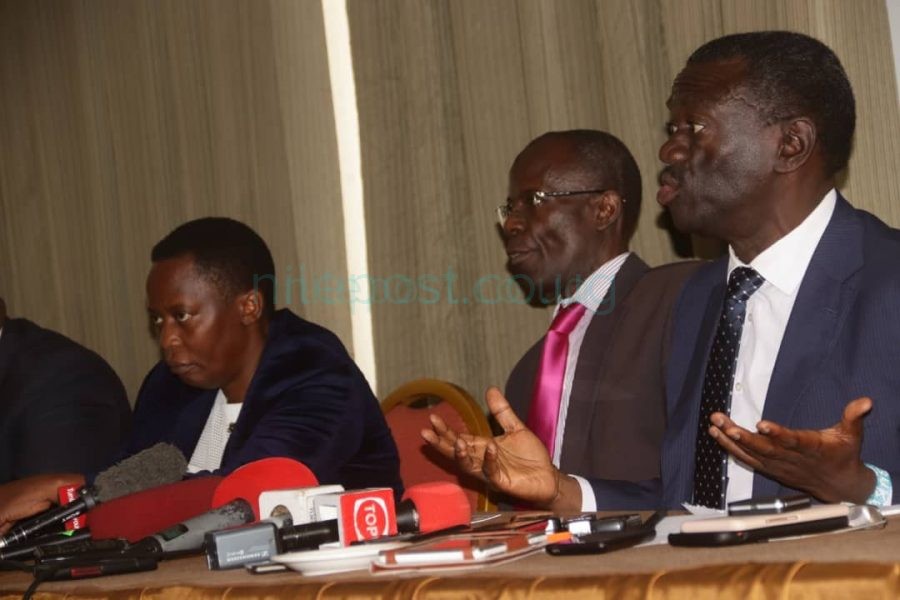 Opposition strongman, Dr.Kizza Besigye however said despite the various disagreements, both sides should remain focused on fighting the dictatorship.
A number of people especially from the opposition have raised concerns over the Bugiri Municipality election.
For the Forum for Democratic Change,they say Nambatende is the strongest candidate who has been on ground in Bugiri.
However,on the other side,Basaalirwa's side accuses FDC of not rallying behind their candidate as a way of returning a favour for supporting them in a number of elections around the country.
Kyadondo East MP Robert Kyagulanyi was on Wednesday part of the team that escorted Basaalirwa during his nomination whereas Besigye has on the other side canvassed for votes for Namatende.
Many observers have since come out to say the fight between the two giants might give chance to the weaker ruling NRM party John Francis Oketcho to defeat them.