Aggrey Nyondwa Kikobera
For a long, food insecurity has been a challenge in the North Eastern parts of the country, Teso and Karamoja regions.
The situation appears to have changed for the better thanks largely to the sub regions aggressively taking on farming.
A recent study by the World Food Programme (WFP) indicates that food production has increased in Karamoja sub region and this has in turn led to a drop in malnutrition and general poor nutrition among children from 45% to 35.2%.
The region is prone to drastic climate change which leads to endless disasters and calamities in the region.
These include floods, mudslides, and landslides among others. These affect the amount of food planted and harvested and in the end the population falls short of food.
The Uganda Red Cross in partnership with German Red Cross in 2013 introduced an Integrated Climate Change Adaptation (ICCA) program which aimed at empowering and equipping people from these areas with the skills and capacity to build resilience to disasters.
Brian Kanaahe, the manager Community Resilience to Disasters at Uganda Red Cross, believes that the impact of the program is enormous and is greatly the reason why there is increased food production in the area.
"For the last six years, this project has aimed at building community resilience in Teso and Karamoja region and the success is remarkable. Communities have been empowered and a number of skills to adapt to climate change have been imparted. We have community based disaster risk reduction groups (CBDRRs) on ground, these help identify locally appropriate and owned strategies for disaster preparedness and risk reduction. Communities have also set up Village savings and loans associations to economically empower themselves," said Kanaahe.
The ICCA project started in 2013 following streaks of disasters and prolonged droughts and famine that hit Karamoja region.
At the beginning of the project, 30 goats were given to different groups in Nyakwae sub country in Abim district. The goats have been used to get food, sold to raise money for school fees and other basic needs.
According to Jimmy Ogola, the chairman Abim CBDRR group, members were given a goat each and together with his wife, they have managed to keep 11 goats at the moment.
He explained that they had to sell the rest of the goats to raise school fees for their 5 children
"The goats really helped us a lot. We started with two but we so far have 11. We sold about 4 to raise school fees, we also sold some two to buy food and other needs. Some goats have been stolen and others have died due to a past epidemic that we experienced." Ogola explained
Mrs. Ogola, Jimmy's wife, feels empowered as a woman since she has saved some of the money from the goats with her women associations and this has made life a lot easier for her as she doesn't have to rely on her husband all the time.
The Village Savings and Loans Associations (VSLAs) have played a big role in increasing individuals' finances to buy enough food for their families and seeds to continue planting.
In these groups, members save and give loans for interest. St. Peters Karamoja VSLA group has been a great example in this area after having started with a mere Shs 1.2 million donation from Red Cross in 2016. They so far have 6 million on their account.
They have also managed to buy a grinding machine for themselves and this has greatly increased food processing and incomes in the area.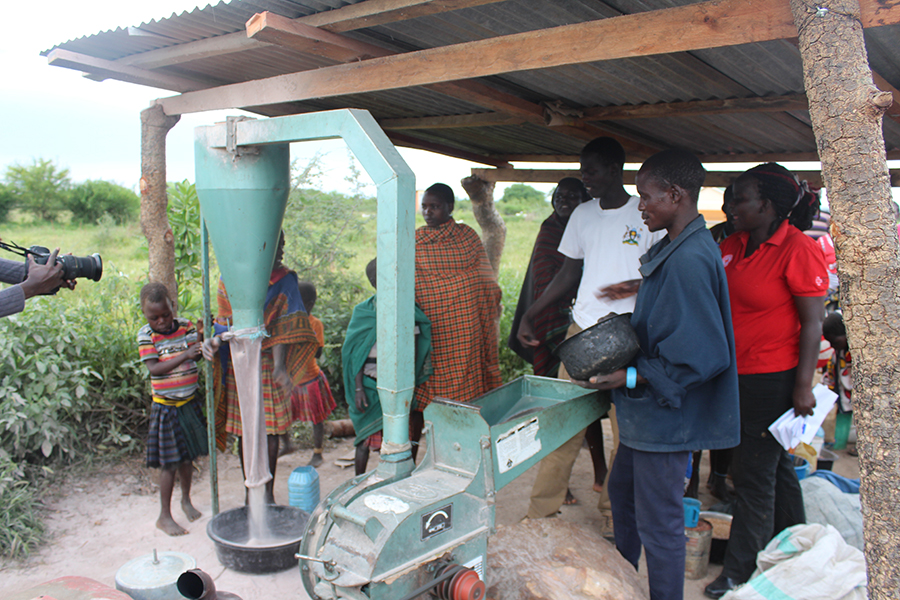 "We started with about Shs 1.2 million which came from Red Cross. We started giving loans with interest and in just a short time, we have managed to buy this machine at Shs 4.5 million and still have Shs 6 million left on our account. We have plans of buying more land and expand the business. There is a lot of sorghum and millet here that always needs to be grind and processed. We are bringing more advanced machines" said Augustine Lokan, the secretary of the St Peters Karamoja VSLA group.
According to Natee Malinde, a 41 years old resident of Umum Village in Kotido, and a mother of six, her family used to suffer poor health and all her children were malnourished before she joined a village saving and loans group.
"In February 2016, I borrowed Ushs 30,000 from the group and I used part of this money to buy food and medicine for my sick husband and children. Within a short time, they were all back to normal health and this brought back the smiles we once had at home." Natee said.
She then worked hard using the seeds and seedlings she had received from the group and managed to clear the loan by June.
Farmers in the two regions were trained in climate change adaption and disaster risk reduction, acquired new modern farming skills and tools.
This boosted the moral to practice proper and productive farming. Over 2,100 households in Abim and Kotido districts were supported with seeds and seedlings like beans, maize, millet, sorghum and cassava stems to boost food production.
Farm tools were also provided and these included hoes, pangas, trowels, wheelbarrows and gum boots.