Fifty year old Warrant Officer One Nanswagi Semahera found a hard time on Tuesday trying to answer a series of questions from the defence lawyers in regards to the evidence he had given pinning former Bubulo West Member of Parliament Tony Nsubuga Kipoi on the plot to overthrow government.
Kipoi was early this year arrested in Botswana before being extradited back to Uganda and charged together with other UPDF soldiers including Sgt. Yunus Lemeriga, Cpl Rogers Mweru, Sgt Adams Mawa, Sgt Albino Okeng and Pte Dodola Ijosiga all for offences related to security, contrary to section 130(i) of the UPDF Act 2005.
On Tuesday, Semahera, who was deployed at the Gulu airbase as a sgr major said one day he was called by one Maj.Hussein Mafabi who is his brother and narrated to him about the plot by Kipoi to overthrow government.
He said Maj.Mafabi would later lead him to meet Kipoi in Kampala at City Oil along Bombo road and this was followed by a series of other meetings discussing how they could overthrow government.
"Few days later, I received a call from Kipoi asking me to meet him at his office near MTN headquarters in Kampala .When I met him, he told me about the plot and that we should start looking for man power,"Semahera told the General Court Martial in Makindye on Tuesday.
"On meeting him for the third time in Ntinda, I found him with one soldier I came to know as Magid, a lieutenant in the UPDF air defence . Later he (Kipoi) called me to meet in Mbale near the High Court and in the meeting were 30 soldiers who had just completed their cadet courses."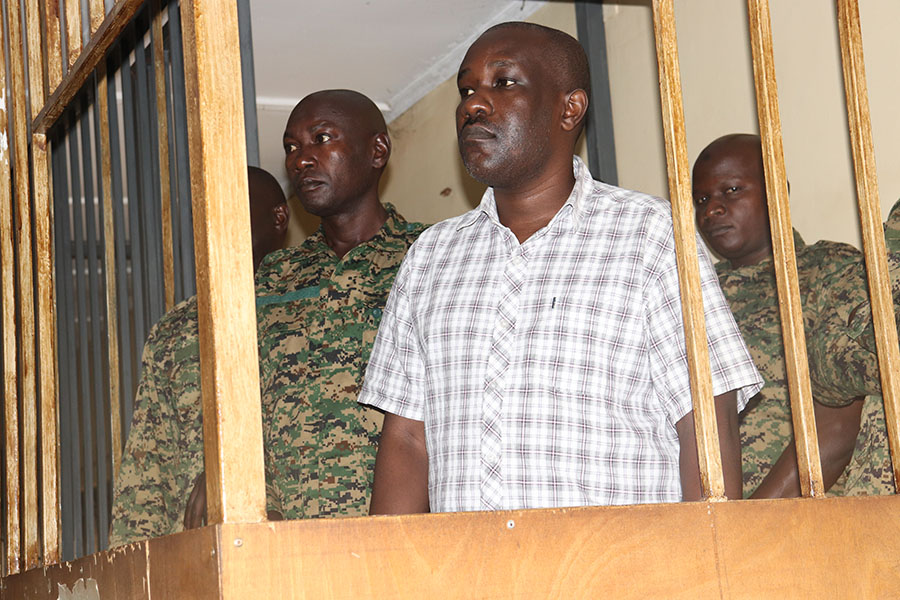 The soldier told court that on realizing that in the meeting that was supposed to be attended by ony soldiers from Bugishu had two people from other tribes, they changed the topic to formation of a sacco for youths from Bugishu.
According to the witness, Kipoi would later, after the meeting, ask him to recruit other air force soldiers for the legislators to meet and discuss how the mission could be done.
Semahera said that all this time he was in touch with Maj.Mafabi and the Special Forces Command intelligence director who were always directing him on what to do.
Sweats
The second prosecution witness however found a hard time as defence lawyers including retired Maj. Ronald Iduli and Capt. Brian Moogi tasked him to explain more about his evidence.
The lawyers asked Semahera on whether orders he had received from Maj.Mafabi to work with Kipoi, the witness as an officer commissioned by the commander in chief, Mafabi could not tell lies.
On whether Maj.Mafabi was above the law that he could not commit a crime, the witness said no one is above the law.
"If we were wrong, they could have arrested us,"Semahera said.
The lawyers however labelled the witness as being unserious and was only brought to court to narrate a story, a task that could be done by anybody after tasking him to produce evidence in form of recordings to prove his meetings with Kipoi.
"Why didn't you take any photographs or record the meetings? Would I be wrong if I said you only came here to tell a story that anyone can do,"Iduli questioned the witness who had no immediate answer for the query.
The state witness continued making contradictions in the evidence he had given to court and the statement he had made at the Special Investigations Unit in Kireka as the defence lawyers probed him.
"Between what you said in your statement and what you have just told court, what should we believe? You are a liar,"Capt.Moogi accused the witness.
The army court chairman adjourned the matter to June 12 for further hearing.
Prosecution alleges the group and others still at large between November 2012 and December 2013 convened meetings in areas of Kampala, Wakiso, Masaka, Jinja, Nakasongola and Ntoroko with an intent to overthrow government.
In 2014, the General Court Martial in Makindye issued an arrest warrant over Kipoi after the treason charges in the civil court had been transferred to the army court.
In the same year, parliament threw him of the August house for missing 15 sittings without justifying his absence.