A soldier attached to the Special Forces Command has pinned former Bubulo West Member of Parliament Tony Nsubuga Kipoi on asking him to recruit fellow officers to overthrow government.
The legislator was early this year arrested in Botswana before being extradited back to Uganda and charged with other UPDF soldiers including Sgt. Yunus Lemeriga, Cpl Rogers Mweru, Sgt Adams Mawa, Sgt Albino Okeng and Pte Dodola Ijosiga all for offences related to security, contrary to section 130(i) of the UPDF Act 2005.
On Monday, Lt.Col. James Wandwasi, who is the commanding officer for the fourth infantry battalion of the SFC in Entebbe told court that November 16, 2012, he was approached by one of this subordinates, Cpl Rogers Mweru and wanted to inform him of a certain matter.
"He told me that MP Kipoi wanted me to join him and overthrow the bad government that had refused to have me promoted to a higher rank,"Lt.Col. Wandwasi told court chaired by Lt.Gen. Andrew Guti.
According to the witness, he asked his subordinate to allow him time so as he could be able to think about the deal before making a decision.
"I then called my unit intelligence officer and briefed him of everything before he consulted the director intelligence who gave me a go ahead to listen to Kipoi's message."
He told court that he would later call Cpl.Mweru and informed him that he had accepted to have a chat with Kipoi and they met at a certain guest house at Kawuku along Entebbe road.
The witness told court that on meeting Kipoi, he was told that he would be useful in recruiting fellow SFC soldiers from Entebbe and Nakasero who would be useful in their plans of overthrowing government.
According to the witness, after the meeting, he would brief the outcome with the director in charge of intelligence in the UPDF .
He revealed that the group held a meeting at Royal Suites hotel in Bugoloobi where Kipoi introduced to him two whites from South Africa and France who told the meeting that they had participated in overthrowing the Central African Republic government.
The witness said in the meeting he offered a role he would play during the mission to the team in order to avoid suspicion by other members.
"I told them we would be able to secure tanks in Entebbe, Masaka and Nakasero and after recruiting well a big number of soldiers, we would start the attacks at ago."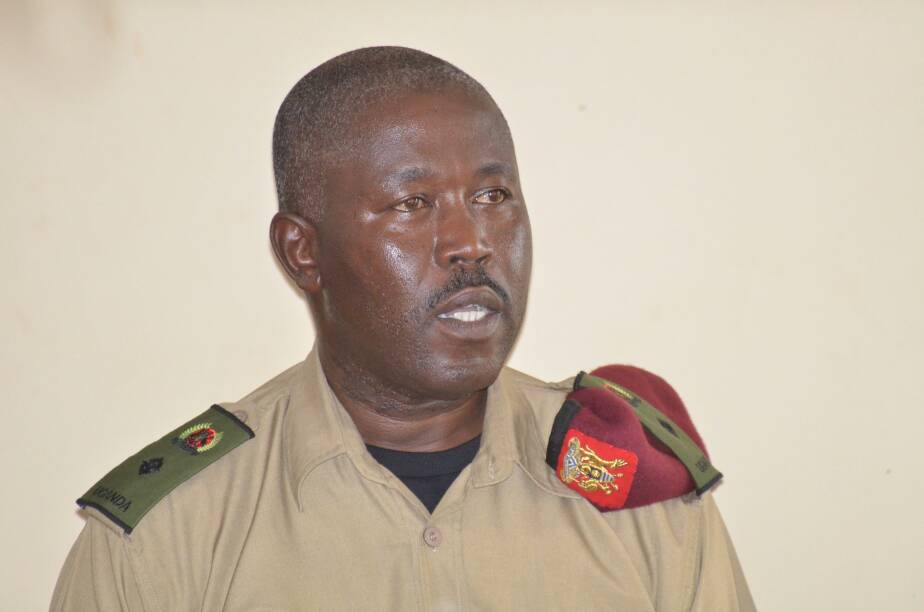 Another meeting according to the witness was organised in Fort Portal and it was there that the group including Kipoi were arrested and brought to Kampala for trying to overthrow government.
"SFC and JATT surrounded us and we were arrested."
Kipoi was in 2012 arrested and charged with treason for allegedly recruiting youths from both Uganda and DRC as rebels in a bid to depose the Ugandan government.
He would later be released on bail but jumped it and later fled to the Democratic Republic of Congo where he has been hiding until February when he was arrested in Botswana.
However during cross examination, the army witness found a hard time as he tried to answer questions from the defence lawyers led by Rtd Maj.Ronald Iduli.
When asked to show the phone printouts he had made of the phone conversations he had with Cpl. Mweru as he alleged, Lt.Col.Wandwasi said he had not bothered to do so.
The defence lawyers would later accuse the state witness of concocting the whole story to try to link Kipoi to the offence.
The case was adjourned to May 22 for further hearing.
Prosecution alleges the group and others still at large between November 2012 and December 2013 convened meetings in areas of Kampala,Wakiso,Masaka,Jinja,Nakasongola and Ntoroko with an intent to overthrow government.
In 2014, the General Court Martial in Makindye issued an arrest warrant over Kipoi after the treason charges in the civil court had been transferred to the army court.
In the same year, parliament threw him of the August house for missing 15 sittings without justifying his absence.