Scientists have asked government to subsidize fertilizers to help farmers get more yields, in most parts of the country land is over used and farmers get smaller yields.
Simsim is mostly grown in Northern and Eastern parts of the country but its production has been hindered by a number of limitations. Scientists therefore want government to support farmers get fertilizers to boost their harvests.
The National Agricultural Advisory Services (NARO) is in a campaign to sensitize farmers on how to get more harvests from the overused land. Use of fertilizers is the better optional but there some famers that cannot afford that. Scientists have therefore asked government to salvage the situation.
Beatrice Sadina, a soil scientist, says the land in this area has been in use for a long time, famers therefore need fertilizers for their gardens.
'' Fertilizers are the way to go however the challenge is the cost of fertilizers, as a soil scientist I know that fertilizers are costly and it's something I would wish farmers could adopt, but if we could have some subsidize to reduce on the cost of fertilizers such that farmers can easily access them within their localities.''
Farmers in Lango sub region in districts of Otuke, Lira and Amolatar have been trained in Simsim diseases and pest identification, control and management. The training also covered pesticides, fertilizer application and use of improved high yielding varieties.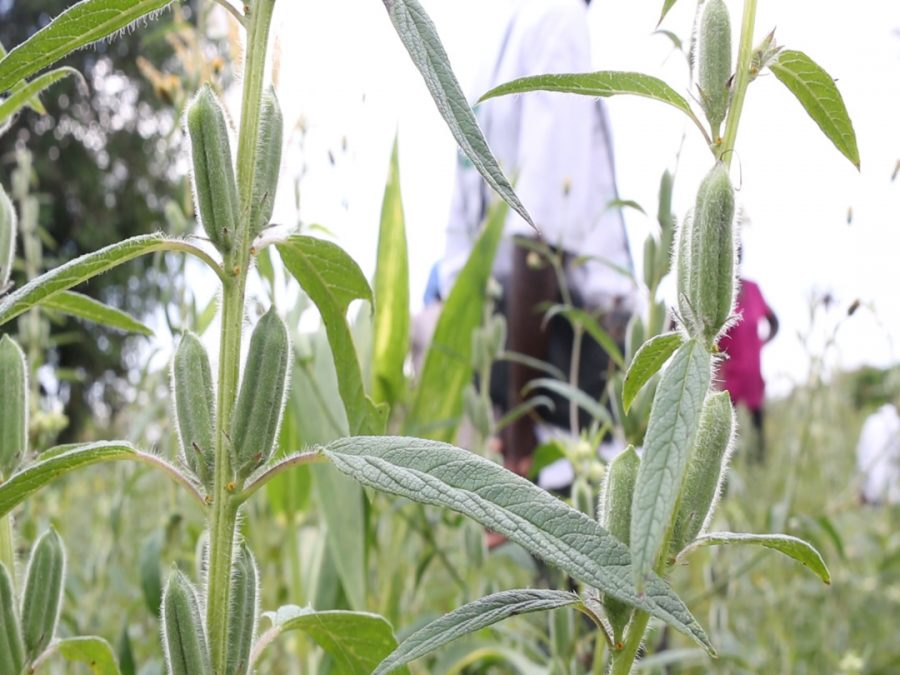 The trainings are under a project dubbed "Stabilizing sesame yields and production in the Lango Sub region, northern Uganda" implemented in collaboration with African Innovations Institute –AfrII, FICA seeds, and Uganda Oil Seed producers and processors Association –UOSPPA.
This is aimed at stabilizing and improving Simsim productivity in the Lango region, Northern Uganda
It is estimated that about 80% of the population in this region depend on Simsim for food and income, despite its importance; yields are low and unstable, causing frequent food shortages in the region.
Over 400 farmers from seven farmer groups benefited from the trainings. The scientists demonstrated to farmers hands-on, on how to apply fertilizers and pesticides in appropriate measurements and proper timing.
The major challenges facing simsim farmers in this region include unstable weather such as long dry spells, pests like Gal midge, webworm, cut worm and diseases like Powdery mildew, leaf spot and Fusiarium wilt.
In Uganda, about 250,000 smallholder farmers are engaged in Simsim growth and production producing an estimate of 101,000 Metric tonnes a year.
Story by Salmah Namwanje