A section of Members of Parliament have tasked government to table a report on the death of Uganda People's Defence Force (UPDF) soldiers in Somalia over the weekend.
On the morning of Easter Sunday, a group of Al Shabaab militants attacked an AMISOM UPDF Forward Operating Base in Bulomarer in the Lower Shabelle region. Two Vehicle-Borne Improvised Explosive Devices (VBIED) went off killing a number of the Ugandan army soldiers.
In their statement, the army reported four soldiers had been killed in the attack but President Museveni would later put the number at eight.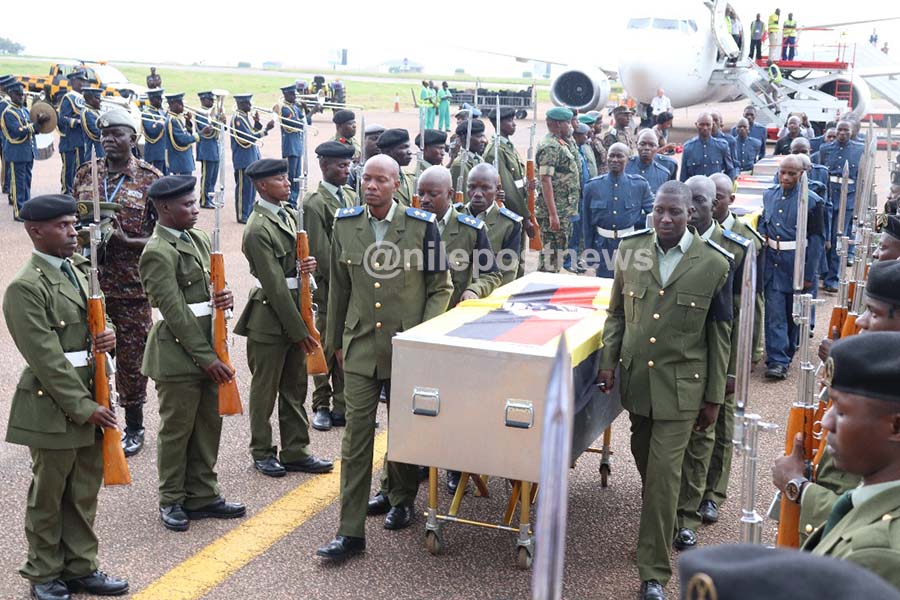 On Wednesday, the Shadow Minister of Defence and Kilak County MP, Gilbert Olanya demanded answers from government in regards to the number of Ugandan soldiers who died and those injured in the recent attack.
Olanya noted, "Our own investigations indicate that 10 soldiers lost their lives and 14 were injured in the fight with the Al Shabaab in Mogadishu."
We need to know the names of the killed & injured and when the other bodies will be returned home," Olanya told parliament.
On Tuesday, army spokesperson, Brig. Richard Karemire told journalists at the Entebbe military airbase that only four bodies had been returned home adding that others would later be brought back after preparations including post-mortems are concluded in Somalia.
The opposition legislator however questioned government on plans to withdraw troops from Somalia as had been proposed earlier.
In response, Adolf Mwesige, the Minister for Defence said a total of eight soldiers had been killed adding that the Ugandan army was also able to kill 130 Al Shabaab fighters before recovering a number of weapons from the Islamist group.
On withdrawal from the Horn of African country, Mwesige said the issue was discussed by the UN Security Council and other agencies before agreeing on continued stay for the threat still exists until a review is done in 2019.
The Deputy Speaker of Parliament Jacob Oulanyah adjourned the august House to Thursday for the defence minister to present a comprehensive statement on the floor in regards to the mission in Somalia.
Uganda is the largest troop contributor of the 22,000 strong AMISOM force since 2007, contributing roughly 80 percent of the number.
Despite being able to rout the Al Qaeda affiliated group from the capital Mogadishu, the AMISOM troops especially UPDF still face a threat in the Lower Shabelle region which is inhabited by the insurgents.