A rally in Byanamira village, Bugamba, Rwampara County to usher former area Member of Parliament Vincent Kyamadidi Mujuni into the Forum for Democratic Change party has been broken up by police. MP Kyamadidi was supposed to be unveiled by former FDC President Dr Kiiza Besigye who was present.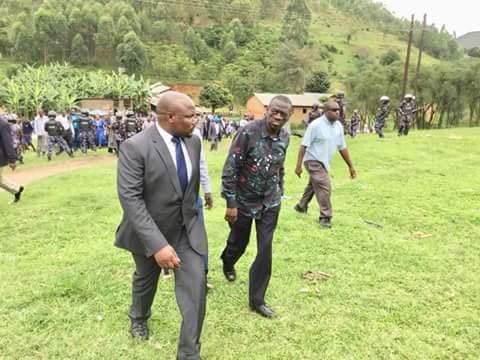 Dr Besigye was in the company of FDC President Patrick Oboi Amuriat, MPs Mwijukye Francis, Munyagwa Mubarak and FDC leaders from Mbarara led by the Mbarara FDC district chairman, FDC publicity Ahimbisibwe Ongom.
The rally had been called to announce that MP Kyamadidi is crossing from the National Resistance Movement to FDC. Kyamadidi has had a troubled relationship with the ruling party serving several suspensions.
Police spokesperson Patrick Onyango says police stopped the rally because the politicans had not sought permission to hold it. Onyango says police informed the rally organisers that the event was illegal. No arrests were made despite heavy deployment and reports of teargas being fired to disperse the crowd that had gathered to listen to the politicians.