The governor of Bank of Uganda, Emmanuel Tumusiime Mutebile has written to the Inspector General of Government, emphasising that the central bank has power to make staff changes without consulting any other authority.
In a letter dated March 19, 2018, Mutebile asserts that Bank of Uganda is an independent institution and the IGG's interference in the affairs of the central bank could have catastrophic economic effects.
"The raison d'etre of the independence is not difficult to fathom. The purpose is to ensure that the Bank of Uganda is credible, decisive and to ensure macro-economic stability and confidence in the market. This can only be achieved if the Bank of Uganda is free from external influence, direction or control," Mutebile writes.
Mutebile's terse letter is in response to a directive by Irene Mulyagonja, the IGG that the bank stays the appointment of new staff.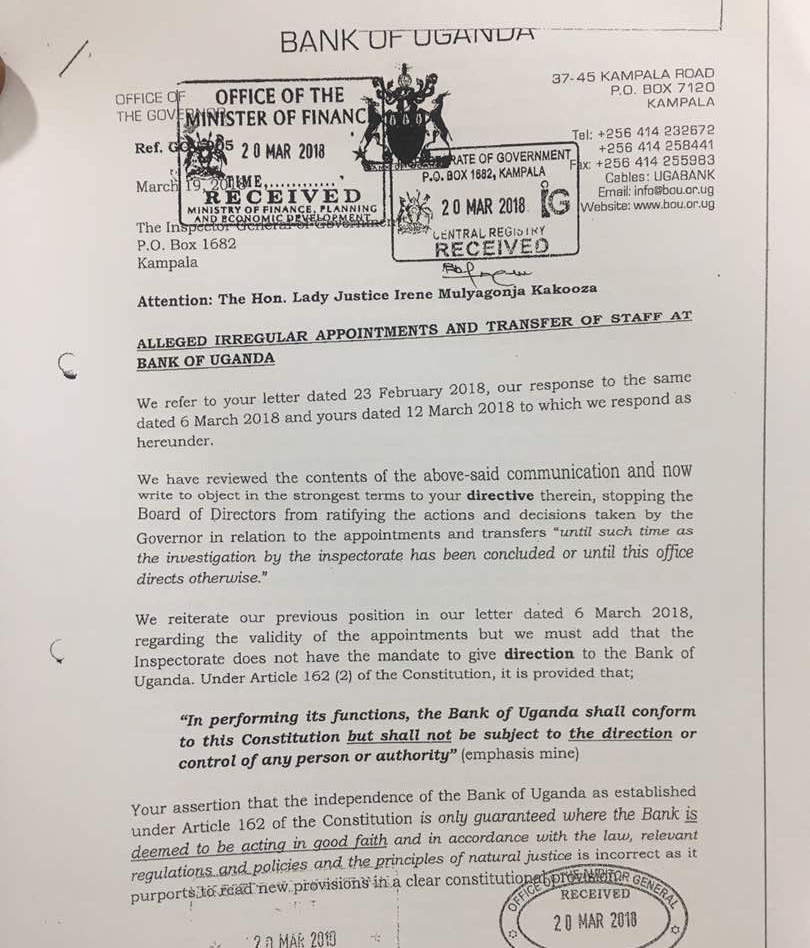 The directive was issued on March 12 after some staff petitioned the ombudsman questioning the changes made by Mutebile.
"The above changes were done outside the approved BoU HR policy and are influenced by a clique of people who claim to be working for State House to "clean up" the institution," the petition to the IGG, also copied to the parliamentary committee on Commissions, Statutory Authorities and State Enterprises (Cosase), reads in part.
It added: "This is to direct the Board of Directors of BoU not to ratify any actions or decisions taken by the Governor on or around February 7, 2018 in relation to the impugned appointments and transfers until such time as the investigation by the Inspectorate has been concluded or until this office directs otherwise."
Mutebile on February 7 sent out a memo announcing staff transfers and new hires.
The most prominent move was to retire Justine Bagyenda, the executive director in charge of supervision, with "immediate effect".
Dr Tumubweine Twinemanzi, who was the director of industry affairs and content (economic affairs) at Uganda Communications Commission (UCC), was appointed to replace Bagyenda.
But in his latest letter, Mutebile contests Mulyagonja's directive.
He cites legal precedents where the IGG has tried to meddle into operations of other public institutions only to be stopped by court such as the matter of the Uganda Development Bank (UDB), where Justice Musoota reversed Mulyagonja's decision regarding staff changes there.
Musoota ruled: " I agree with the applicants that the IGG does not have the mandate to direct the board of directors [of UDB] on how they should exercise their discretionary powers…"
Mutebile concludes the letter by stating that the central bank shall safeguard its independence and ensure it maintains public confidence in its ability to guarantee a sound financial system free of external interference.