A total of 61 UNEB centres have been cautioned of heavy punishments over the increased number of cases of exam malpractices reported in the Uganda Certificate of Education exams released on Wednesday.
The results released on Wednesday indicated 4525 candidates had their exams withheld by UNEB over suspected malpractice.
The Education Ministry Permanent Secretary, Alex Kakooza told journalists that they are going to become tougher on head teachers, head of centres and teachers reported to be involved in exam malpractice in a bid to reduce the vice.
He cited teachers recently arrested by police and charged in courts of law in relation to exam malpractice whom he said will be reprimanded.
"Those in government schools have already been interdicted and we shall follow up on the process," Kakooza said.
He explained that in the past the ministry simply transferred teachers from one school to another but warned this will not be business as usual to the culprits of exam malpractice.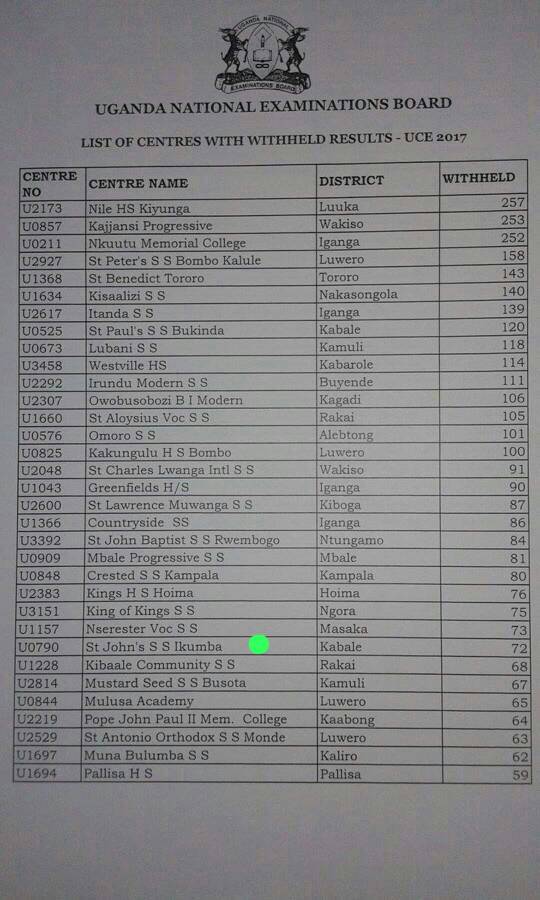 "We shall not simply transfer them to other areas but we shall take administrative measures. Those in private schools will also be dealt with."
The UNEB Executive Secretary Dan Odongo however told journalists that the leakage in UCE exams last year did not have a bigger effect on the exam results as had been alleged.
In October, there was a reported leakage of copies of UCE exam papers for Christian Religious Education and Chemistry through WhatsApp that each leaked paper would cost as much as shs500,000 on the black market.
Police investigations would later reveal that the scam had originated from one of UNEB's storage facilities in Busesa, Iganga district where the area supervisor connived with the scout and surrendered the key to the store for access to the exam papers.
The UNEB Executive Secretary said that following the leakage, he contacted head teachers' associations and scouts among other stakeholders and they indicated the leakage did not have a great effect.
"As marking continued, examiners indicated there were no abnormalities in the scores in the subjects reportedly leaked,"Odongo said.
"There was nothing out of the ordinary to show the papers reported by media as being leaked were highly passed."
According to the UCE exams released on Wednesday, it was indicated that science subjects including Biology, physics, Chemistry and Mathematics reported the highest number of exam malpractice cases. Wakiso and Luuka are some of the districts with the biggest number of candidates whose examinations have been withheld.