Residents of Butaleja district have resorted to squeezing water out of soil for use after the region was hit by scarcity.
District officials attribute the water scarcity to climate change, saying that most wells have dried up and there are no alternative water collection sources.
Micheal Dungu, a youth councilor says that the region has been hit by a prolonged dry spell that has destroyed crops and left animals either dead or malnourished. This he said has reduced the amount of food in the area as people now have to survive on one meal a day.
"The people have now resorted to surviving on one meal a day due to food shortage. We do not even have the water to prepare the meals," Dungu said.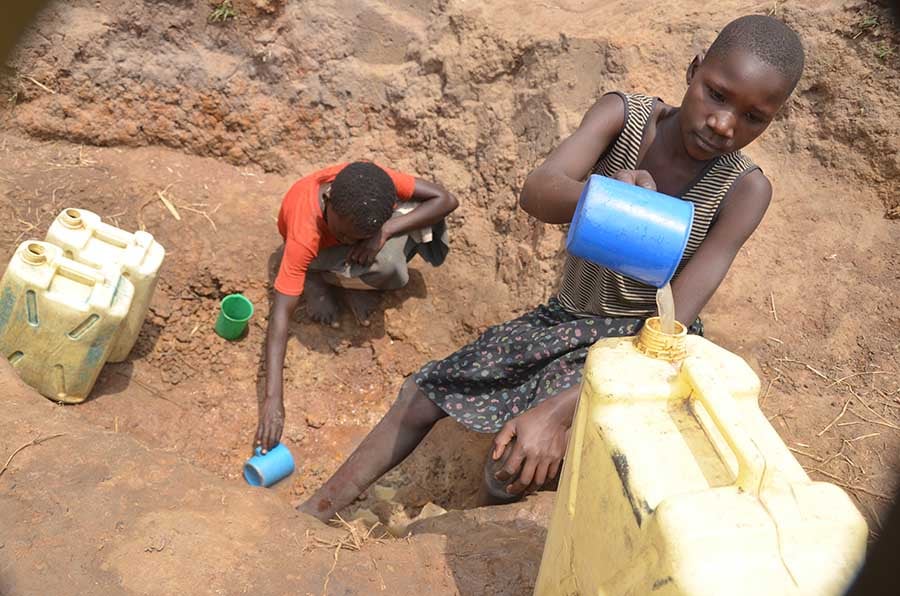 Dwelling more on the water crisis, Dungu said that residents have now resorted to trekking long distances to salvage a few litters of water for household use.
In Kapisa village, Mazimasa sub-county, residents have dug a hole that acts as a community collection point. This however, has not solved the problem as the scorching sun has rendered it dry as well.
In what appears to be the last bits of hope, children are seen squeezing the soil down with their plastic cups to scoop the remaining muddy water which in the end should be used for cooking back home.
"I am searching for water to take home. My mother is waiting for it so as to prepare food for lunch," Mariam Namajja, one of the children collecting water says.
Butaleja district is comprised of about 400 villages and 64 parishes and Dungu says district leaders have engaged government and private organizations to help set up a bore hole in every village.