The army has confirmed that it has in its custody 30 people including Boda boda 2010 patron Abudallah Kitatta on allegations of the murder of case hospital accountant Francis Ekalungar.
Ekalungar was kidnaped and later murdered on Tuesday 2nd Jan 2018 and his body discovered by police in Kajjansi, along Entebbe road, a day later burnt beyond recognition.
According to the deputy UPDF spokesperson Lt.Col.Deo Akiiki, security agencies have since the murder been working together to bring the suspects to book until Friday when they mounted an operation that yielded results.
"Acting on very reliable information, on Friday, an operation was conducted to arrest one of the suspects Huzairu Kiwalabye ," Lt.Col.Akiiki said in a statement released on Sunday afternoon.
He said that after interrogating Kiwalabye, investigations led them to the arrest of his brother Abdul Kitatta, the patron of Boda Boda 2010 a notorious gang of motorcycle riders known for terrorizing fellow riders.
The UPDF deputy spokesperson also revealed that in the swoop, they also arrested Muzamiru Mawa, a driver to Dr.Ssebbale Kato, the proprietor of Case hospital and two other Congolese nationals including Kikandi Muhindo and Bizimani David from whose residence, the deceased's vehicle, a Toyota premio was recovered.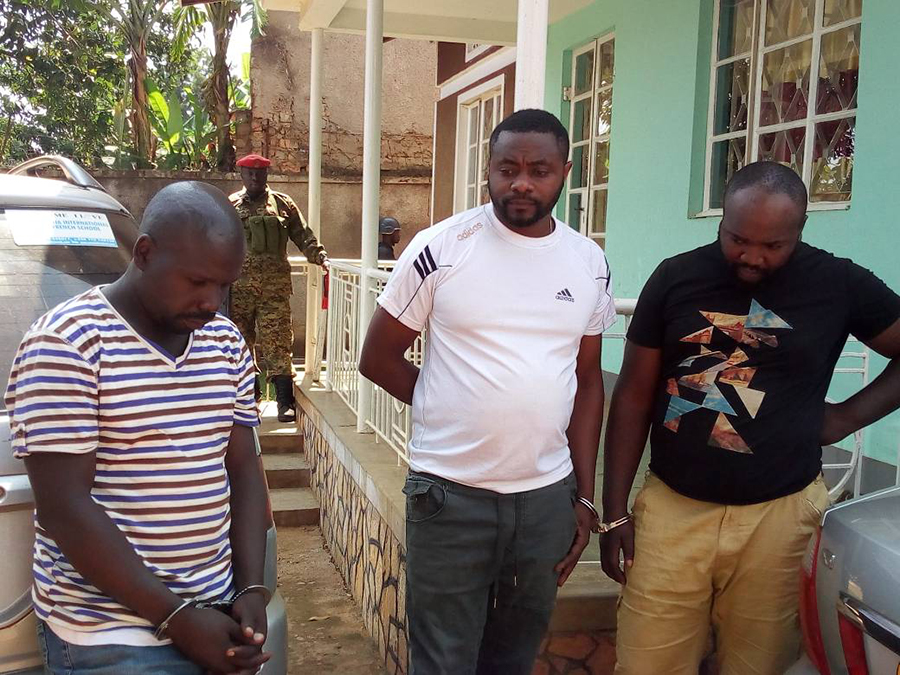 The army also named others arrested in the operation as Ssebandeke John,Bwanika Fred,Ssengoba Hassan,Kibirige Joel,Kayondo Johnathan, Ssemogerere Sunday Kiseka,Ssemogerere Sadam,Barigye Asaf,Nsindazi Joseph,Ngobi Sowali Arinaitwe Thomas,Ssekaja Ibrahim,Ssozi Frank,Kirya Shaban,Mugema Hussein,Kagajju Joram,Ssebata Hassan ,Ssenfuka Matia,Kiddugavu John,Kasirye Godfrey,Lukyamuzi Enock,Ssengonzi Laurence,Twinomujuni Amon,Makumbi Frank and Kanyamudali Thomas.
"More detailed investigations will be conducted with a view of arresting all those still at large and prosecuting them. Currently those arrested are held at a police post in Kireka,"Lt.Col. Deo Akiiki said.
He noted that the army will continue working with other security agencies to guarantee peace in the country.
Kitatta is also the NRM chairman in Rubaga division and is loyal to the Inspector General of Police, Gen.Kale Kayihura, who has defended his activities before.
Most of the suspects arrested were members of the notorious Boda Boda 2010 group.