In the months before the shooting, Alfred Olango had spent time in Phoenix, Arizona, where he'd previously worked at a restaurant, before coming back to San Diego. He missed his family and another important person in his life, a friend and fellow immigrant, Bereket Demsse.
Demsse, an Ethiopian, had been friends with Alfred since elementary school. But Demsse's life took a tragic turn after an assault left him paralyzed from the waist down.
"Bereket was a guy who was very active," said Jama Mohamed, a friend of Demsse's. "And all of a sudden, he transitions into being in a wheelchair. It hits him hard."
Mohamed works with United Women of East Africa, an organization that provides mental health services to immigrants in the San Diego area.
Mohamed said Demsse was despondent over his health and a relationship. Just days before Alfred was shot, Demsse took his own life.
"He (Alfred) had hung out with his friend Bereket, and even took him and drove him and went to my mom's place," Lucy Olango said. "And he dropped off Bereket, I don't know exactly what day, back to his place. And then Bereket committed suicide."
"(Alfred) was just so devastated," she said. "They were so close."
Knowing his brother was in emotional pain, Apollo Olango made plans for them to talk. Alfred was going to drive him to the airport the following day for Apollo's trip to Uganda to see relatives. Apollo says he and Alfred planned to "spend some time together and go over exactly what went on so I could be there for him."
"That's what I wanted to do," Apollo Olango said. "But he never made it."
Three Calls to 911
Instead, the morning the two were to meet, Alfred showed up at Lucy's apartment.
After Lucy called 911, she left him to get ready for work. When she returned, Alfred was gone. He'd left his shirt and cellphone behind.
Then, as Lucy began her drive to work, she was shocked to see Alfred wandering in and out of traffic and across the median on Broadway, a busy street a block from her apartment. She repeatedly tried to persuade him to stop, to no avail. Alfred wasn't responding.
According to the San Diego County District Attorney's account of the shooting, "Ms. Olango called 911 again and asked the operator to send someone, but was told they had other priority calls."
The police dispatcher 911 call summaries show this second call came in at 1:44 p.m. With no officers arriving, Lucy called a third time 17 minutes later, saying she feared her brother would be hit by a car.
At 2:03 p.m., police dispatched two patrol units to the area on what they described as a "5150" call – a code for reporting someone with a mental problem. Lucy saw police cars at the ARCO gas station on Broadway and approached Officer Gonsalves.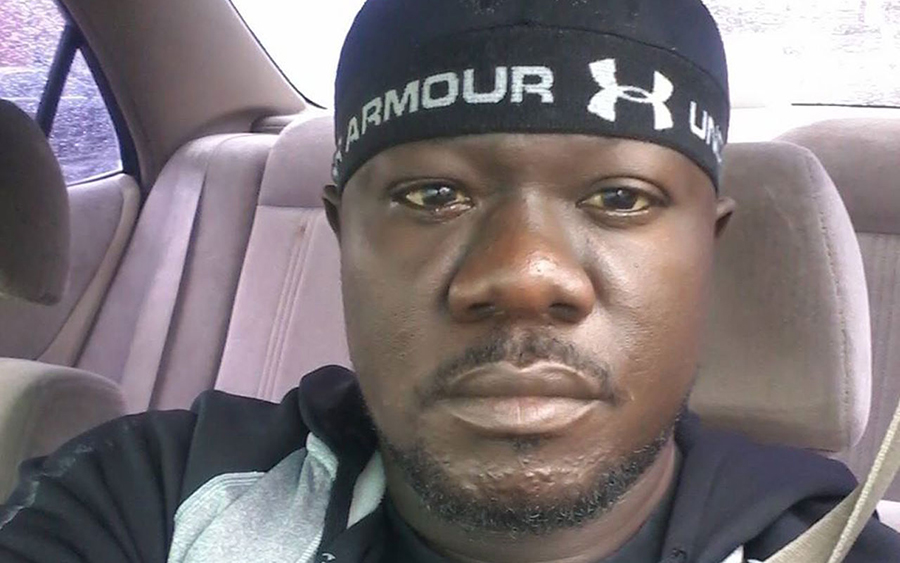 "I met him and told him my brother is not armed," she told VOA and NBS. "He's not doing very well, he's having a mental breakdown and needs help."
"He asked me if my brother ever was diagnosed with mental illness, schizophrenia, bipolar or whatever. I told him not to my knowledge. And I was done with him (Gonsalves) and he went to the site looking out for Alfred," Lucy said.
Shooting caught on video
Gonsalves drove out of the ARCO station and soon spotted Alfred Olango across the boulevard. Lucy saw him, too, and followed. What happened next was recorded on the drive-through camera at Panchos Mexican Grill restaurant and on an employee's phone. Both videos were later released by police.
The videos show Alfred Olango walking backward, away from Gonsalves, who had his gun out and periodically spoke into his radio. On police scanner recordings, Gonsalves states that Olango is refusing his orders: "Still not compliant. Still won't get his hand out of his pocket."
As Gonsalves closes in on Olango in the parking lot, another officer pulls up and points a Taser. Lucy can be seen and heard in the background shouting at her brother to follow the policeman's orders.
Instead, Alfred Olango swiftly spins and aims an object at Gonsalves. Shots ring out, and Olango drops to the ground.
The object turned out to be a vape pipe. Gonsalves said it looked like a gun.
In January 2017, then-District Attorney Bonnie Dumanis cleared Gonsalves of criminal liability, saying, "The lack of other effective options in the split-second of time provided Officer Gonsalves with no other choice, but to respond with deadly force."
Michael Biasotti is a retired police chief who now works as a consultant on issues of law enforcement and mental illness.
"Every police officer deals with this on a daily basis," Biasotti said. "It's a very large percentage of police calls."
He reviewed the shooting videos at the request of VOA and NBS. He said it was reasonable for Gonsalves to approach with gun drawn given Alfred Olango's failure to follow commands. When Olango turned and pointed, Biasotti said, Gonsalves had few options.
"He's gambling with his life that that's not a firearm," Biasotti said.
Where was the PERT unit?
Two decades ago, San Diego County became one of the first places in the United States to begin training police on how to interact with people in mental crisis and prevent encounters from turning violent.
Mark Marvin, director of the PERT program in the county, said 11 local law enforcement agencies, including El Cajon police, operate PERT units that pair a clinician with an officer. Training in PERT is encouraged for other officers but is not mandatory at all agencies, he said.
When possible, the goal of the PERT team in such encounters is to de-escalate, or "slow it down, engage in a conversation, take the time," he said. "It's all about relationship building. Having a conversation with someone."
Among other things, officers are taught to recognize when someone is hallucinating or delusional, he said. Some training involves shoot/don't shoot exercises in simulated encounters.
The city of El Cajon declined to say whether Gonsalves or the other officer on the Olango call were among 51 sworn and non-sworn officers – just under half the force – who had received PERT training.
In a news release after the shooting, the city said the PERT unit on duty that day "was on a different radio call that was also PERT related. They were not immediately available."
The 911 call summaries and other information the city released to VOA and NBS suggest otherwise.
In a response to questions from VOA and NBS, the city's attorney, Barbara Luck, said the PERT clinician began work at 8 a.m. with one uniformed officer, then paired up with a different officer two hours later. At some point, the team drove someone to a psychiatric hospital and then returned to the city.
At 1:07 p.m. – 10 minutes after Lucy Olango first called police – "a female working alone and scared" at a local boys and girls club also contacted 911, saying someone had "jumped the fence."
The woman called twice more, ultimately reporting at 1:49 p.m. that the subject "is by the front door dancing / rp says they are opening in 10 min and J's (juveniles) are coming then."
There is no mention of a psychiatric problem in the call summary. By contrast, Lucy Olango had reported that her "brother is mentally unstable" and "needs mental evaluation/he is not acting himself." In her second call at 1:44 p.m., she said Alfred "is now walking in traffic."
PERT team dispatched
With both callers waiting, the PERT unit became available. Dispatchers sent it to the boys and girls club at 1:53 p.m.
That situation apparently was minor; city attorney Luck wrote that "no incident report was generated" as a result.
Meanwhile, Gonsalves arrived at the ARCO station, spoke with Lucy Olango, then drove to the parking lot next to Panchos Mexican Grill, arriving at 2:11 p.m. The shooting happened within minutes.
City officials declined to explain why the PERT team was sent to the boys and girls club for what appeared to be a simple trespass. Asked if the Olango shooting had prompted any changes in police dispatch procedures, city attorney Luck wrote, "No." The 911 call summaries, she said, "speak for themselves."
VOA also contacted El Cajon Mayor Bill Wells and Police Chief Jeff Davis. Both declined to comment because of pending Olango family lawsuits.
Luck said Gonsalves was placed on leave after the shooting and returned to duty about five weeks later. By then, however, his prior record at the El Cajon Police Department had become part of the story.
Nine months before the shooting, the city settled a lawsuit alleging that Gonsalves had harassed a female officer by, among other things, texting her a sexually explicit photo. Local news reports said he had been demoted from sergeant to patrol officer as a result.
Gonsalves' lawyers did not respond to requests for comment, and Luck said the city could not discuss a personnel matter. The lawsuit reportedly settled for $90,000.
Dan Gilleon, attorney for Lucy Olango, said having a PERT unit at the scene might have been a lifesaver for his client's brother.
"I think that PERT team could have actually have calmed down Alfred Olango, and it might have calmed down Richard Gonsalves," Gilleon said.
"It might have said to Alfred Olango, 'We're here to help.' And it might have said to Richard Gonsalves, the officer, 'Cowboy is not needed here. We've got this under control. We know how to deal with people with mental illness.'
Finding hope in grief and loss
Family members have created a charitable foundation in Alfred Olango's memory. They hope to bring attention to issues they say Alfred cared about, including homelessness.
"I definitely want to tackle procedural issues – policing-wise – to make sure that there's a halt to all these shootings that are going on," Apollo Olango said. "Some sort of a change that is better for people – so that people don't have to suffer like this."
More than a year after the shooting, Lucy Olango said her family is still grieving. And she struggles with understanding how a system designed to help people such as her brother seemed to break down.
"What do you learn when you're in school? Little kids, 2-year-old, you know like 5 or 6. Something happened, what do you do? Call 911," she said. "Things have changed a lot."
"When I called (911), I was hoping they could help him. Take him to the hospital and he could come home," Lucy said.
"He's not going to come home. He never did."