Dr Vincent Karuhanga needs little introduction. He has been there done that.
Karuhanga is one of the 20 siblings of the Rwakafuzi Family, which includes a prominent lawyer Ladislaus Rwakafuzi.
A radio and television personality; Dr. Karuhanga joined KFM in 2003 as the K-Doctor. He also hosted a health programme on NBS TV.
A renowned expert on health, Dr. Vincent Karuhanga has written for a couple of newspapers and authors a popular column in Daily Monitor, Ask the Doctor.
A sole proprietor of Friends Polyclinic and Ambulance Service, Dr. Karuhanga through medical tourism also connects people to other countries for treatment under Quality Care Health Group.
A couple of years ago, one of Karuhanga's legs was amputated and even for a doctor, the circumstances that led to this change are still baffling.
"I had done my routine Sunday jogging and since I was feeling some muscle discomfort, as i passed by Quality Supermarket and saw some place where they do massage and thought I should go for a session and get relaxed up," he said.
"Unfortunately, when they were doing massage, I started feeling pain and that pain was so excruciating that I had to call a doctor in the massage parlour. The doctor gave me first aid but he was surprised that a person can take 30 milligrams of valium and does not even sleep or feel anything about it.
From there I sought medical attention from a friend of mine Mr. Baguma who took me to the heart institute. After a number of tests including an MRI, they thought I had a tumour in my leg and that's how I ended up in India.  They told me it was too late; some part of the blood vessels had some bit of fat in the artery and blocked the blood supply to the leg. I can say that I lost a leg but I didn't lose life and that's one encouragement that has helped me to live on."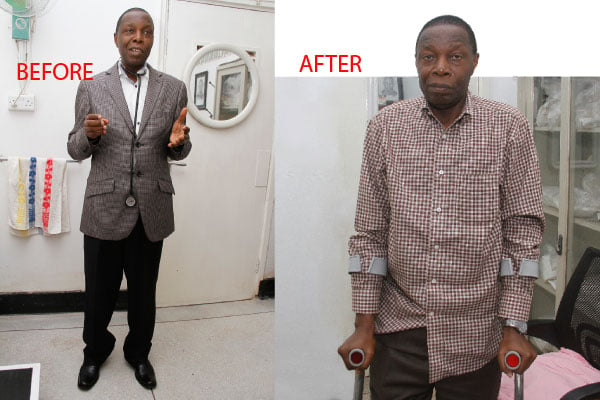 Since the amputation, his life has changed.
"I was almost religious, I would pass by church when I was jogging but for the two months when i was very sick, i was praying everyday. And now since I don't jog, I no longer pass by church. I am still religious but it is about heaven. I thought with my two legs I would go to heaven, but now my journey was cut short and now I can not walk even walk there in case I wanted to go to heaven. But they say heaven is on earth, others wait for it that it is up there, while others think they will even have more deink in heaven since the chief brewer of Cana of Galilee is seated at the right hand of the creator," he said.
For his family, the amputation was too hard to take.
"They were always crying but eventually they saw that I was even stronger. I was telling them that when you cry, you always make me cry, you leave it at that and watch me. So after some time, I started singing and driving; by the way I started driving with one leg. Being the right leg which was amputated, it was very difficult; one time I knocked two cars at ago because someone who had washed the car had left the carpet between the accelerator and the brakes. So when I stepped on the brakes, the car accelerated and hit two cars and I had to pay heavily for that one. Eventually now am able to drive without fear or favour," he says.
In medical circles, Karuhanga is taken as a celebrity. He disputes the tag although he concedes that he is prominent.
"The radio programs have promoted me but you should also know that radio programs will only help you if you do a good job. If you go there and start stammering, and talk of whereas, meanwhile, you talk more English than educate the public about what bags them health wise and their solutions, then you are likely to become a laughing stock instead; people might come there to laugh but if they gain some health knowledge, then it is much better than mere laughing," he says.
Sometimes, he says there is conflict between his work and ethics of the medical profession that don't allow for self promotion. He says he has to strike a fine balance between giving people advice and prescription for medication on his show.
Does he think if he had not been on radio, he would still be prominent?
"I think I still would, but because whenever you do a good job anywhere, people will come to know and you don't have to advertise yourself. But that said, I would strive more to make sure that I am doing a good job. I am not saying that I am doing a very good job, but am striving and when you strive to do a good job, it is very satisfying to anybody including myself," he says.
Karuhanga is critical of the way doctors are remunerated in the country and the poor conditions under which they work.
"The doctors strike was really unfortunate and I think doctors have been very patient. You can't move to do an operation when you don't have gloves. One thing which is very important before you do an operation is lighting but you use a torch to do an operation, you might even cut a blood vessel you would not have cut," he says.
What are some of his unforgettable broadcast memories over the years?
One time I was doing a program at one of the prominent television stations and I was told that in Kulambiro, people were getting blind and they had brought in a prominent exorcist to remove the bad spirits they thought were causing the problem. But I told them that most likely these people were taking crude alcohol which was actually causing blindness. It was actually found to be the problem.
He says doctors in Uganda are not valued and are poorly paid. I don't think a doctor is not valued in this country.
"The biggest problem today is our youth wanting to earn very fast without working. To be a doctor , you need to be very hardworking; don't switch off your phone at night and no complaining," he says.