The Judiciary has condemned what it termed as a case of interference by a group of people claiming to be supporters of the Speaker of parliament, Rebecca Kadaga.
A group of people calling themselves the NRM media activists stormed the High Court civil division on Wednesday protesting against Kadaga's appearance at the court to answer queries related to suspension of six legislators during the age limit debate.
In a statement by their chief registrar ,Paul Gadenya, the judiciary reminiscences a similar attack on August 2016 protesting the trial of the Inspector General of Police Gen.Kale Kayihura over torture allegations at the Makindye magistrates court.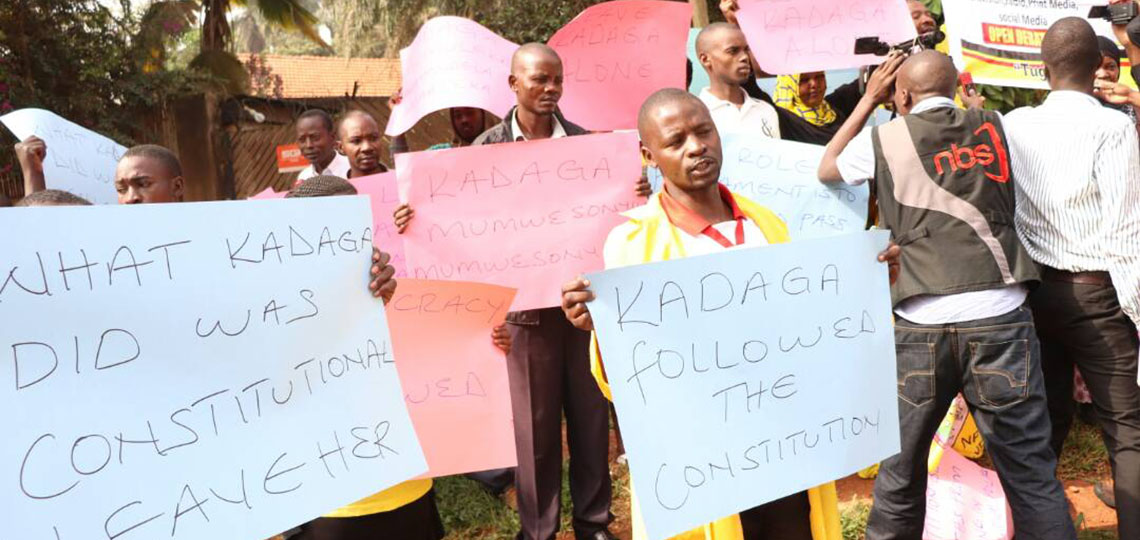 "The actions of such groups are an unwarranted direct affront on the independence of the Judiciary which is protected by the Constitution," Gadenya says.
"Under Article 128 of the Constitution, no person or authority shall interfere with the courts or judicial officers in the exercise of their judicial functions. It strikes at the core of what the Constitution is all about – re-establishing the rule of law in this country."
Like in the 2016 Gen.Kayihura case at Makindye, supporters claiming to be from the ruling NRM party said it was wrong to have their beloved Kadaga appear before court arguing that she was acting within the constitution.
According to the Chief Registrar, the Judiciary is an arm of the state with the mandate to adjudicate cases between citizens and government as well as other agencies.The group in both cases carried placards with writings castigating the court process of their beloved people, something the judiciary says is wrong to be done within the premises of the temple of justice.
"Let the institutions work. It's wrong for people to go and mobilise mobs to come and frighten us to prevent us from doing our work. Whoever is promoting them is really doing a disservice to the country,"Gadenya added.
The judiciary says that they regret such uncivilised and disrespectful behaviour.