DAVID LUKYAMUZI KALWANGA, (40), is Busujju MP who ousted Vincent Nyanzi, a former minister of state in the Office of the Vice President. Nyanzi had represented the constituency for 20 years in Parliament.
As parliament prepares to debate the age-limit report today, Kalwanga tells The Nile Post why he is opposed to the lifting of a constitutional cap on the presidential age that would allow President Museveni to contest in 2021.
It's two years since you joined Parliament. How has been your experience as a first timer?
I have realized a lot of things. First of all, I have learnt that you have to be with an independent mind in Parliament. I have found out that the so called seniors (in parliament) always use the opportunity of the new comers and end up manipulating them. Some of those MPs who have spent like two or more terms in Parliament, always overdrive the juniors.
So, if you don't stand on your own, you end up messing up everything. The case in point is when we came into elections of the speaker. We were much driven by seniors and we ended up making wrong decisions. Secondly, as an MP, I have tried to always listen before taking a decision because I no longer want to make mistakes I made in the beginning of the term.
What do you exactly mean by messing up?
We were used. Someone comes to you and explains with some references, but when you do some research, you establish that the references are not existent, but because he/she has his interest, you work for him. In parliament, its numbers. So, if someone convinces you into a group, he/she sells it to his advantage. I have also learnt that our superiors always use invisible hands to drive us. So, if you are not smart enough, you end up messing up everything.
What challenges have you met as an MP who succeeded a minister who had served the constituency for over two decades?
The challenge, is that as you are working, you end up fighting three categories of people. You are fighting those that you found in parliament, those that want to replace you, and the person that you took over. Those three categories keep on disturbing me and end up messing up my goals. I have managed to squeeze that one (Nyanzi) that I took over.
But you cannot keep quiet because if you do, other candidates also keep on mushrooming. So, you have to fight them to the extent that you can even fear your own shadow. At times, they are not serious candidates, but in politics, we don't take chances.
You have hinted on the mushrooming candidates that you are fighting. Would you want to entrench yourself to the extent to extinguishing any candidate in a constituency just like your predecessor?
Surely, I cannot tell you that I am going to spend more time in politics, but 100% I cannot tell you that I am not coming back. I have to stand again, and I don't want to fight my conscience to tell you that I won't stand again. There are things I have started which I cannot handle within one term, but I cannot spend more than fifteen years in Parliament because there are other things we can do without being in Parliament.
Your specific campaign promises to people of Busujju were hinged on addressing issues such as infrastructure, education and health. What have you delivered so far?
There were a number of issues I promised to do in Parliament the moment my people told me that they were electing me their MP. They had their issues, I had my issues to do for them. I started with their issues, for example, working on roads, health and education issues which I have tried. I have tried to sponsor students with bursaries, I have secured an ambulance for the constituency as a person. At times, I work with the district administration to solve some issues within my constituency…and sometimes, I spend my own money in case the district people are letting me down.
But isn't that over stretching your mandate by doing things you are not supposed to do constitutionally?
Yes, I know there are some things I am not supposed to do, but I cannot look on when somebody has told you that what you want to do isn't budgeted for. You can't see people dying and leave them to die when you have the capacity to help them. For example, we have just one government ambulance in Mityana district but I bought one, my colleague Makumbi from another constituency bought one. So, if you add all the ambulances, it comes to three in a district.
You are among the MPs who have faced problems during consulations on the age limit bill. What triggered the misunderstandings between you and fellow political leaders in Mityana district?
There were two main issues in my home area. It's true, I had issues with my fellow MPs but not from the constituency because almost 80% of my constituents were telling me not to touch article 102 (b).
So, I had no problem from my constituency because even my junior leaders at the lower council level, were all against touching it.
The challenge was with my colleagues, the MPs, who were all in favour of touching the article yet I was against it.
So, when I listened to the voices of my people, I came out clearly to say, I am against amending article 102B and I will maintain it.
Why did it take you that long to agree with your people?
It's my model of work. I always take time to decide, but once I decide, I do for all. I have heard a number of people asking me why I took long to decide. But I couldn't take a decision on something I had just heard. It's from the wide consultations with my people that I took a bold decision. And by the way, I am being judged harshly by some people that I have taken the opposition to the constituency which wasn't the case for the last 20 years.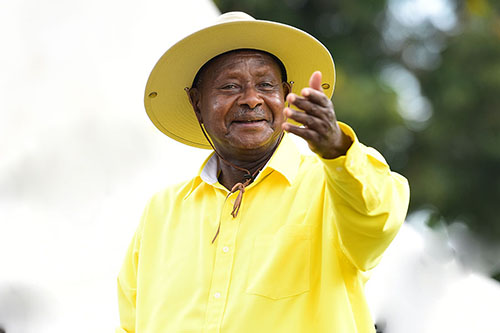 It's now clear-cut, you are against the bill and that qualifies to be an enemy of President Museveni. Are you ready to face the repercussions come 2021?
I have to tell you this frankly on this. I have seen many people who have been against Museveni in terms  of policies when they love him and these include; Barnabas Tinkasiimire (Buyaga West), Wilfred Niwagaba (Ndorwa West), Theodore Ssekikubo (Lwemiyaga) etc.
I love President Museveni and in fact, those MPs who are supporting this bill, are the ones who don't love Museveni because they wish bad for him. If I come out and tell you that I have been supporting you, and you have led the country for more than 31-years, it's your time (to go).
So, I am 100% ready for repercussions. I cannot tell you that I am going to die in politics because it's a timely issue which I will deal with before going to do other things.
Some people say you are trying to make noise just to catch Museveni's attention. How would you respond to such an assertion?
In politics, you cannot stop anybody from talking about you because we have seen it with other people, and I can give you some examples like Robinah Nabbanja (Kibaale district, NRM), Jalia Bintu (Masindi District, NRM) who has been to Parliament for over 20 years with all qualifications to become a minister, but she has not been appointed.
So, I cannot stop to do my work because somebody will raise petty issues. If the President gives me that mandate, I can work, but let me tell you, if the appointment is based on bribing my minds, I can even drop that ministerial post as long as it's not in good spirit.
What is your view on the Constitutional Amendment Bill to amend article 26 to allow compulsory acquisition of land by government?
Article 26 is very clear on how government can acquire someone's land. But because there are crooks in government, they take advantage of the president for their indirect benefit and we know them. Have you ever heard that government wanted to put up a project somewhere and someone refused to give land except if there is an influential speculator within government behind the deal(s)?