https://www.facebook.com/nilepostnews/videos/699177793803416/
10:17am: Speaker Kadaga welcomes all legislators, says that there will be two reports tabled. The Minority report and the parliament affairs and legal committee report. She insists that members should accommodate each other during the plenary.
10:18am: The speaker warns legislators that should they misbehave, they risk being suspended for at least 7 sittings.
10:20am: Munyagwa raises with an allegation that Simeo Nsubuga threatened him to debate carefully or else there would be gun fire. Speaker over rules.
10:22am: Cecilia Ogwal raises with a procedural point noting that the Substantive Minister of Justice Kahinda Otafiire and the Attorney General, William Byaruhanga, are missing from the house and yet the house would benefit from their guidance.
Kadaga directs that duo appears to the chambers.
10:24am: MP Niwagaba raises a procedural point that the Bill is subject to the dispute before the East African Court and should not be subjected to debate or legislation until the matter is disposed off. The speaker rules that she will rule on the matter later since Art 38 of the EAC treaty has not been tested.
10:30am: MP Ssemujju raises to support Niwagaba; " Last week the leader of the opposition presented a statement on the floor on matters that relate to this Bill, and you ruled that since the matter is before court, we could not debate." He adds that the speaker is confusing the house on what ruling they should follow.
10:33am: Semujju raises another procedural point under Rule 201 (b) on the question of authenticity of the Bill. He notes that the Bill must be first published. But the speaker cuts him short; "You are part of the committee, write your minority report," she says.
The house resolves to have the Bill tabled for the second time, and Magyezi obliges to do so. He moves.
10:45am: Strangers reportedly make way into House. Opposition MPs stand up in protest, but Kadaga insists they are her guards.  The opposition MPs start singing national anthem but end prematurely.
10:50am: LoP Winnie Kiiza raises to raise two procedure points. Says some of the strangers spotted in the chambers can be traced to the September fracas. She also asks that the speaker adjourns the proceedings so that the Speaker and the members can acquaint themselves with the effect of the court proceedings.
11:00am: Jacob Oboth Oboth laying to the table, the committee report.
11:08am: MP Karuhanga stands to raise a procedural point. He says that once the report is tabled, legislators should be given three days then debate on the matter. He cites rules.
Karuhanga then argues that the members be given three days to consult before discussing the report. Speaker over rules, insists that members were given Ipads to ensure they receive reports from the clerk early enough. "The rule does not apply," she says.
11:28am: Speaker proceeds to elaborate on the EAC treaty. She rules that the house proceeds to debate the bill since they have a "job to do."
11:29am: Oboth Oboth continues to table the report, says all stake holders were consulted.
11:30am: Ssewanyana raises point of procedure, says that the rules indicate report should be tabled ..not on the Ipads. But his point is dismissed.
Legal committee Chairperson Oboth Oboth reads the report amidst ignored calls for procedure by members of opposition #NBSUpdates @Parliament_UG

— Dalton Kaweesa (@DaltonKaweesa) December 18, 2017
11:36am: House turns chaotic while Rukutana raises to move a motion that rule 201 b be suspended so that the debate can proceed. Ssekikubo wants to snatch the microphone from him. Opposition MPs all stand up and……we could be headed to some chaos moments..No?
11:41am: Theodore Ssekikubo raises to speak, as the house calms down. Calls for legislators to listen to one another. Cites Rule 154  which says that a member shall not belong to more than one committee. He claims that members of other committees were imported to the legal and parliamentary affairs committee.
11:42am: Ssekikubo says he has a list of legislators who are on different committees but were sneaked into legal affairs. Mentions Akol Rose Lilly as one of those members.  MP Akol raises to deny that she is on more than one committee; "I was designated to the legal committee."
11:55am: Kadaga over rules, says that the matter of legislators being on more than one committee was resolved by the same house.
11:57am: Hon Kyagulanyi Ssentamu raises with a procedure point on sub judice. He is cut short by Kadaga who asks him to make self aware of the article 38 of the EAC treaty.
11:59am: House adjourned to 2pm.
12:00pm: Hon Ssemujju, Munyagwa, Ssewanyana, Karuhanga, Odur are suspended for the afternoon session.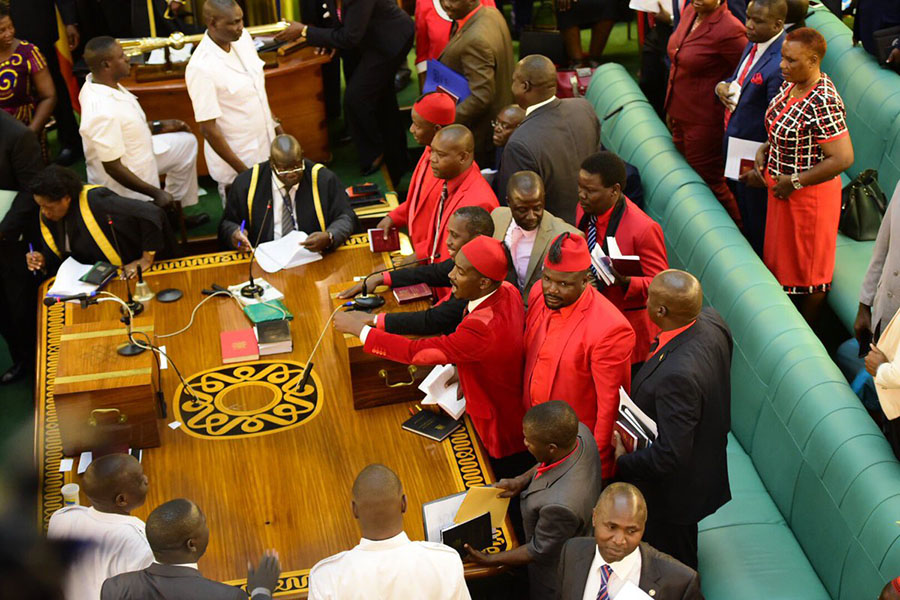 Hon. Abiriga: "The suspended MPs should follow the directive of the speaker and everything should be solved amicably. The speaker is exercising her rights that were given to her." #NBSUpdates #AgeLimitBill pic.twitter.com/WM30x62feI

— NBS Television (@nbstv) December 18, 2017
VIDEO: Hon. Nambooze: You can't suspend members after suspending the house. Kadaga is a woman of ability but why is she behaving in such a manner? Because she is a captive. #NBSUpdates #AgeLimitBill pic.twitter.com/zvTvEdGaF7

— NBS Television (@nbstv) December 18, 2017
VIDEO: @HEBobiwine: I was struggling to keep calm because there is a move to demonize us (the opposition). #NBSUpdates #AgeLimitBill pic.twitter.com/ryv0dLpzlL

— NBS Television (@nbstv) December 18, 2017
14:21pm: The House resumes, Kadaga starts by reading committee members designated to the legal affairs committee by the government Whip.
https://www.facebook.com/nilepostnews/videos/699302833790912/
14:28pm: LoP Winnie Kiiza raises procedure point on challenging the speaker's ruling. " It's unfortunate that when a member asked for where he can seek redress, the member has just been brushed off. Rule 86(2) allows us to challenge the rulings."
14:42pm: Hon Odonga Otto is currently making submissions on a one case challenging the manner in which MPs were thrown out of the House, and all the proceedings through which the Bill was tabled. But the speaker asks him to sit down.
14:44pm: Winnie Kiiza raises a concern that Speaker suspended certain legislators when the house had already been adjourned. She asks the speaker to call the members back and suspend them with the house in process.
14:59pm: Frank Tumwebaze calls her back to order. "You can not challenge the ruling of the speaker." Kadaga also over rules, "the members have been suspended and thats what i ruled."
15:00pm: Oboth Oboth proceeds with the age limit report……..and yes he is interrupted by Nandala Mafabi who raises on point of procedure. "I want to make a case first."
"On August 10, Hon Judith Nabakooba chaired a meeting with a member, Hon Akampurira Mbabazi. How did she know she was a member? She must have been designated."
Mafabi basically is making a point that certain members; Akol Lilly and Akampurira were already designated to other committees and it is not coincidence that they find themselves seated on the legal affairs committee. But the speaker rules that the House agreed with designations in an earlier session. Nsereko will now speak.
15:01pm: "The Hon Deputy Attorney General having realised there is a problem somewhere in rule 201(b) suggested that it be suspended," Nsereko starts.
15:02pm: Oboth Oboth proceeds to read report..he is interrupted by Ssegona, then Cecilia Ogwal who calls for the suspended legislators to be called back to the House…Alas she is put out of order.
Speaker Kadaga asks that Ogwal sits down. "you should have pleaded with the legislators to behave while they were still here, they would have listened to you," she says.
15:10PM: Nsereko raises a point of order as some members kept standing even after they finished speaking.. Speaker: they are standing on their seats…
15:12pm: Hon Winnie Kizza: Would it be procedurally right to have members stand on their seats? I see the level of intolerance is raising. I believe we are not proceeding rightfully. We are violating rules that we shouldn't. She asks other opposition legislators to follow her out to discuss.
15:15pm: Hon Ogenga Latigo: Even when we suspend sittings according to rules, the front bench is preserved for the Ministers and the Shadow Ministers. I would like it that the front bench is reserved for the shadow ministers. " I have remained behind to make this appeal but if it's not fine, it's okay."  Speaker rules him out of order.
15:30pm: Members of the opposition are currently  holding a press conference. Meanwhile Oboth Oboth reads the age limit report to an NRM filled house.
"The speaker whom we consider our custodian, deliberately violated the rules of procedure herself just to justify Museveni's interests" #agelimitbill #nbsupdates pic.twitter.com/WL7hZIAraI

— #CanaryReports (@canary_mugume) December 18, 2017
Hon. Nuwagaba: for the first time the Speaker rules on a matter of Tabling a report to mean uploading on the iPads #AgeLimitBill

— Parliament Watch (@pwatchug) December 18, 2017
I invite Members Of Opposition To Fille's Concert #agelimitbill @nbstv @ntvuganda @nilepostnews

— Asiiwme fidel (@fidempa2013) December 18, 2017
The age limit report by Oboth Oboth and committee can be found at the beginning of this live feed.
15:58pm: Meanwhile MP Monica Amoding is presenting the minority report.
16:00pm Hon Lyomoki accuses that the Speaker of showing bias on the matter on the floor by interrupting the process of presentation of the minority report.
16:19pm: Opposition MPs return to parliament, dismiss NRM legislators that had occupied their seats.
https://www.facebook.com/nilepostnews/videos/699384597116069/
16:20pm: Amoding observes that new members were assigned to the committee at an advanced stage when the committee was reporting for its retreat. The minority report noted that the retreat was scheduled at a time when Parliament was on recess and was participating in the East African inter-Parliamentary Games. Amoding basically making case for rejecting the age limit Bill, according to the minority report.
16:40pm: Rukutana moves a motion that Rule 201b stating that the report be debated in three days. He argues that all legislators received the reports five days ago. He cites rule 16 that gives him the power to do so.
16:50pm: Mafabi raises with a point, he says there is no need to rush the Bill. He accuses Rukutana of making statements about the term limits in 2005. Rukutana denies, ask Mafabi to substantiate.
Mafabi says they were aboard fly emirates, and Rukutana was going for Sudhir's daughter's wedding. He swears.
I wish to clear the air. I did not sign the Minority Report as Hon. Amoding is claiming. I did not sign any of the reports be it th main report, because the whole process was illegal. @ntvuganda @nbstv @capitalfmuganda @Parliament_UG @LOP_UGANDA @RebeccaKadaga @FDCOfficial1

— Ibrahim Ssemujju (@SsemujjuIbrahim) December 18, 2017
Meanwhile:
17:34pm: Members, one after the other stand up to raise a point that there is no need to rush the Bill. Ssekikubo pleads with the House.
17:50pm: Several MPs have deliberated on the suspension rule 16. Tumwine wants a motion moved already but Katuntu insists there is no rush. "Why are you running from your people? Is Uganda ending today? The Rt Hon Kivejinja has written a book and as he looks at us, he says, "Why does history repeat itself? It is true that rule 201b can be suspended, but there must be justifiable reasons. Justice must not only be done, but also seen to be done."
17:51pm: We know that at the end of the day, the numbers will win, but we should not act like a mob. It will be a game of numbers.
17:52pm: Tumwine rises again with a point  but Katuntu shuts him quickly; "Interpretation of the law is a profession. If it was a military question, Gen Tumwine would be suitable, but since it is within my profession, he should leave it to us," he says.
18:00pm: Winnie Kiiza asks parliament to be patient. Tumwebaze later stands and says there is no rule offended when the parliament is doing substantive work. He asks the Rukutana's motion be voted on. The matter is put to vote and Ayeeeeeee…. they have it. Rukutana's motion  to suspend debating the Bill in three days is adopted.
The debate on the Constitution Amendment Bill (No2) has ensued #AgeLimitBill #PlenaryUg

— Parliament Watch (@pwatchug) December 18, 2017
18:31pm: House adjourned to Tuesday morning.