Information has started trickling in on how Yekoyada Nuwagaba a Senior Presidential Advisor on political affairs, allegedly connived with Uganda Wildlife Authority(UWA) officials to allow him export the banned hippopotamus teeth.
Nuwagaba, who owns Navina Exports limited, a company that deals in exports was on Wednesday released on bail by the Specialised Utilities Wild and Standards Court at Buganda road in Kampala .
The Nile Post has however learnt that Navina thas been exporting hippopotamus ivory from Uganda to Hongkong despite a ban on the export of the treasured item from the endangered animals.
On 15th July 2013, the Board of Trustees of Uganda Wildlife Authority put a ban on the export of Hippo Ivory in Uganda until further notice and all persons involved in the trade were notified to declare the stock they were holding by the time.
"Resolved that with immediate effect,trade in hippo teeth be suspended indefinitely and a communication should be aired out through various media houses to instruct all dealers to declare stocks in their possession and source from which they are got," reads in part a resolution by the emergency UWA board meeting recorded as minute No.5 BOT/15July2013.
Navina, which was the leading exporter of Hippo ivory would later declare 1670 kilograms and in a letter to the then Minister of tourism the late Maria Mutagamba, the company requested for a permit to export the same for it was their only remaining stock that they wanted to do away with.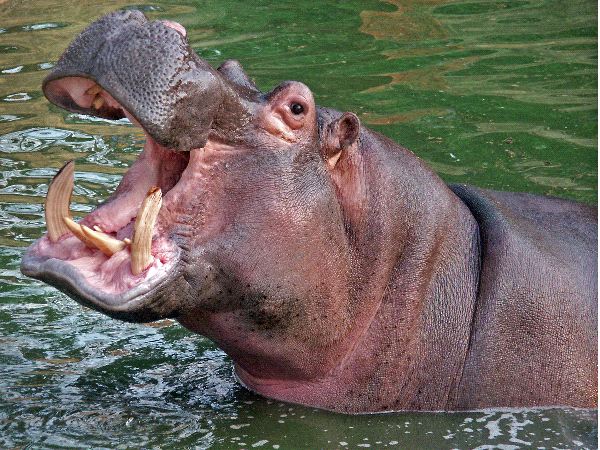 However, two years later on 14th April 2015, a team from Uganda wildlife Authority and Ministry of Tourism Wildlife & Antiquities did a joint verification to inspect and weigh hippo teeth in custody of Navina and found out that the company had in their possession 1322 kgs of hippo ivory collected from Kasese,Bunyaruguru and Rwampanga in Nakasaongola.
The stock of 1322 Kilograms had been collected without approval and authorisation of Uganda Wildlife Authority and it was found out that Kasese, Bunyaruguru and Rwampanga collection sites are adjacent to Queen Elizabeth National Park.
The verification team however noted that late in 2014, Navina was authorized to export 970 Kgs which was declared verified at the holding as one off after the 2013 ban.
The team then recommended that the 1322 Kgs be weighed and confirmed but there was no evidence to the effect that Navina had secured a collection clearance from Uganda Wildlife Authority.
UWA boss blows whistle
However in a letter dated April 22nd 2015 to the Minister of Tourism, the UWA Executive Director, Dr.Andrew Seguya blew the lid off the dubious dealing and illegal export of the banned item.
"It's clear from the inspectors report that the current stock of 1322kg was collected after the ban imposed by the Board of Trustees,"Dr.Seguya wrote in a letter.
"According to Navina the collection Areas include Bunyaruguru, Kasese and Rweshama which all fall within or near Queen Elizabeth National Park and exacerbate poaching."
The letter clearly indicated that the 1322 kilograms had been got off hippos from Queen Elizabeth National park.
However, despite all the anomalies and illegalities that he had pointed out himself, Dr.Seguya went ahead and wrote to the Permanent Secretary Ministry of Tourism requesting to issue Navina with a licence to have him export the banned product.
"Following the collection of sorted trophies, Navina now applied for a permit to export the hippo teeth collected. Please find attached export licence serial no.29556 allowing Navina to export the 1320 of hippo teeth,"says in part Dr.Seguya's letter.
The export licence to Navina had been issued by James Lutalo, the Commissioner Wildlife Conservation to export the contested 1322 kgs.
It could not easily be established where the remaining two kilograms of hippo teeth had gone because they were not indicated in his letter to the Permanent Secretary.
Nuwagaba arrested
Nuwagaba, the proprietor of Navina exports limited was arrested on February 20,2017 following and operation by Natural Resources Conservation Network in Makindye, a Kampala suburb together with two other people including Bright Kafuna and Fred Rwakiseta.
The team also recovered 250 kgs of hippo teeth and the suspects were taken to the Central Police Station in Kampala from where he was released on bond and told to report every day at the station until their appearance in court.
Nuwagaba however jumped bond and was later arrested on December 8 before being arraigned in Buganda road court.
Police in Entebbe later recovered 2864 kgs of hippo ivory allegedly found in a warehouse belonging to Navina, and investigations into the matter are still ongoing.
Separate investigations have found out that collections by Navina after the ban in 2013 are neither authorised nor supervised by Uganda Wildlife Authority and such an unauthorised is illegal and has a negative impact on the hippopotamus population in the country.
It has also been found out that Navina acquires hippo ivory from Uganda, Tanzania,DRC, Tanzania,Kenya and South Sudan before exporting them.
Concerns
The issue of the discriminative manner in implementing the ban raises concerns.
Uganda has a total population of 5383 hippos from 26000 in the 1960s and if conserve ways don't improve, extinction of hippos will occur soon.
Following the ban in 2013,Navina has in possession 3514 kgs of hippo teeth comprising 250 recovered by the Natural Resources Conservation Network in Makindye,2864 by police and 400 kgs of hippo ivory to be verified for clearance by UWA.
Unanswered questions
1. Why was an export licence issued after the ban by UWA?
2. The issue is in court but why is UWA still interested in dealing with Nuwagaba?