Democratic Party president Nobert Mao has said that through the 'Kogikwatako' week, they would rally all forces against president Museveni's leadership to come together.
Addressing journalists at the launch of the red week at the party headquarters , Mao said that as part of the red week, they would carryout a number of activities as part of protests against lifting of the age limit.
"We shall reach out to students in various institutions of higher learning, protests, print flyers and brochures all aimed at making people rally against the removal of age limit,"Mao said on Tuesday.
Dressed in a black jacket, red tie, red ribbon and red trouser, Mao spoke with vigour as he warned the speaker of Parliament against bowing to pressure to allow the age limit bill passed.
He said that in the past, Kadaga has been a weak and spineless speaker who has not done anything to protect the sanctity of the August House but warned that this time round it will not be business as usual.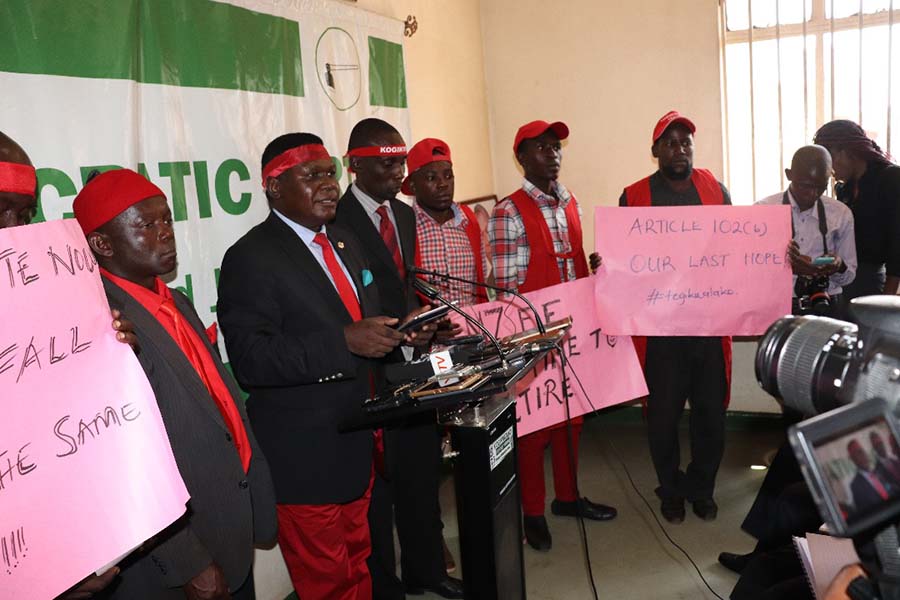 "Even if the bill is passed, we will never lose hope but this will only be the birth of new momentum. "
He however said today is the chance for speaker Kadaga to redeem her image by throwing out the age limit bill when it returns to parliament.
"You invited unknown people to parliament and they beat MPs and wrote to the president pretending to be questioning the men in uniform who stormed parliament. Today is your time to redeem your tainted image. "
The Democratic Party president said that as part of the red week, they would march to the parliamentary building in protest of the efforts to have the age limit changed.
He emphasised that the red week meant to ensure that everyone in the country participates in efforts to bring to and end to president Museveni's rule by ensuring everyone is in the 'arena'.
"When slaves come together, the red sea will give way.This is a campaign for the ordinary citizen to take back power."
Mao said that as part of the campaign,  they would wish to ensure that age limit is maintained in the constitution, presidential term limits reinstated and a number of issues in the constitution.
"Even if this is not Museveni's end but its the beginning of his end.All Ugandans should rally behind us by putting on red,"Mao urged.
By Kenneth Kazibwe and Esther Namutamba.