Despite persistent declarations that NASA leader Raila Odinga will be sworn in, there are doubts whether the former Prime Minister will actually be inaugurated on December 12 as the People's President.
Raila on Friday told Western envoys that he is willing to pay the "ultimate price" and be charged with treason.
However, his own camp is divided, with hardliners pushing for the swearing-in, while others quietly calling for caution and warning he would show disrespect for the Constitution and jeopardise his legacy as a fighter for democracy.
Raila is also facing mounting pressure from the international community — which he has publicly rejected — as well as Kenyan religious and business leaders who fear a swearing-in will further divide the country and damage the economy.
IG Joseph Boinnet said on Friday that police are ready to enforce Attorney General Githu Muigai's warning to Raila that taking the oath of office is "punishable by death" upon conviction.
"Our position is what the Attorney General said. We can't add anything," Boinnet said on phone.
Muigai on Thursday termed "treasonous" NASA's plan to swear-in Raila on on Tuesday at the same time President Uhuru Kenyatta will be leading the country in marking the 53rd Jamhuri Day.
On Friday Raila told Western envoys led by US Ambassador Robert Godec that he is ready to face treason charges and pay the ultimate price if that's what is required to achieve justice, according to a source who attended the meeting.
"I am ready to pay the ultimate price, let them charge me with treason," they quoted Raila as saying. Later he met religious and business leaders.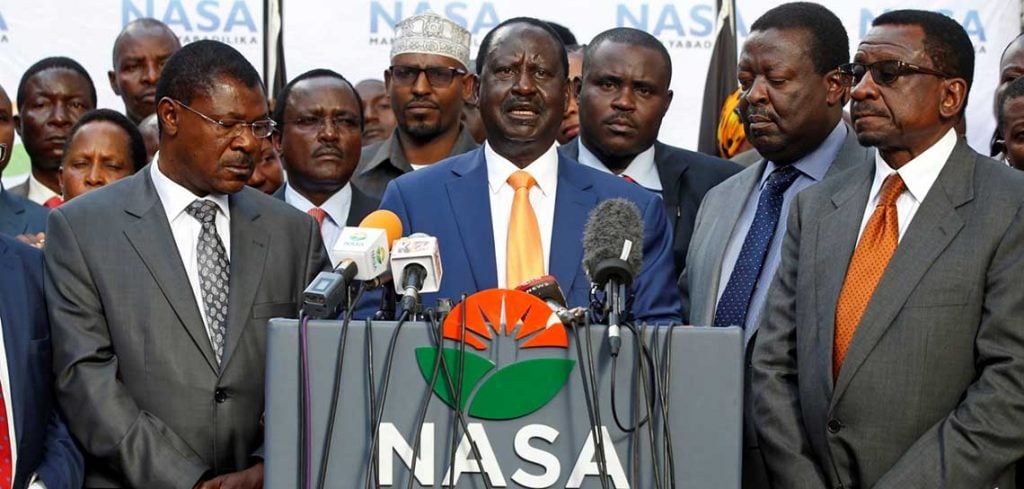 But as diplomats continued to press for dialogue, Nasa also ratcheted up the pressure by unveiling a "roadmap" to instal the 'People's President'.
It remains unclear whether Raila would take the oath of office set forth in the Constitution, or another to be composed by the opposition wordsmiths.
A NASA committee coordinating the People's Assembly announced it will hold its first meeting on Tuesday and "inauguration of leadership" is among 11 agenda items. That is amorphous and open to different interpretations. Some have argued that a "people's president" is only a sentimental title and would not be harmful to the State.
"We are not turning back. Actually, NASA's vehicle has no reverse gear and from tomorrow, it will not have brakes," committee member Oduor Ong'wen told a press conference at the Okoa Kenya offices.
He said venue will be disclosed on Sunday.
"Swearing-in is like saying delegates will be seated. That is a simple action. We have item Number 5 which is 'inauguration of leadership'. It involves a number of ceremonies and swearing-in is one of them," Ong'wen said when asked to confirm if Raila will take the oath of office. It is unlikely that Raila's running mate in August, Wiper leader Kalonzo Musyoka, would be home to attend or be sworn in as well.
Kalonzo has been in Germany tending to his ailing wife, Pauline.
His Wiper allies said his chances of coming are remote and should he come, it will be a surprise show.
Kenya Police spokesman Charles Owino said the police do not intend to break up Raila's meeting.
However, he said, they will not allow the gathering to proceed if it engages in an illegal act, such as swearing in the NASA leader.
"The Attorney General made his statement very clear. He is the chief adviser to the government and we work for the government. He has advised us on what the law provides," Owino told Star.
He said police are law-abiding citizens and they will always ensure every Kenyan abides by the law in whatever they do.
"Police enforce laws and regulations of the land. We respect Kenyans and what they are doing but if you commit an offence, then we have to act within the law. If the law dictates that you have to be arrested then our hands are tied — we have to act within the law," Owino said.
But according to the Nasa planning committee, Raila will address his supporters after the meeting.
The "inauguration" committee said it has invited at least one representative from the Kenya Defense Forces, Kenya National Police Service, Prisons, Judiciary and independent commissions.
"We have received several formal requests from various counties seeking to host this very important function on Jamhuri Day next week. The committee is currently considering this request from the counties," Noah Akala, head of the committee secretariat, said.
He said NASA's actions are legal and constitutional and dismissed Muigai's assertion that swearing in is treason.
"In all our actions we have been guided by our robust legal team that has proved itself much more competent than some elements who pronounced themselves on Thursday," he said.
But Raila's swearing in plan has drawn divided opinion.
Those in his camp, including disgruntled NASA supporters, are fully behind him, while political analysts and Jubilee backers say the inauguration would be dangerous and divisive.
Critics say Uhuru's inauguration on November 28, in the presence of Chief Justice David Maraga, was a blow to Raila's push for a fresh poll after he boycotted the presidential rerun on October 26.
Some critics say people want to use Raila as cover for their political experiments.
"They are pushing Raila to very slippery grounds they themselves would not walk on. There is selfishness in the way this is being conducted. Raila deserves better advice," a senior Jubilee official told the Star, speaking on condition of anonymity.
He said Raila is under the sway of the radical NASA elements leading him in a direction that could compromise his legacy as a fighter for democracy.
"People are angry and Raila must fight for them. However, we must be fair to Raila and not spill everything he has achieved by providing him with only the most radical of options in this fight for electoral justice," he said.
Other sources told the Star that unless President Uhuru Kenyatta reaches out to him in person, Raila will go ahead with the swearing-in.
Adopted from The Star, Kenya