Lawyers representing Rene Rutagungira, a Rwandan national who was arrested and charged together with police officers accused of kidnapping Lt. Joel Mutabazi, a former bodyguard to Rwandan president Paul Kagame to Rwanda in 2013 have written to the Chief of Defence Forces, Gen. David Muhoozi over alleged torture.
Through his lawyers from Niwagaba and Mwebesa Advocates in a letter dated December 7 also copied to President Museveni, UN Human Rights, Rwandan High Commissioner in Kampala, Minister of Defence, Minister of Foreign Affairs, Minister of Justice and the Attorney General, the lawyers claim their client was severally beaten, electrocuted and also immersed by CMI operatives following the arrest.
"You will recall that torture is a serious issue not only shunned by the president in his latest official statement on torture. It should never be encouraged by the General Court Martial blocking applications of those who complain about it," partly reads the lawyer's letter.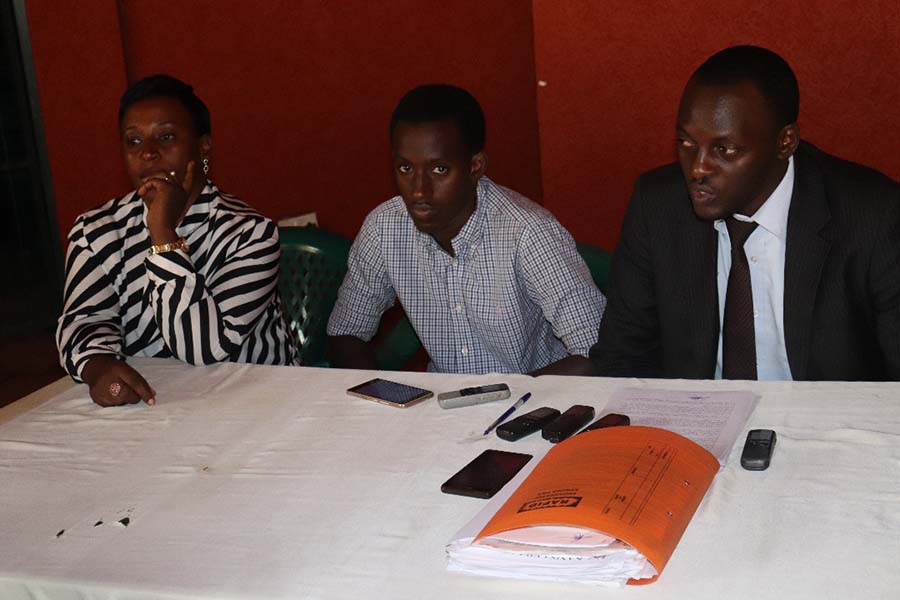 In a press conference organised on Friday morning, Eron Kiiza, one of the lawyers representing Rutagungira, his wife and son, they argued that efforts to address the issue of torture to the General Court Martial proved futile.
"The other suspects including police officers were never tortured but only Rutagungira was,"Kiiza told journalists.
This however looks a contradiction to the statements made by the same lawyers a few weeks ago at the Makindye based army court.
"While in detention, the investigators did everything within their means to ensure that these people implicated IGP Kale Kayihura," Caleb Alaka who is part of the team of lawyers for the 9 accused people told journalists on October 27th.
He added, "If they did that, they are going to be set free. They brought a Rwandese and Congolese. These people (police officers) have never seen the two people."
When asked to come clear about the contradiction in the statements, insisted that to his knowledge, only Rutagungira had been tortured.
"I don't know if other lawyers said their clients were tortured. I am not sure of them. What I know is that only Rene said that he had been tortured,"Kiiza responded to a question from the Nile Post.
When asked to comment on the matter, army spokesperson Brig.Richard Karemire asked the lawyers to make their complaints formal.
"Let them file the report and the matter will be investigated," he said.
He however, noted that the this matter is before court.