Namugongo town, located in the outskirts of Kampala, is home to many historical monuments, including the Uganda Martyrs Shrine.
It is also home to Edward Kasule, a 10 year old, who has made a name as a mechanic for motorcycles.
At his father's garage along Namugongo shrine road, Kasule repairs motorcycles and bicycles with the panache of a seasoned mechanic.
Kasule is a primary three pupil at Namugongo Boys Primary School
His favoutite subject is Literacy underwhich he science is placed.
Christine Nantongo, his class teacher, is full of praise for Kasule for being multi-skilled.
"It is incredible that this young boy at the age of 10 can repair motorcycles and bicycles. Many at his age cannot even do a small thing ," Nantongo said .
Nantongo however says the current curriculum should be modified  to accommodate such special talents.
"When people see someone doing vocational work, they think he is a failure. Parents and government need to come on board and encourage more of the vocational skills," she said.
After school, Kasule retreats to his father's motor garage, a walking distance from the school.
Here, he finds another load of work waiting for him.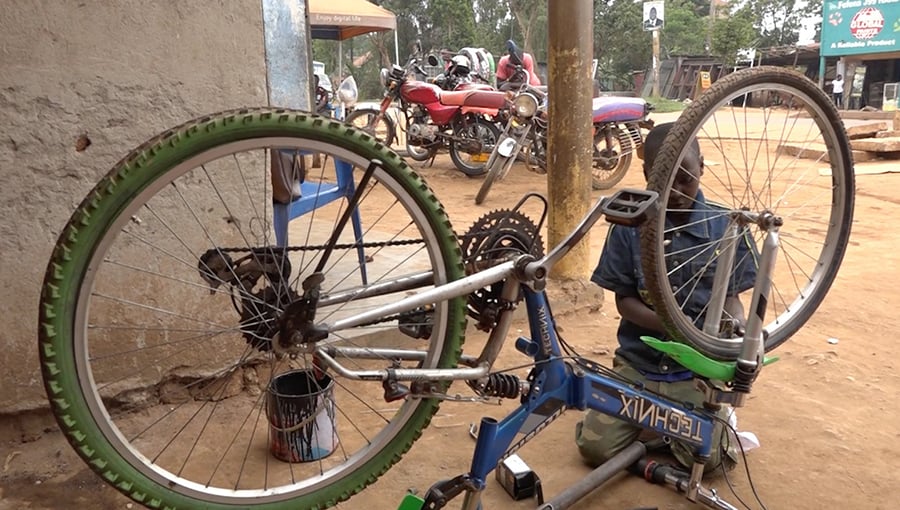 Many customers who visit the Kasule's garage appreciate his services and leave satisfied .
"This young boy knows how to repair different parts of a motorcycle. I am not worried even if I leave it behind ," a client who had come to repair his motorcycle said .
Edward Ssebayiga, 53, is Kasule's father.
He told us about how most of the customers spend hours waiting for his son to return from school and work on their bicycles and motorbikes.
"There are people who love my son as a person. Even though it is me who taught him , some customers will leave if he is not here to repair their bicycles or motorcycles," Ssebayiga said.
Kasule started the training to be a mechanic at the age of eight years under the mentorship of his father .
Kasule's dad said with the current economic situation, children should be able to fend for themselves.
"I wanted my son to be able to provide for himself in the future, whether with good education or not. I passed on my skills to him and now he even takes care of his siblings when I am not at home," he said.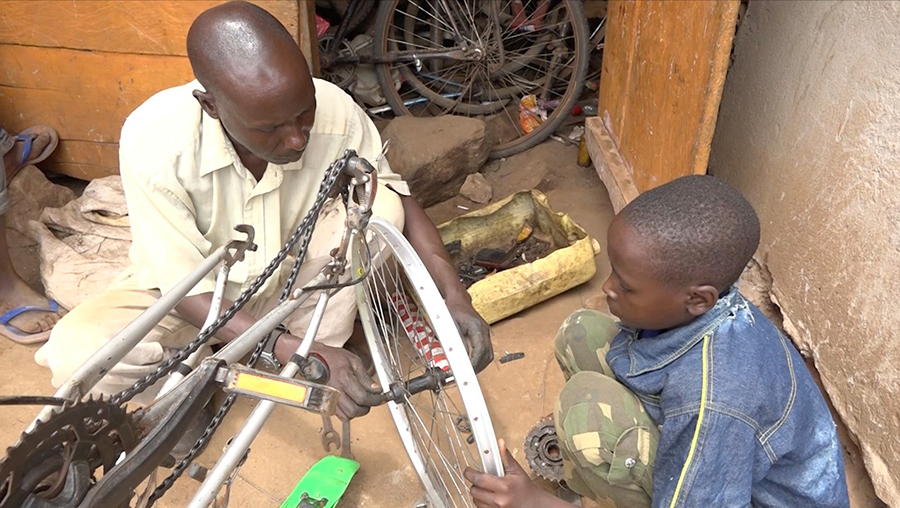 Kasule however has plans of furthering his mechanical skills and opening up his own garage by the age of 15.
"In the next five years, I would like to have my own garage and able to employ people like my father does. I would also like to pay fees for my siblings when I earn more money," Kasule said.
The current education system in Uganda puts emphasis on theoretical work and the notion that for one to be succesful they must do white collar jobs.
Unless  there is a rethink of the system, the likes of Kasule will continue being viewed as failures for opting to repair bicycles as opposed to sitting in air-conditioned offices.