Patrick Oboi Amuriat is the new president of Forum for Democratic Change (FDC).
Amuriat defeated Maj Gen Mugisha Muntu, the incumbent in a hotly contested FDC presidential race at Namboole stadium.
Amuriat garnered 641 votes against Muntu's 463, a difference of 178 votes.
Muntu had been party president since November 2012 when he defeated Nandala Mafabi, the then leader of the opposition.
As the outcome of the election became clear, supporters of Amuriat, popularly known as POA, sang songs and jubilated while those of Muntu appeared downcast.
"That is democracy," said Ssemujju Ibrahim Nganda, the Kira Municipality MP who headed Muntu's campaign.
As he sat in the middle of the Namboole pitch, Ssemujju appeared crestfallen.
Amuriat's win is a shocker given that not many people had given him any chance when he first announced his intention to run for the presidency.
Muntu declined to immediately talk to reporters, saying he would give his take on the elections later.
Amuriat's win means that the defiant wing of the party commanded by Dr Kizza Besigye, the former FDC leader, has triumphed over the moderates.
Speaking earlier to the delegates, Amuriat said his presidency will concentrate on building structures that will further the defiance campaign.
He said his first act as president will be to reclaim Dr Kizza Besigye's victory, allegedly stolen after the 2016 elections.
"I plead to FDC to vote for a leader who acts. Vote POA for leadership with Action."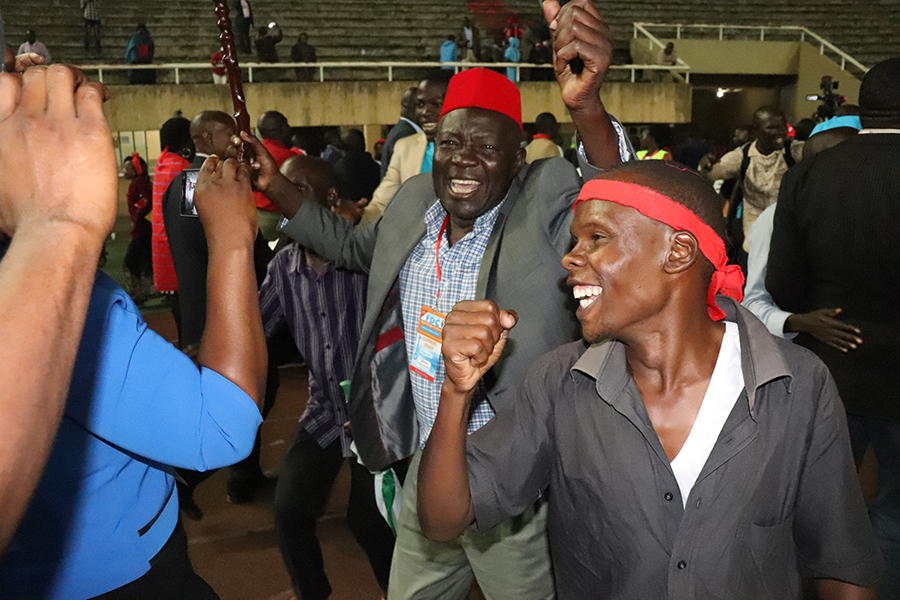 He said: "Some people think that we must massage the dictator. the dictator needs to be pushed. I want you to prepare for this struggles."
Amuriat faces stiff comeptition from the incumbent, Maj Gen Mugisha Muntu, whose moderate style of leadership has been lauded and criticised in equal measure.
He said time for putting on neck ties and suits is over since he is going to be in the trenches.
He said FDC is a divided party where there is "alot of pushing and pulling, where when one of you falls, the others laugh."
In an energetic speech, Amuriat said his presidency will not wait for an election before it mobilises the people at the grassroots.
"I feel very uncomfortable when most of the time of our leaders is spent at the headquarters," he said.
Amuriat said he will financially empower members by spearheading the formation of SACCOs.
He said he will set up a leadership academy dmy to nurture new leaders and build  a commercial building to raise money for the party.
He said he will identify political candidates for the various places early enough from the grassroots
Amuriat said he will promote youth and women leadership. Ssebugwawo, the party deputy president who said he was a vastly experienced politician.
Amuriat started his speech by paying homage to Dr Kizza Besigye, whom he referred to as "my political mentor."