On Wednesday morning Business was unusual as taxi drivers under the body "Drivers and Conductors Central Association (DACCA)" paralysed all the movements in the city demonstrating over monthly tax licences charged by Kampala City Council Authority (KCCA).
Taxi drivers said they were being charged 120,000 shillings monthly by KCCA, something that caused a fracas.
"We want the president to come out and address this issue. We are tired of being robbed by KCCA," they lamented.
"They charge a lot of money yet the president ordered us to pay only 50,000 shillings. We don't save anything, yet we have families to take care of and bills to pay back home."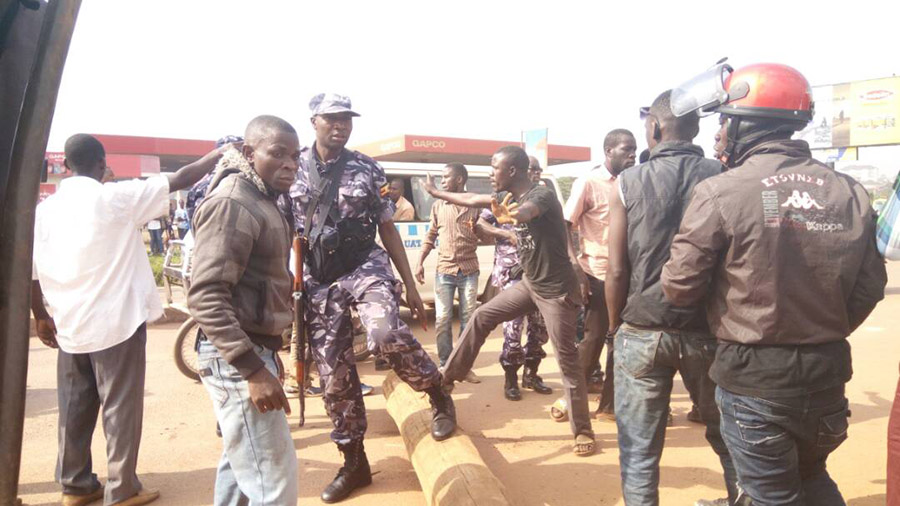 In a letter dated 22nd July 2017, the president wrote to all government agencies indicating that the annual licence is 50,000 shillings only.
"As far as taxis are concerned, it should, again, be one fee for an annual license. Once you have paid that license, you should operate without hindrance on route ….", read the letter.
The protest turned rowdy as the demonstrators marched from Nsambya chanting 'Tukooye' meaning they are tired, heading to the Old taxi park in Kampala.
IMPACT
One taxi driver was left unconscious after being beaten by unidentified men dressed casually. Taxi drivers stormed the city centre carrying the unconscious driver as they headed to Kampala central police station.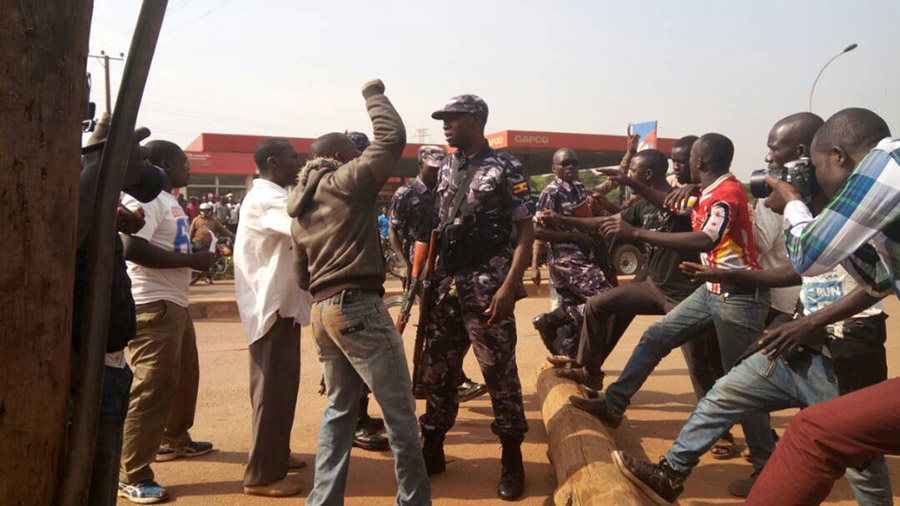 Business was paralysed after roads were blocked. Nsambya road was blocked with huge stones, tyres and logs making it impassable.
Bullets were fired, property was destroyed down town during the scuffle involving KCCA agents, police and the taxi drivers. Many taxi window glasses were left shattered.
Many people were arrested by the police following the demonstration.
HOPE
No sooner had they reached clock tower, than they heard President Museveni's convoy from a distance. They slept in the road and demanded that President Museveni addresses them on the matter.
This was a ray of hope for the taxi drivers.  The Taxi operators pleaded with Museveni complaining about the taxes charged. He stopped and addressed the people asking rioting taxi drivers to be calm and cautioning police officers to protect the people.
"Go and work (telling protesting taxi drivers). Police should be vigilant with cameras to capture whoever is beating up my people." President Museveni said.
"I am going to Mbale, when I come back tomorrow, I will resolve your issues." He added
BACK GROUND
Last year, Taxi operators under their umbrella body Kampala- Lyantonde Tax Operators and Masaka United Tax Drivers and Owners Cooperative Society (MUTDOCS) demonstrated over taxes that were increased from 50,000 shillings to 500,000 shillings.