A request for adjournment by the prosecution side opened a can of worms on Monday during the case in which seven senior police officers are accused of kidnap.
Nine people including former commander police Special Operations Unit, Senior Superitendent of  Police Nixon Agasiirwe, Senior Commissioner of Police Joel Aguma(Commandant of  Professional Standard Unit)   Sgt Abel Tumukunde ( Flying Squad)  James Magada (Crime Intelligence), Faisal Katende(Flying Squad),Amon Kwarisima,Rene Rutagugira(Rwandese) and Bahati Mugenga(Congolese) are accused of kidnapping before repatriating  Lt.Joel Mutabazi, a former bodyguard to Rwandan president Paul Kagame to Rwanda in 2013.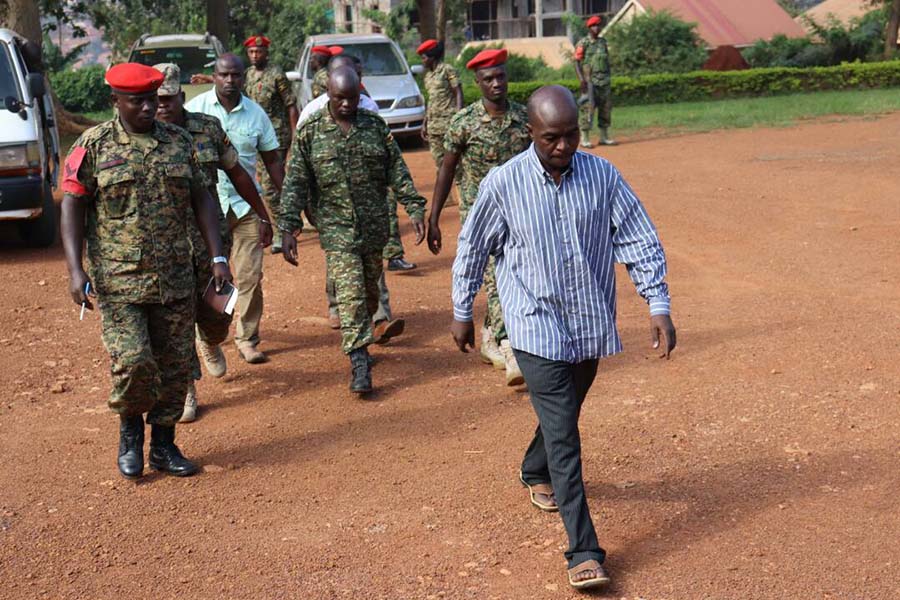 On Monday, the accused denied the charges prompting the prosecution side led by Maj.Raphael Mugisha to ask court to adjourn the case to December 11, citing investigations that are yet to be concluded but this didn't augur well with the defence lawyers.
The accused's lawyers led by Caleb Alaka,Frank Kanduho, Evans Ochieng  and Eron Kiiza took up arms before accusing  the Makindye based General Court Martial of working for the state to humiliate their clients.
"The accused are dedicated senior police officers have done a lot to ensure this town is safe but why arrest, detain and humiliate them for offences committed in 2013," Alaka fumed.
"We protest the manner in which they are inhumanely treated by this court."
Another lawyer, Frank Kanduho told court that at this stage after plea taking, the state is not at liberty to enjoy the right of an adjournment of the case when the accused have not had a say in the matter.
He argued that adjourning the case without first listening to their arguments of filing a bail application was wrong and a violation of the accused's rights.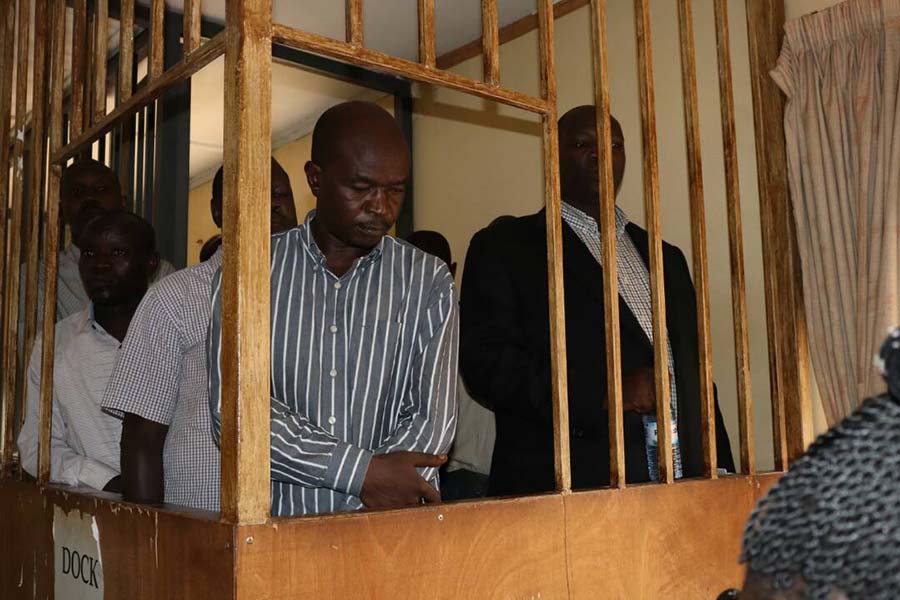 "This is not a walk in and walk out theatre. What the state has done does not rhyme to the ends of justice,"Kanduho said.
At one moment, defence lawyer Eron Kiiza raised his voice at Maj.Mugisha saying the matter involved rights of the accused that have since their arrests been violated while in military detention.
Kiiza claimed that the suspects were forced to sit on electric chairs and that one of them was slapped by a senior army officer.
The lawyers insisted that they ought to be allowed apply for bail for their clients before the court session could be adjourned but the judge advocate (adviser to court) advised that this could not be done orally but through written submissions.
However, the court chairman, Lt.Gen. Andrew Gutti decided that the case be adjourned to December 4 so as to listen to the bail application of the nine accused.
Prosecution alleges that on 25th October 2013 at Kammengo, in Mpigi district along Masaka road, the accused using a pistol and grenades abducted Lt. Joel Mutabaazi and Jackson Kalemera  whom they took  back to Rwanda without their knowledge contrary to the Penal Code Act.
Prosecution alleges that the accused are people subject to military law for using weapons (pistol and grenade) which are ordinarily a monopoly of the army according to the UPDF Act 2005.