Recently Apple released the iPhone X (pronounced as iPhone 10) but they are not the only phone manufacturers that have had a big year in the industry. Tecno also released the phantom 8 in October, but that will not be the tale to have today as we look at the Big shots of the year.
When it comes to phone manufacturing, the world has always had two direct rivals, the Apple iPhone and Samsung. Not that LG and Huawei don't make pretty good phones but the history and feud the two have carried for a while suggest nothing else shorter than a head-on.
Samsung released the Galaxy S8 earlier in April and as it was expected, Apple would later come through with their latest, a plan that came to reality after eight months.
The iPhone X was not only released as Apple's latest flagship but was also as a mark to Iphone's tenth anniversary in the industry. Could this force a change in Apples naming for phones? Well, it's not a question I can answer today.
Nile-Tech confirms consumers avoided the iPhone 8 with preference to the iPhone X that has had sales going up steadily since going on market early this month.
But did you know Samsung will make more sales from the iPhone X than its own S8?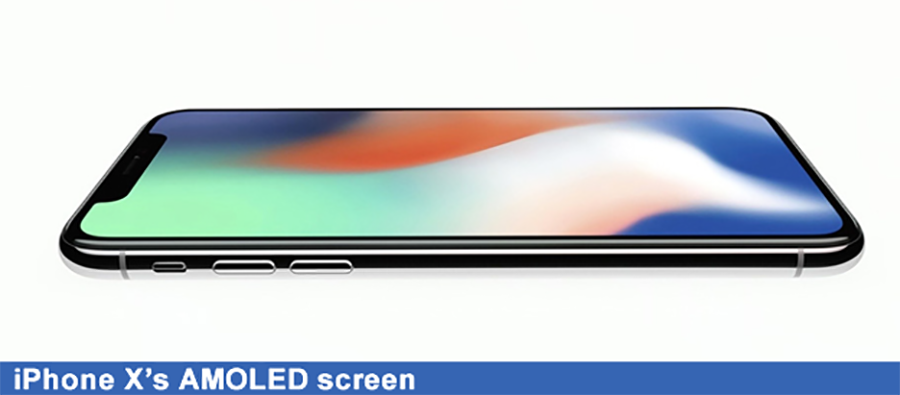 Samsung is the supplier of the iPhone X's crucial marketing factor: that A HDR AMOLED screen. The Wall Street Journal  recently reported that Samsung is set to make around $110 per each iPhone X sold. That's more than 10% of the iPhone's retail price going to Samsung's bottom line. From this, Apple is projected to sell 130 million iPhone X over the next two years, which would give Samsung close to $14 billion in additional revenue. For what it's worth, Samsung is only estimated to make $10 billion in profits from its own Galaxy S8 devices over that same span.
This means the iPhone X is bringing Samsung more money than the company's own flagship.
Perhaps the Loyal customers of the two brands have more to think about than just the rivalry of the two brands. But not just yet. Apple is rumored to be considering a switch to LG for its next round of OLED panels starting in 2019.
But how do 2017's main flagship rivals compare?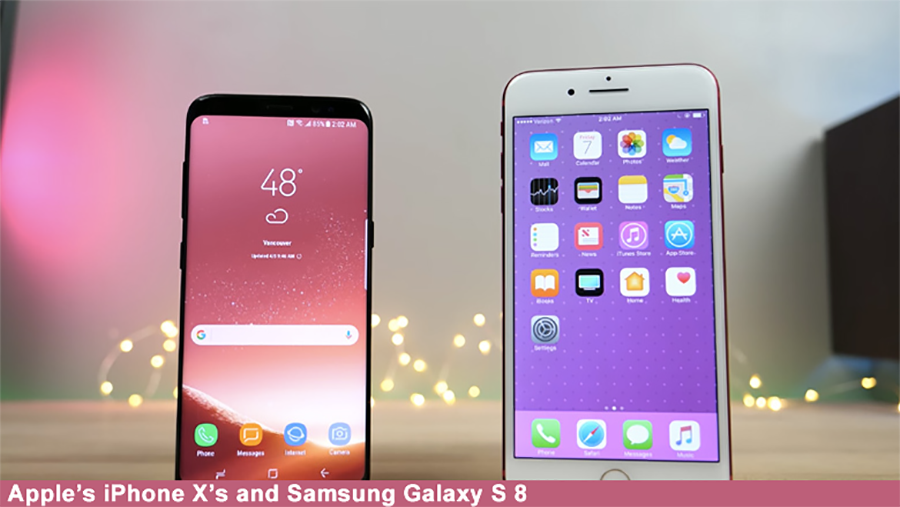 Design
This time the two phone manufacturers have gadgets that are look more similar than ever before.
Both phones do not have a home button but have designed different mechanisms to play around with the usability issue. Apple have the new swipe-based navigation system that allows for a user to swipe left or right to navigate and the up from the bottom of the screen to close apps. On the other side, Samsung designed the Galaxy S8, with an invisible, pressure-sensitive home button with a more standard Android interface.
The iPhone X has a small bump where the front camera modules sit, its distinctive look around the sides and back, more glass with a slight curve that makes it easier to hold. There's nothing new about its bezel.
Display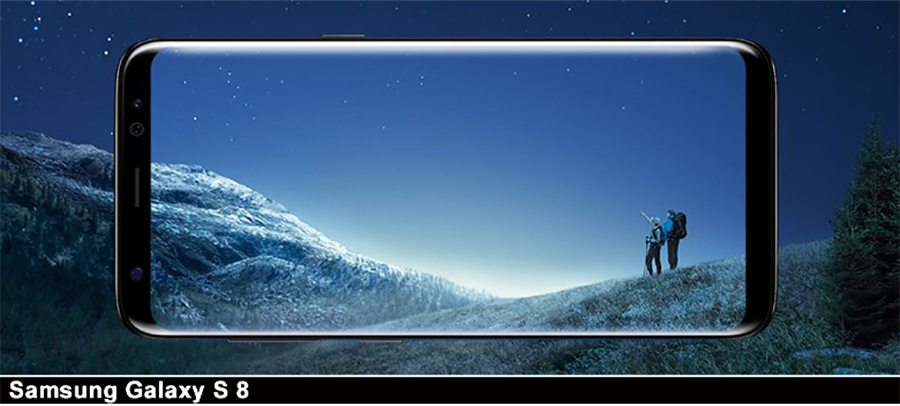 Both phones have 5.8-inch Organic Light-Emitting Diode (OLED) screens;
While iPhone X boast of the Super Retina HD display – High Dynamic Range (HDR) Display, Samsung's is a Super active-matrix – OLED with a higher resolution of 2960×1440-pixel screen with a pixel density of 570ppi, versus the former's 2436×1125-pixel OLED with a 458ppi density.
The iPhone X display features rounded corners that follow a beautiful curved design with the actual viewable area becoming less. The Galaxy S8 has the left and right parts of the bezel eliminated with its Edge design that sloping off the screen leaving almost no visible edge at all.
Around the back of the S8 you get a fully-glass design along with a badly-placed fingerprint scanner. It looks like there's no fingerprint scanner at all on the iPhone X, but Apple's making up for this with its new Face ID unlock tech.
The power.
As far as specs go the iPhone X has a new A11 processor and M11 motion-coprocessor. But until the phone actually ships, there's no way to tell for sure how that compares against the Qualcomm Snapdragon 835 or Samsung Exynos 8895 processor found in the Galaxy S8.
The A11 is based on an ARM64 64-bit architecture similar to that of Qualcomm's Snapdragon 835 and it's also built on 10nm FinFET technology, just like the Snapdragon. Qualcomm's chip is an 8-core design, while Apple's A11 is a 6-core chip. The Qualcomm Snapdragon 835 or Samsung's own Exynos 8895 systems-on-a-chip are among the fastest of 2017.
Memory
Apple have 3GB of memory and storage capacity of 64 and 256GB for the different phones. Apple's iPhone X does not have a conventional memory expansion slot for SD Cards, but compensates with MicroSD adapters.
The S8 boasts of 4GB RAM, with fixed storage capacity of 64 GB and can be expanded with a micro SD expansion slot.
Camera
The front S8 camera is only 8MP, but it does feature autofocus making it very easy to use. Quality wise, the images snapped on the selfie cam are much better due to use of a wide f/1.7 aperture alongside the benefits of autofocus. The front iPhone X camera is only 7MP. Of the back lenses the S8 maxes out at a single-lens 12MP with OIS, dual-pixel phase detects autofocus and an f/1.7 aperture, while the iPhone X will have a 12MP dual-lenses.
The S8+ the photography is far much better than the iPhone X with great photography in all lighting conditions (Actually the S8 has some of the best low-light and night-time performance as compared to the iPhone X)
Battery
The Apple's flagship has added the wireless charging features although it's not as fast as it was expected. However, there's a promise of having it faster with the future iOS 11 update. It does fast wired charging, but you'll need a USB-C to Lightning cable and a USB-C power adapter that supports USB power delivery. As for battery life, the iPhone X packs in 2,716mAh between two cells.
The Galaxy S8, meanwhile, has a 3,000mAh battery pack that can typically hold its own for a full day.
Artificial intelligence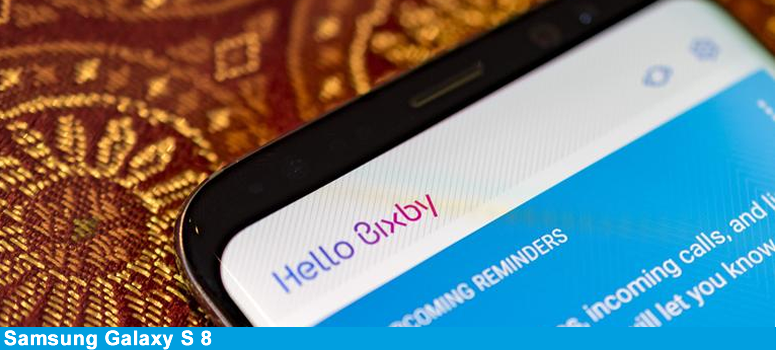 Apple have boasted of the Siri for a while now, however, Samsung also introduced a digital assistant; – Bixby and it was introduced inside the Samsung Galaxy S8. Bixby was developed by the original creators of Siri, who are now working under Samsung with a promise of bringing the technology to all its products. And it is expected that Samsung will have Bixby inside HDTVs, watches, tablets and more.
Conclusion
The iPhone X is honestly a punch lower than the S8 from all the specifications but the fact that the iPhone X can command $1,000 over S8's $840 it's not my decision to tell you whether or not the iPhone X is worth.
I am more interested in watching the switch from Samsung to LG for the AMOLED screens.