Nile-Tech has been seeking to have products and technologies poised to change our world. The advances can be simple—say, economic. Or they can be sophisticated just like the promise Technology gives a growing imagination of an individual.
Imagine a hand-held device just big enough to check the standard of your automotive and without calling for the distance to inspection plants and routine costs?
This week, Nile-Tech reviews one of the outstanding technologies that would change the way we do things and the two students behind this great innovation.
Isaac Oluk and Julius Mugaga are Makerere University students who came up with an idea that could change the way we seek to revert climatic changes resulting from automotive pollution.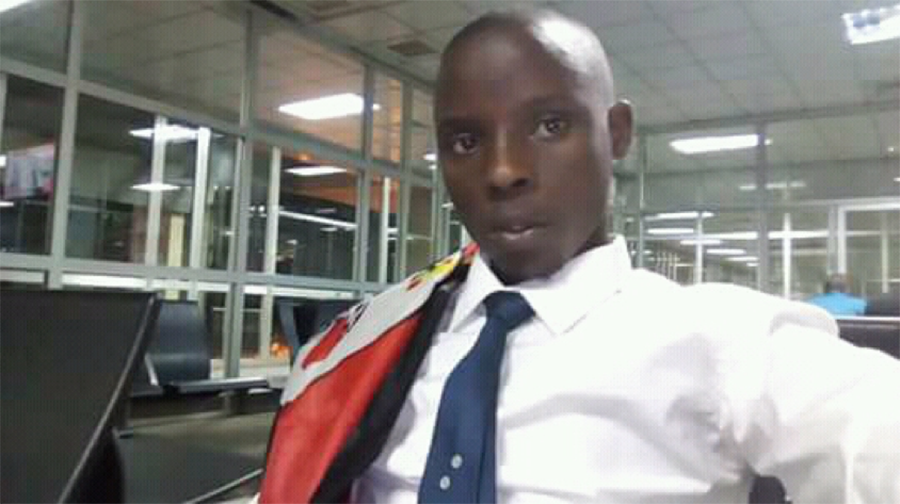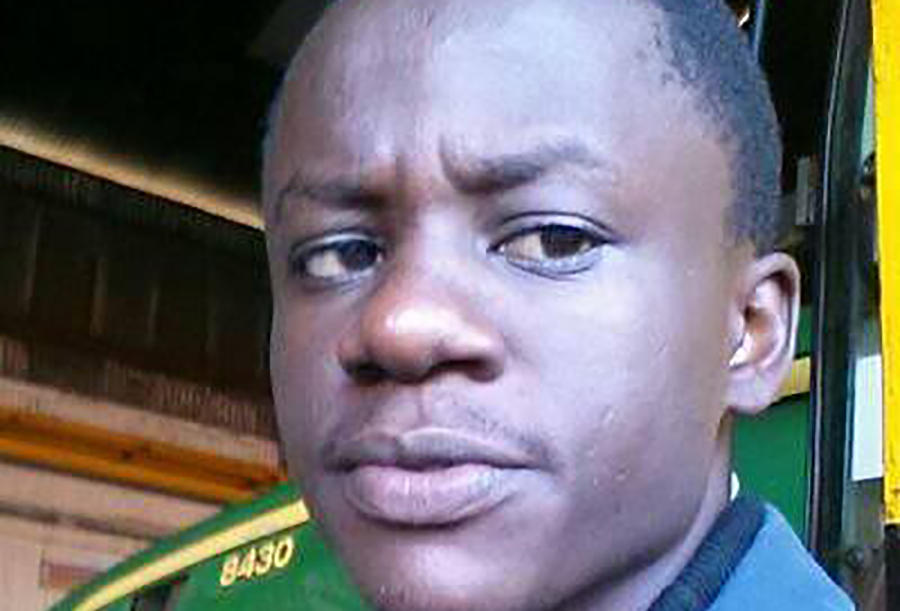 Isaac is a final year student of Agricultural Engineering at Makerere University while Julius is lecturing Assistant at the College of Health Sciences and a research Collaborator with the oxford University.
Isaac and Julius are both residents of Mbuya-Kinawataka and it's their struggle against pollution that forced them into inventing the Serari Security Kit (SSK).
We all know what security is but what does the word Serari mean?
Julius; The word Serari is derived from a Nigerian dialect meaning Space. In other words, our idea focuses on providing a solution that will safe guard the environment from a specific form of damage arising from what we emit into the space.
Why the Environment and not something else?
Julius; We were both residents of Mbuya-Kinawataka, an environment in between industries (Pepsi, Rwenzori, Mukwano) and the busy Mbuya-kinawataka road. The fumes from all the transport and industrial activity around our home area prompted us to start looking for ideas that could help us reduce the impact effects its bringing around us.
So, did you carry this idea from childhood?
Julius; Of course, the idea wasn't what we grew up thinking about, but at campus me and Isaac needed a better way to put what we study into practice and there wouldn't have been a better way to do it than doing it for our own good.
So how did you bring this idea to life?
Isaac; We carried out research to get supporting information about the state of pollution in Uganda and it all started with the existing publications and literature.
We found out that the NEMA standards which stipulate that emissions from Cars should be below 1.7grams/mile for Carbon monoxide, 0.2 grams/mile for nitrogen dioxide and 20 μg/m3 for Sulphur dioxide. However, our findings reveal that most of the imported used Cars emit gasses beyond that level.
We also found out that the costs incurred by the world bank as a means of mitigating environmental pollution keep on rising each year since the initial findings from their 2013 report that stated it at USD. 225 Bn.
One of the saddest findings revealed that air pollution contributes to 11 percent of the global deaths, a percentage greater than the death caused by HIV, Tuberculosis and road accidents all combined.
And After the research, how relevant was your idea towards the problem?
Isaac; Such a problem needed an urgent solution which could be accepted within our country and a lot more affordable given the fact that Uganda is a low and middle-income country. We just needed something that could not stop people from using their automobiles but instead provide a routine measure for monitoring their emissions. We cannot stop factories from manufacturing but we needed something that could check the state of fumes from most of the from most activities that are harming the environment in silence.
But we already have Company's hired to do routine checks?
The companies contracted to do vehicle inspections have done it through centralized one-point, one-time in a while systems. Now the challenge with this system is that it does not allow for prompt and continuous as well as mobile monitoring.
Our idea is not to compete with the existing technologies, but to provide convenience at a less cost to the locals.
Briefly describe this system.
The Serari Security kit is handheld and has three target sensors for carbon monoxide, Sulphur dioxide and nitrogen dioxide. It has an LCD screen that is used to display the results of the tests in real-time.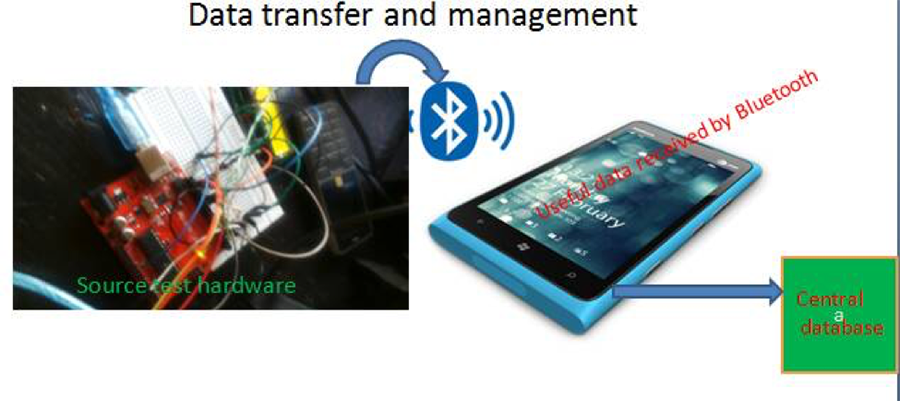 How is this machine used?
It's very simple, the machine has a sensor cap that is projected onto outlet of an exhaust pipe to pick signals of the pollutant gases. These signals are then transferred to the processing unit which interprets and sends digital data onto the LCD screen with corresponding information of the concentrations.
The concentrations are above or below if they are not within 1.7 grams/mile for Carbon monoxide, 0.2 grams/mile of nitrogen dioxide and 20 μg/m3 of Sulphur dioxide if it is for light vehicles.
For the heavy ones, it's 2.5 grams/mile of Carbon monoxide, 5.0grams/mile of Sulphur dioxide and 20 μg/m3 of Sulphur dioxide.
So how do you get to the get to Montreal UITP competitions.
After the development of our prototype, we found out that the International Organization for Public Transport (UITP), was hosting the first ever public transport innovation competition in Montreal-Canada.
These were to be held in a series of preliminaries organized in different cities around the world. Africa's competitions were held in only two Cities, Kampala and Cape Town to produce two finalists that were to represent the continent at the grand finale in Canada.
In Uganda, Fund Africa Inc. was delegated to by UITP to organize the coemptions. Anyone from Africa was free to submit their projects and there were over four countries with 23 projects. We emerged overall winners after being selected by a panel of judges.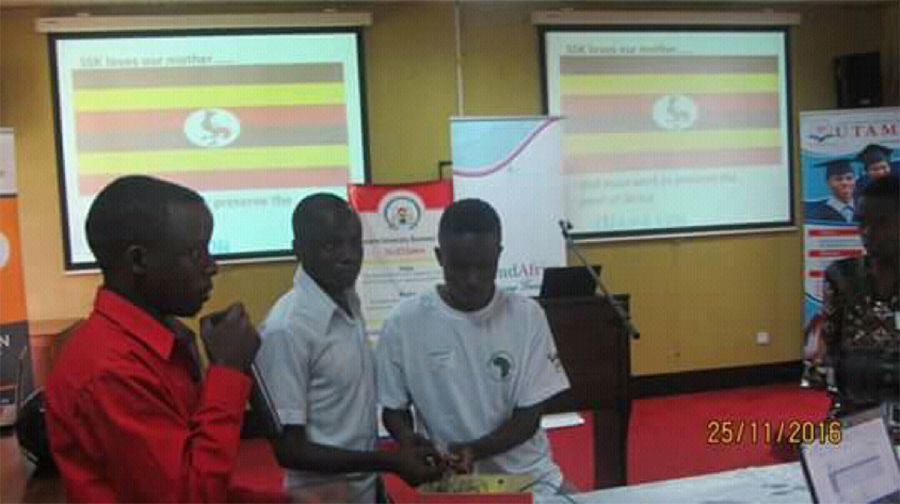 We were rewarded with a fully paid trip to Canada funded by the Youth for Public Transport (Y4PT).
At the Grand finale, there were 15 representatives from across the world including Emma, the other representative from Africa, Cape Town to be specific. Our project emerged firs runners up after the one from Cambridge University, UK.
Have you participated in any other competition since then?
We participated in ACIA 2017 Smart Transport Management Hackathon whose results we are yet to receive up to now.
We participated in the Carbon footprint challenge 2017 held online by the Switzerland government from which we emerged finalists.
We were also invited to participate in the Moscow Hackathon Competitions with a fully paid trip to Russia by Y4PT.
What next?
We want to start on our pilot test by the next year after finalising with the procedures and guidelines stipulated by KCCA.